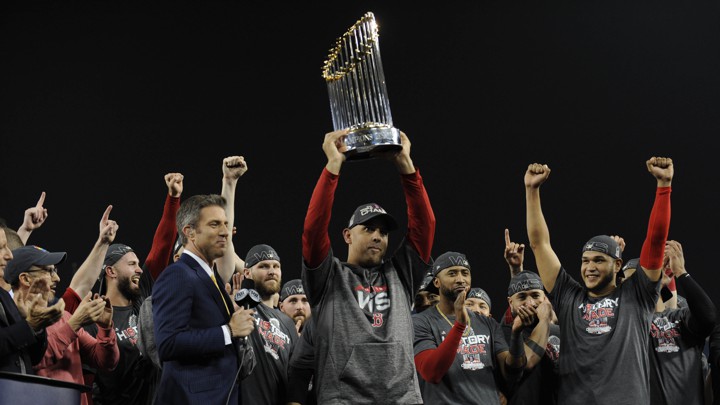 Despite facing numerous obstacles, Boston made it look easy (The Atlantic)
The 2018 Boston Red Sox will go down as one of the greatest teams in baseball history. After storming their way to a franchise-record 108 wins during the regular season, they proceeded to blitz through October, going 11-3 against the Yankees, Astros and Dodgers to capture the club's fourth World Series title of the century and ninth overall. All told, their 119 victories were the second-most for a World Series champion, trailing only the 1998 New York Yankees.
Obviously, a lot has to go right for a baseball team to win that many games, and a lot did go right for this year's Red Sox.
Mookie Betts
turned in one of the greatest individual seasons ever, amassing 10.4 fWAR en route to AL MVP honors.
J.D. Martinez
had a strong case for the award as well after threatening the Triple Crown with 43 homers, 130 RBIs and a .330 batting average.
Andrew Benintendi
avoided the dreaded sophomore slump after finishing second to
Aaron Judge
in the 2017 Rookie of the Year race. Xander Bogaerts and
Eduardo Rodriguez
overcame injuries and finally started living up to their potential.
Chris Sale
was arguably the best pitcher in baseball on a per-inning basis, and
Rick Porcello
bounced back from leading the Majors in losses in 2017 to leading the team in wins.
David Price
recovered from an injury-marred 2017 to go 16-7 with a 3.56 ERA before exorcising his playoff demons.
Craig Kimbrel
continued being one of baseball's best closers, and the rest of the bullpen was surprisingly solid. Midseason trades for
Nathan Eovaldi
and World Series MVP
Steve Pearce
paid huge dividends, especially during the postseason. Rookie manager
Alex Cora
made his job look easy, navigating a full season in Boston's fishbowl without a hint of controversy and pushing all the right buttons in October.
And yet, the Red Sox were a great team in spite of everything that went
wrong
for them. They endured 26 separate DL stints – only seven teams had more.
Hanley Ramirez
slashed .254/.313/.395 through 44 games before being released in late May. Dustin Pedroia was limited to just three games due to knee injuries, and his replacements (
Eduardo Nunez
,
Ian Kinsler
,
Brock Holt
, the ghost of Brandon Phillips) struggled to pick up the slack. Boston's catching corps was the worst in baseball, ranking dead last in wRC+ (44) and fWAR (-2.1).
Jackie Bradley Jr.
didn't hit during the first half, and
Mitch Moreland
didn't hit during the second. Benintendi eluded the sophomore slump, but
Rafael Devers
didn't. Sale hardly pitched during the final two months of the season and was noticeably diminished during the playoffs. Price scuffled in the first half and continued to flounder against the Yankees.
Drew Pomeranz
turned into a pumpkin.
Steven Wright
,
Tyler Thornburg
, and
Carson Smith
missed most of the season for the second year in a row.
Joe Kelly
was plagued by inconsistency.
Blake Swihart
wasted away on the bench as his development continued to stall. Kimbrel saw his walk rate balloon during the regular season before nearly blowing multiple games during October. The farm system is still utterly barren, and Boston will have to pay luxury tax penalties after outspending every team in baseball this year – partially because they paid
Pablo Sandoval
and
Rusney Castillo
a combined $30 million to play in San Francisco and Pawtucket.
So no, the Red Sox were not a lucky team by any stretch of the imagination – but it's scary to think how good they could have been if they were.