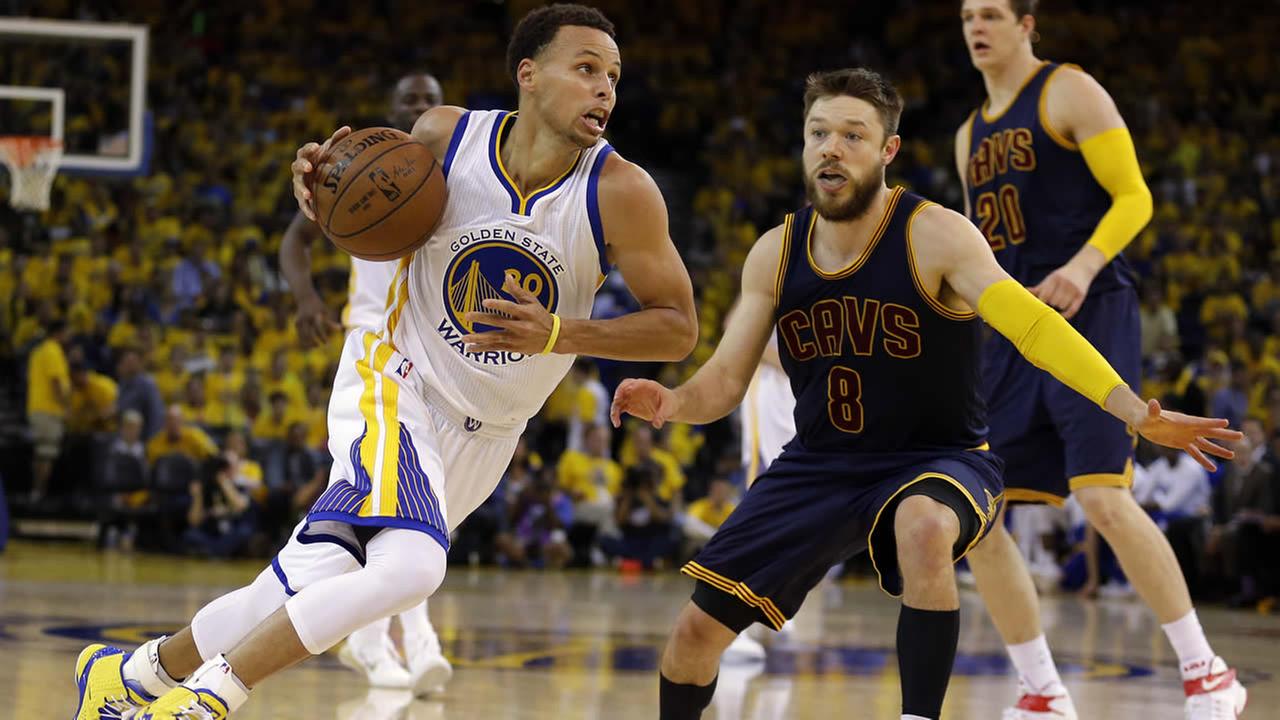 Cleveland's defense had no answer for the Warriors in Games 1 & 2 (TopBET.eu)
This submission comes from friend of the think tank Glen Krebs, who was probably wearing his Steph Curry Davidson jersey while writing this:
For the second straight game, the Cleveland Cavaliers' defensive issues from the regular season (but were masked by their dominance of the Eastern Conference) were exposed by the Golden State Warriors, as the Warriors trounced them by 33 points at the Oracle Arena on Sunday night.
It's hard to believe this is the same Cleveland team that coasted to its second straight Finals, rolling over the rest of the East with its superior talent level.
Going against one of the best teams in history, however, its deep-seeded flaws have come to the forefront.
Heading back home for Game 3, the Cavaliers find themselves in a position they haven't been in since 2008: down 0-2 in a playoff series.
What has to be most concerning for the Cavs is that they seem to be running out of adjustments to make on defense. Their personnel have put Tyronn Lue between a rock and a hard place in terms of defensive game planning. Cleveland played defense at the beginning of Game 2 the same way they did in Game 1, with their guards fighting over off-ball screens and switching on off-ball screens. Their defensive communication was still sloppy, however, leading to a series of easy lay-ups and open shots for Golden State during the first quarter.
Lue adjusted by having the Cavs switch on everything, which incurred disastrous results as Kevin Love and Tristan Thompson were repeatedly switched onto Stephen Curry and Klay Thompson. The two bigs have shown no indication that they can adequately guard either of those two on the ball, forcing Lue back to his original game plan early in the second quarter. After that, it was all Warriors.
Although Lue seems to be running out of options, there is one key change he can make to try and (literally) slow Golden State down. After Kyrie Irving went down with a fractured kneecap in Game 1 of last year's Finals, David Blatt reconfigured the offense to feature LeBron James catching the ball in the high post and running iso-heavy sets through him. Although the strategy had mixed results as James had a historically inefficient Finals on offense, it did slow the Warriors down enough to keep the series competitive for the next five games. Now would seem to be the best time for Lue to return to that, as his players have repeatedly blown assignments in transition that have either led to wide-open threes or defensive mismatches that the Warriors capitalized on immediately.
LeBron must be more assertive in Game 3 (CheatSheet.com)
It will be interesting to see what LeBron's mindset is at the beginning of Game 3. Although he finished Game 2 with 19 points and a near triple-double, it never felt like James was in attack mode. He seemed focused on getting his teammates involved early, finishing the first quarter with no points and five assists. If LeBron really is the "offensive coordinator" of the Cavs as claims to be, then it was clear he wanted to spoon feed Irving and Love to get them in an early rhythm.
While the reasoning behind this makes sense--if Irving and Kevin Love get going early they will have more confidence at the end of games--the best thing for Cleveland might be for James to attack early and often. The consummate team player throughout his career (often to a fault), LeBron might have to let the other All-Stars worry about getting their shots while he's on the bench. The most important thing for him looking ahead will be getting Andre Iguodala in foul trouble at the beginning of Game 3 by using the home atmosphere to get some calls that went against him in Game 2.
Finally, the Cavs were also out-rebounded on both ends of the floor. Coming into the series, that was supposed to be one of their biggest advantages over the Warriors. That was not the case in Game 2, however, as Golden State annihilated Cleveland on the boards, 46-34. If the Cavaliers are to have any shot at making this series competitive, they need to reverse this trend immediately.
That seems unlikely to happen, however. As much of a toll as the OKC series took on the Warriors, it forced them to focus on both individual and team rebounding in a way they hadn't all season. Their newfound dedication to improving that weakness has completely snuffed out any advantage that the Cavs had on the glass. Andrew Bogut and Draymond Green were active in the early going, with Bogut doing a commendable job boxing out Tristan Thompson and keeping offensive chances alive by tapping them off the glass. After having to deal with Steven Adams and Serge Ibaka for the last two weeks, Bogut and Green must feel like a baseball player swinging a bat without the weights on it. Barring a major injury or divine intervention, it feels like the Warriors are going to cap off the best season of all-time with a ring.
Random Musings from Game Two
1.
LeBron's Post Problems
a.
If it's possible for the best player in the world to improve upon anything this offseason, it's his postgame. The King has done a masterful job of transitioning his game to being almost completely interior-based to accommodate the strengths of Love and Irving. Although James is a mismatch against any small forward and most traditional fours, he still has a tendency to end his post-ups by finding himself underneath the basket with a crowd of people around him. If he can start his post moves with more of a plan and sprinkle in some counters when he gets stopped initially, he should be the best back-to-the-basket player in the league. That's a scary thought for the rest of the Association, considering he's already a supersized Blake Griffin in his current iteration.


2.
The Curious Case of Harrison Barnes
a.
For as much as Harrison Barnes has struggled this year, he has found new life against Cleveland. Lue has tried to hide J.R. Smith and Kyrie Irving on Barnes sporadically throughout the first two games without any success. Barnes has done a great job exploiting Irving and Smith's ball-watching tendencies by cutting for open looks close to the basket and driving to a spot that puts the defense at a disadvantage and opens up playmaking for his teammates. Although Barnes struggles at creating his own shot and often seems to get in his own head, his smart play on both ends of the court show he is still a valuable asset for Golden State.


3.
Richard Jefferson's Last Stand
a.
One Finals story that never gets old is that of the veteran role player, long past his glory days who knows this is his last real chance at a ring. Jefferson is that guy this year. He was ignominiously traded from Golden State in 2013 to clear up cap space fir Iguodala, his four year $39 million contract suddenly an albatross. Although Jefferson is nowhere close to the player he was as an All-Star with the New Jersey Nets of the early 2000's, he has aged gracefully as a backup small forward for these Cavaliers. He was one of their few bright spots in Game 2, tallying 12 points and five rebounds in a throwback performance Here's to hoping to he'll be able to continue that success as the series progresses.