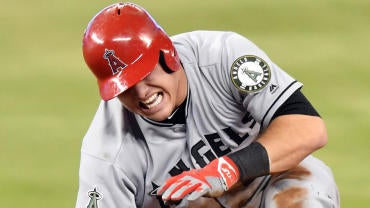 Prior to his injury, Trout was giving Mantle a run for his money (CBS Sports)
We've been comparing
Mike Trout
to
Mickey Mantle
so often for so long that we might as well start calling him Mikey Mantle. Seriously though, the comparisons have always been justified, which you can't say about most players who've had their names mentioned in the same breath as Mantle's over the past half-century.
Here are their numbers through their age-24 seasons:
Trout: 811 G 168 HR .306/.405/.557 168 wRC+ 47.7 fWAR
Mantle: 808 G 173 HR .308/.412/.560 164 wRC+ 41.1 fWAR
Throw in the fact that they're both soft-spoken, crew-cut boys from working class families who grew into speedy, powerful center fielders for big-market American League teams, and you'd be justified in thinking Trout was Mantle reincarnated (it's impossible, however, because Trout had just celebrated his fourth birthday when Mantle passed away in August, 1995).
While Trout's edges in fielding and baserunning made him more valuable than Mantle through the first phase of their careers, he has yet to have a season that rivaled Mantle at his best. Peak Mantle won a Triple Crown at 24, batted .365 with a .512 OBP at 25, and nearly broke
Babe Ruth
's single-season home run record during that
charmed summer
of 1961. As incredible as Trout's been, he has yet to reach Mantle's prodigious heights. He hasn't belted 50 homers or slugged .700 in a season and has never won a batting title, much less topped .350 in consecutive years like Mantle. That's why Mantle has a pair of 11-WAR seasons on his resume (according to FanGraphs), while Trout has zero.
This year, it looked like that was going to change. At age 25 and in his seventh big league campaign, Trout had done the unthinkable. He found
another gear
, inflicting maximum damage with his swings by ambushing pitchers earlier in the count. Since 2012, we've been wondering what it would look like if Trout followed a normal aging curve and improved during his 20s like players are supposed to. Everything written or said about him came with the caveat that he wasn't
technically
in his prime yet, even though it was plain for all to see that he was already at or near his zenith.
But with every pitcher, catcher, and manager making it their life mission to exploit holes in Trout's swing, the best he could do was keep up. He was able to maintain, but not improve, although that's no knock against him. Producing at an elite level year-after-year is the hardest thing you can do in sports. Every player has a down year at some point, even
Ted Williams
.
Not Trout, whose consistency has been most often described as metronomic. Each year, however, he's taken a slightly different path to success. His traditional numbers have fluctuated quite a bit, but his WAR values have remained constant.
Trout's managed to sustain his excellence by constantly and rapidly adjusting. At various points, pitchers have tried to neutralize him with breaking stuff away, hard stuff in, and fastballs up in the zone. Each time, he made the necessary adjustments to handle these pitches. Unable to penetrate his airtight plate coverage, pitchers tried to use his discipline against him, attacking him earlier in the count to get ahead of him since he rarely swung at the first pitch. Trout quickly caught on, forcing them to go offspeed early in hopes of disrupting his timing and sneaking strike one by him.
Well, that hasn't worked either, and it seems that pitchers have, for the time being at least, run out of ways to fool Trout. Let the record show that during the first two months of the 2017 season, he was simply unstoppable. Through his first 47 games, he was sporting an absurd 1.203 OPS with 16 homers and 3.5 fWAR. He was on pace for close to 50 homers and well over 100 RBIs. In essence, he was duplicating Mantle's Triple Crown year:
Trout 2017: .337/.461/.742 (217 OPS+) 11.1 fWAR in 150 games (projected)
Mantle 1956: .353/.464/.705 (210 OPS+) 11.5 fWAR in 150 games (actual)
Then, Trout did what Mantle used to do all too frequently: He got hurt. It happened while Trout was stealing his 10th base in 11 tries this year, giving him double-digit thefts in six straight seasons and putting him on track for a fourth season of at least 30. Only Trout dove head-first, one of the stupidest things you can do on a baseball field besides turn your back on the pitcher or run out to play defense without your glove.
It ended poorly for Trout, who
tore a ligament
in his thumb and will miss the next 6-8 weeks after undergoing surgery. As it turns out, the only thing capable of slowing Trout down in 2017 was
Trout himself
.
And so, after losing its top pitcher (
Clayton Kershaw
) for most of last summer, baseball will be -- for the first time since 2011 -- without its best player for much of this one. He'll be sidelined for all of June and possibly July, though he'll likely be back around the All-Star break. Trout strikes me as the type of guy who will return on the early side of his recovery timetable, and maybe even before it. The Angels can't compete without him, and you can bet he'll do everything in his power to get back in the lineup as soon as possible.
Let's hope he does, so he can get back to doing what he does best;
playing baseball better
than anyone who's ever lived.