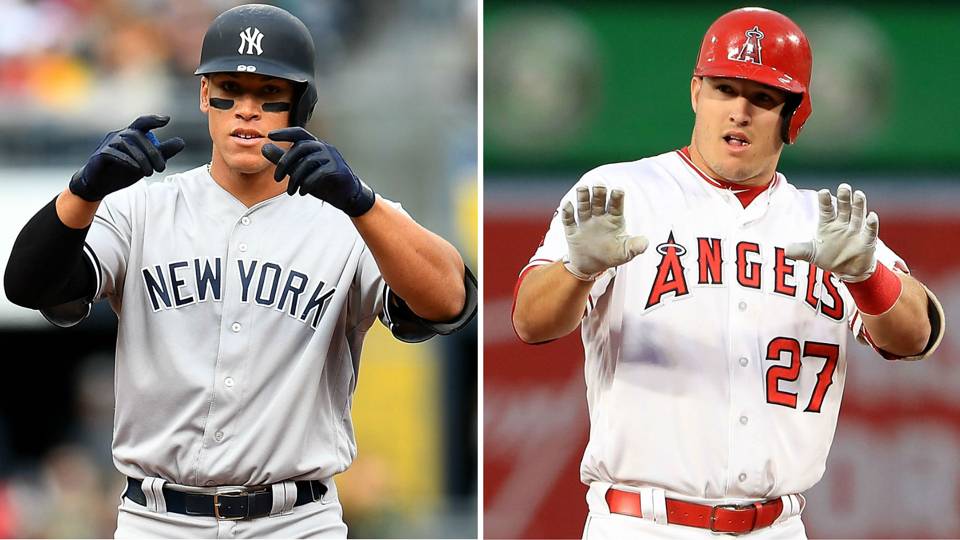 With Trout sidelined, Judge has been dominating baseball (The Current)
It's been over a month since
Mike Trout
landed on the disabled list with a torn ligament in his left thumb, thereby opening the door for someone else to claim the title of Best Player in Baseball, if only for a while. Even if Trout hadn't gotten hurt, however, there's a good chance he would have relinquished his crown anyways, because
Aaron Judge
has been every bit as good.
When Trout went down
, he was slashing an absurd .337/.461/.742 -- good for a 208 wRC+ and a .475 wOBA. Through yesterday, Judge was batting .331/.451/.699, which translates to a 200 wRC+ and a .470 wOBA. Not only are those numbers nearly identical to Trout's, but they've been sustained over an additional 28 games and 122 plate appearances. Excluding
Freddie Freeman
, who's also hurt and hasn't played in six weeks, no one else is
even close
to those numbers.
Judge isn't merely a one-dimensional slugger, either. He's stolen six bases in eight attempts, and isn't the liability on the bases like most elite power hitters. He doesn't have the game-changing speed of a Trout or
Billy Hamilton
, but he runs well for a man his size, which has helped him score an MLB-high 70 runs this year. FanGraphs and Baseball-Reference only credit Trout for contributing 1-2 more runs than Judge on the bases -- a fraction of a win in the grand scheme of things.
And while Judge isn't going to win a Gold Glove for his work in right field,
he holds his own
on defense. He has a strong throwing arm and decent range, while his wingspan and length allow him to reach balls that smaller players might miss. For all of Trout's home run robberies and jaw-dropping catches, it's important to remember that he has never won a Gold Glove, either, and that side from his rookie season, he has never rated as a great defender. Both B-R and FG have Judge as the superior outfielder this season by roughly 0.2 wins, which cancels out Trout's advantage on the bases.
So with mirroring batting lines and equal contributions outside the batter's box, Trout and Judge have been essentially the same player this year. If Judge keeps it up, he'll finish the season with over 10 WAR (both versions), which is something that only Trout has done since 2004. He's pretty much a lock to win Rookie of the Year at this point, and he'll probably win MVP, too, which not even Trout was able to accomplish as a freshman.
The similarities don't end there, either. They've both dominated in their first full season after struggling during brief cups of coffee, emerging as fully-formed baseball gods. They're both 25 and play for big-market teams but aren't quite comfortable in the spotlight, projecting the aw-shucks personality that made
Mickey Mantle
(whom both have been compared to) so endearing. They wow fans and teammates with their
superhuman feats
on the ball field, but off the field they appear to be regular guys. They're clean cut, avoid controversy and stay away from drugs, alcohol, or any other vice that would compromise their tremendous skills. They're more
Roger Maris
than Mantle in that sense, and they're nothing like fellow prodigy
Bryce Harper
. They're living proof that you don't need to
grow wild hair
or
fight pitchers
to make baseball fun again; all they have to do is play the game to the best of their ability.