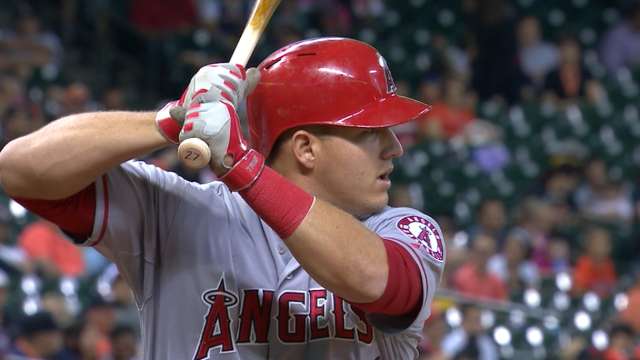 Trout's team is the only thing stopping him from winning MVP (MLB.com)
The regular season ends one month from tomorrow, and we still have no idea who the American League's Most Valuable Player is going to be. Will it be
Josh Donaldson
again? Maybe! Could
Jose Altuve
become the
shortest MVP
in baseball history? Possibly! Does
Mookie Betts
have a chance? Absolutely!
Mike Trout
, unfortunately, has no chance. He'll get plenty of votes, of course, perhaps even enough to finish second again (something he's accomplished three times already). But because the Angels have been so bad, and the rest of the competition is so good, voters are going to give the award to someone else. Again.
Trout's annual MVP snubs are getting ridiculous. Everyone
knows
he's the best player in baseball, the way you know the sky is blue and the earth is round, and the stats back it up. But when the recipient is named in November, it won't be Trout. It will be Donaldson, who
edged him
last year, or Altuve, or maybe even Betts. Heck,
David Ortiz
probably has a better chance than Trout at his point. Ironically, the player with the best statistical case appears least likely to win.
Trout still has a month to build his case, but it won't matter how well he plays down the stretch. Last year he had a 1.078 OPS in September--his highest of any month--while nearly leading Los Angeles into the playoffs, and it still wasn't enough. He can hit .400 with 12 home runs over the next five weeks, and it's not going to make an ounce of difference because the Angels have been out of contention for months.
And so Trout will finish his fifth full season with one MVP award, even though he should have five. He deserved to win over
Miguel Cabrera
in
2012
and
2013
, and he deserved to win over Donaldson last year. Ironically, the year he
did
win--
2014
--was probably his worst year, but LA ran away with the division so Trout won in a landslide (unanimously, actually).
His career is starting to look an awful lot like that of
Willie Mays
, who won his first MVP at 22--the same age Trout won his--but then didn't win another one until he was 33. Like Trout, Mays led the league in WAR pretty much every year and was widely believed to be the best player in baseball, but the Giants were generally mediocre and he suffered at the polls as a result. Sixty years later, the same thing is happening to Trout.
But people really need to stop penalizing Trout for the lack of talent around him, especially since playing for a winning team is not part of the award criteria. It's not his fault the Angels have failed to surround him with adequate talent, or that they've been hamstrung by overpaying the likes of
Albert Pujols
,
Josh Hamilton
, and
C.J. Wilson
. As bad as they've been with him, just imagine how much worse they'd be
without
him. It's possible they'd have the worst record in baseball were it not for Trout, which, in a world where the Braves exist, is a scary thought.
So while Trout isn't leading his team to the playoffs this year, at least he's keeping them out of last place (not even peak
Alex Rodriguez
-on-steroids was able to do that in Texas). Trout has the talent to transform a .500 team into a contender all by himself, but the problem is that he's not on a .500 team. He's still making a huge difference in the standings, just not one that many people care about.