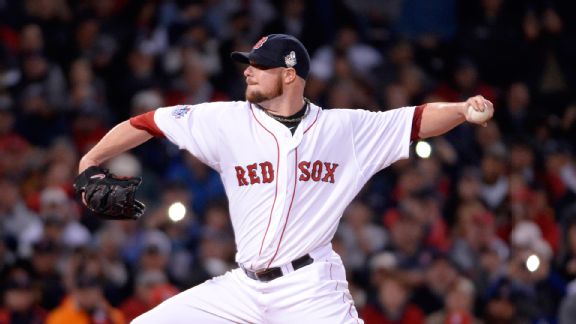 Lester pitched well enough to win, but Boston's bats came up short (ESPN)
Boston's World Series title defense officially got underway this afternoon as the Red Sox lost a close game to the Orioles at Camden Yards.
The Red Sox fell 2-1 to their division rivals despite a strong performance from team ace Jon Lester, who picked up where he left off in the postseason. Lester was sharp, allowing six hits and only one walk while striking out eight in seven innings of work, but he was saddled with the loss as Boston blew several scoring opportunities. Despite recording nine hits, Sox hitters came up empty with men on base (0-for-10 with runners in scoring position) and stranded 12 runners in all.
Though Boston forced Baltimore starter Chris Tillman out of the game after throwing 104 pitches through five, they were unable to break through against the Orioles bullpen. Zach Britton kept them at bay long enough for Baltimore to regain the lead on Cruz's seventh inning solo blast. To his credit, Lester recovered to strike out the side and end his day on a high note.
The Sox seemed poised for one of their patented late-inning comebacks after working a pair of walks off Evan Meek in the top of the eighth, but Brian Matusz came to the rescue and induced A.J. Pierzynski to ground out and end the rally. They made one more last-ditch effort in the ninth, putting two on against newly minted Orioles closer Tommy Hunter for David Ortiz, but Big Papi flew out to left. Jackie Bradley, Jr., inserted as a pinch-runner for Mike Napoli the previous inning, was called out on strikes to end the game.