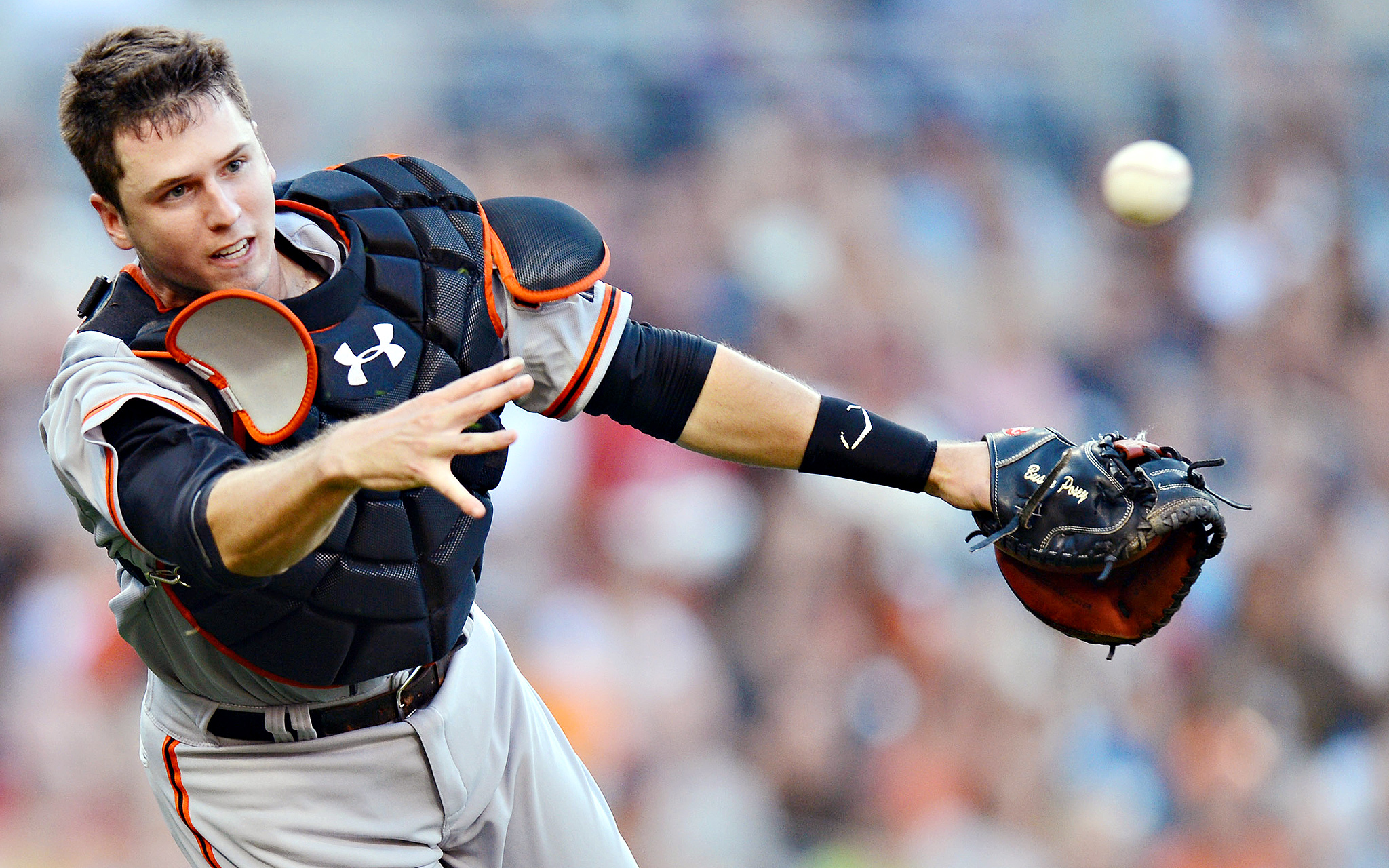 Buster Posey is one of the best players in the game today (ESPN)
Reviewing
Devin Mesoraco
's
new contract extension
got me thinking about where he ranks among today's catchers. To determine this list I relied heavily on data from the three previous seasons, giving more weight to 2013 and 2014, of course.
Note: I am excluding
Evan Gattis
, who
joins a crowded catcher situation
in Houston and will probably see more time at DH, first base, and in the outfield.
1. Buster Posey
There's no question that Posey's
the top catcher
in the game today.
Offensively, he is without peer
at the position, having batted .311/.381/.497 (147 wRC+) since the start of the 2012 season, and he's a quality defender as well. The 2012 NL MVP and batting champion also adds extra value by handling first base about 30 times a year, thus keeping his bat in the lineup almost everyday. He's putting together a
Joe Mauer
-ish run here and is already a three-time World Series champion at 28, putting him on the Cooperstown track for now.
2.
Jonathan Lucroy
Lucroy's quietly evolved into the best-hitting catcher
not named Posey
, batting .297/.359/.472 (128 wRC+) with 43 home runs and 95 doubles over the past three years. The Brewers backstop is also durable, having caught 125 games or more in three of the past four seasons. More importantly, he's one of the
best pitch-framers in the business
. Put it all together, and you have someone just a tick below Posey who might very well win the MVP if he's able to turn a significant portion of last year's 53 doubles into homers.
3.
Yadier Molina
A longtime defensive stalwart with seven straight Gold Gloves to prove it, Molina has recently developed into one of the game's best offensive catchers as well. The youngest Molina brother batted .313/.361/.481 (132 wRC+) from 2011-2013,
leading all backstops in fWAR
during this time. The lifelong Cardinal was on his way to another good season before a thumb injury cost him seven weeks in July and August, then negatively impacted his swing by limiting him to just .269/.309/.317 with no home runs after returning. Molina's getting up there in years--he'll turn 33 this July--and has logged nearly 11,000 innings behind the plate, but he's showed no signs of slowing down and will be considered an elite catcher until he proves otherwise.
4.
Russell Martin
Sure, he's about to turn 32 and has a ton of miles on him, but he also just had the best offensive season of his career and is moving to the launching pad in Toronto. Defensively, the former Gold Glover is one of the game's best, and he's never had a bad year offensively due to his strong on-base skills (.354 career OBP) and decent power (six seasons with double-digit home runs). I'm not a fan of the
recent contract
he got from the Blue Jays, but I also happen to think he'll be pretty good for at least another year or two.
5.
Salvador Perez
Coming off back-to-back Gold Gloves and All-Star nods, Salvy, who turns 25 this spring, is poised to be one of the AL's best catchers for the rest of the decade. The American League's answer to Molina isn't a polished batter, but he's a proven .300 hitter and his home run totals have improved every year he's been in the league. Hardly ever walks because he hacks at everything, which is okay so long as he bats over .300, as he did from 2011-2013 but won't be if he hits .260 again like he did last year. There's still some upside here (could hit .300 with 20 bombs), but if he doesn't become more patient then I don't see him reaching his full potential as a hitter.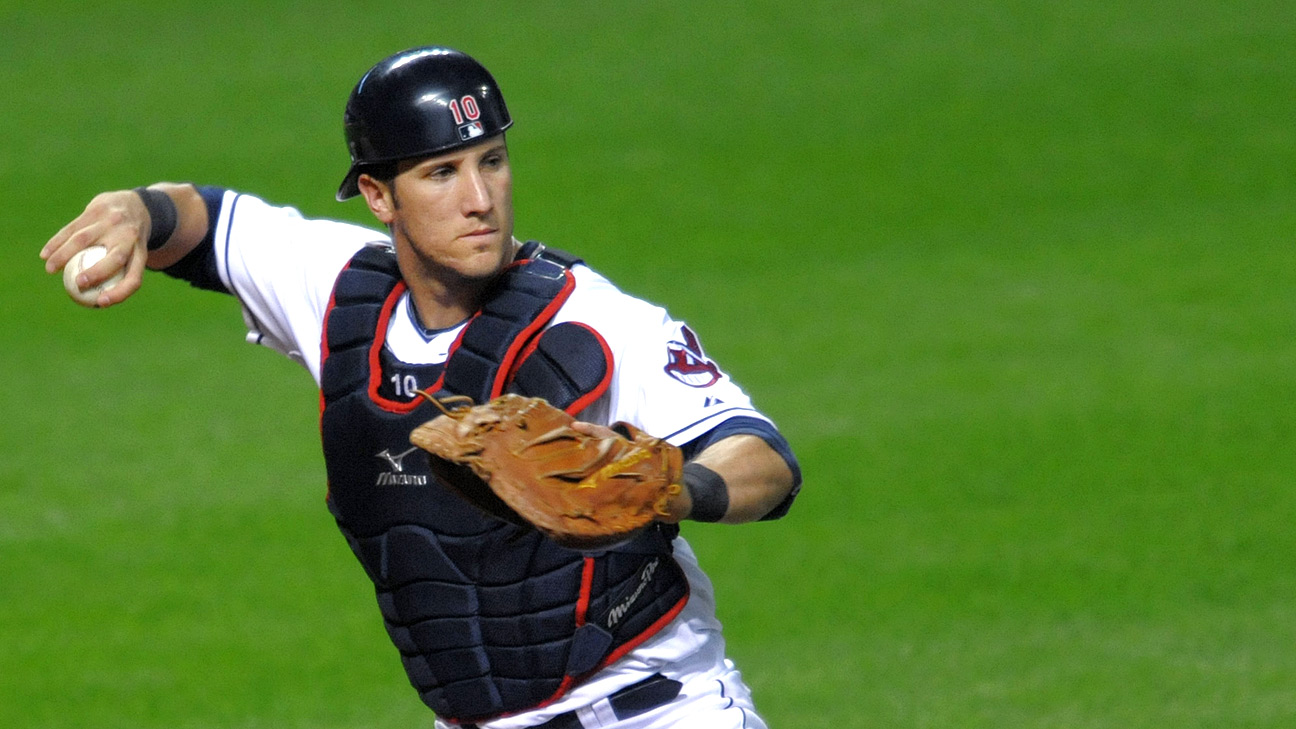 Gomes supplanted Carlos Santana as Cleveland's everyday catcher (ESPN)
6.
Yan Gomes
The 2014 AL Silver Slugger recipient is coming off strong back-to-back seasons that saw him hit a combined .284/.325/.476 (125 wRC+) with 8.2 fWAR between 2013 and 2014. He's shown tremendous power for a backstop, slugging 21 home runs and 25 doubles last year in his first full season, and is a good bet to replicate those numbers in his age-27 season. My only concern is that he's struck out more than four and a half times for every walk (cue
Will Middlebrooks
flashbacks), but it's possible he improves his plate discipline with more experience.
7.
Matt Wieters
Wieters was off to a hot start last year before undergoing
Tommy John
surgery, making him an enticing rebound candidate for 2015. Wieters never developed into the superstar many thought he would become, but he's turned out to be plenty valuable as a good defensive catcher with 20 home run power. The Orioles are counting on their switch-hitting backstop to return strong this year at age 29, and
I wouldn't bet against it
.
8. Devin Mesoraco
Tough to rank Mesoraco given his relative lack of experience, but if he can prove
last year
was legit he'll shoot into the top-five easily. For now he's comfortably in the top-10, albeit towards the lower end. I think he's probably more of a .250-20-70 guy than the .273-25-80 guy he was last year, but that's still pretty darned good. 2015 is also going to be his age-27 season, and you know what that means...
9.
Wilin Rosario
Rosario has flown under the radar thanks to his presence on some terrible Rockies teams, but when healthy he's one of the best-hitting catchers out there. Injuries hampered his production last year, but in the two seasons before that he crushed 49 home runs and posted an .820 OPS (107 OPS+). Like the rest of his teammates (looking at you,
Carlos Gonzalez
and
Troy Tulowitzki
), he needs to avoid the Disabled List, but I see the soon-to-be 26 year-old
getting back to
his mashing ways in 2015. It doesn't hurt that he plays half his games in Coors Field, either.
10.
Brian McCann
As McCann enters his age-31 season, the Yankees have to be concerned about his recent slippage. He's batted below .260 in each of the past three seasons, hitting a combined .238/.305/.419 and becoming liability on offense. McCann's still a good defensive catcher, however, and his power has held steady with 20 or more home runs in all three of those seasons, so he still has plenty of value. He's just not the perennial All-Star/Silver Slugger candidate he was with the Braves.
Honorable Mention:
Miguel Montero
,
Carlos Ruiz
,
Jarrod Saltalamacchia
,
Wilson Ramos
,
Derek Norris