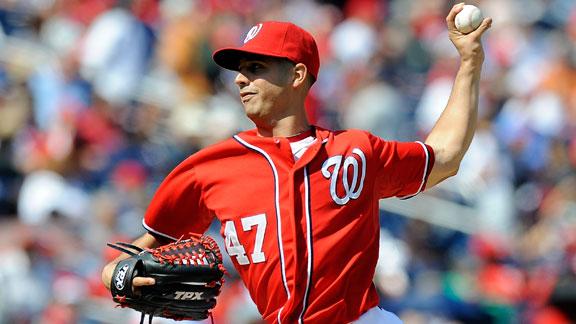 Gio Gonzalez
became the first pitcher to reach the 20 win plateau this season after his Washington Nationals routed the Milwaukee Brewers 10-4 yesterday. The Nats had already scored nine times by the end of the fourth inning, staking their starter to a cushy lead. That proved to be more than enough support for Gonzalez, who need only 90 pitches to cruise through seven innings. Before
Davey Johnson
pulled him for a pinch-hitter (
Chad Tracy
), Gonzo had allowed just three hits and one walk while striking out five. Both runs he allowed were unearned because of
Bryce Harper
's error, so his seasonal ERA dipped to a nifty 2.84 (a perfect match with his 2.84 FIP)
It's fitting that 2012's first 20 game winner is a member of the team with the best record, but that shouldn't take away from what has been a tremendous all-around season by Gonzalez. The Nationals gave up a lot of young talent (
A.J. Cole
,
Tommy Milone
) to
Billy Beane
's Oakland A's when they traded for him last winter, and he hasn't disappointed in his Washington debut. In addition to wins, the 27 year-old lefty leads the majors in fewest hits allowed per nine innings and fewest home runs allowed per nine. He ranks near the top of most pitching categories and figures to receive plenty of
Cy Young
consideration this offseason. With
Stephen Strasburg
shut down
for the year, he is Washington's ace and needs to step up in what will be his first postseason appearance. The Nationals are counting on him to deliver when it matters most.
I know wins have gone the way of RBI in sabermetrics era in that they have lost a lot of their luster, but 20 victories is still an impressive accomplishment no matter how you slice it. Even as offensive levels have declined throughout the post-steroid era, it's still exceptionally rare. Obviously one has to be put together a fantastic season, but he also needs his lineup to back him with run support and his bullpen to preserve the lead Check out how many pitchers have done it each year, going back to 2004:
2004-3 (
Curt Schilling
,
Johan Santana
,
Roy Oswalt
)
2005-4 (
Dontrelle Willis
,
Bartolo Colon
,
Chris Carpenter
, Oswalt)
2006-0
2007-1 (
Josh Beckett
)
2008-4 (
Brandon Webb
,
Cliff Lee
,
Roy Halladay
,
Mike Mussina
)
2009-0
2010-3 (
C.C. Sabathia
, Halladay,
Adam Wainwright
)
2011-3 (
Justin Verlander
,
Clayton Kershaw
,
Ian Kennedy
)
That's 18 instances over the span of eight seasons, an average of about two 20 win campaigns per year. Out of this group of 16 players, Oswalt and Halladay were the only repeat offenders. It's even more mind-boggling to think about how many great pitchers aren't on this list:
Pedro Martinez
,
Roger Clemens
,
Randy Johnson
,
Jake Peavy
,
Felix Hernandez
, and
Tim Lincecum
all come to mind. That just goes to show you a) how difficult it is to record 20 wins and b) why wins are not a good barometer of a pitcher's talent.
But Gonzalez is likely to have some company in this year's 20 win club. Four other hurlers are within striking distance, and I'll evaluate their chances;
-
R.A. Dickey
earned his 19th W against the Marlins yesterday and will get two opportunities to notch his 20th. On Thursday he'll face the Pirates in the midst of another late season meltdown, and then he'll get the Marlins again in his final start. Dickey's on quite a roll, having allowed two earned runs or less in nine of his past eleven starts (2.12 ERA over that stretch). Expect the Cy Young frontrunner to end his magical season on a high note.
-
Jered Weaver
has been money in September and won his 19th game today by limiting the White Sox to just one run. His next matchup is against the Rangers in Texas, where he has an ugly 9.31 ERA this season. Fortunately his last start is a piece of cake; he draws the punchless Seattle Mariners at Safeco, though I should note his most recent loss occurred under those same circumstances. I like his chances.
-
David Price
and
Johnny Cueto
both have 18 and will need to win both of their remaining starts. Both of Price's starts are on the road, where his ERA is a run and a half higher than it is at the Trop. The southpaw should have no problem dealing with Boston's gutted lineup on Tuesday, but the White Sox are much more potent. Cueto has stumbled lately by losing three of his past four turns and has the toughest road ahead. Wednesday's matchup with the rejuvenated Brewers hardly looks appealing, and his last start of the year will be in St. Louis against the Cardinals' high-powered offense. I say both end up with 19.