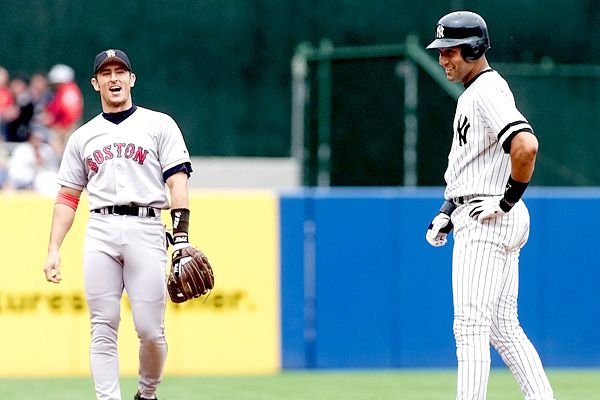 Garciaparra (left) was better than Jeter before injuries ruined his career
Reading this
wonderful piece by Leigh Montville
led me to revisit a recent but now irrelevant debate between two of the greatest shortstops from the past 20 years:
Nomar Garciaparra
and
Derek Jeter
.
Just as Red Sox and Yankee fans debated the merits of
Ted Williams
and
Joe DiMaggio
during the 1940s, their grandchildren argued at length about Derek Jeter and Nomar Garciaparra around the turn of the 21st century. What made this argument even better was that the two played the same position. Williams and DiMaggio had both been outfielders, but the Splendid Splinter was stationed in left and DiMaggio manned the more-challenging center. This could not be ignored, for while Williams was obviously the better hitter, DiMaggio deserved credit for playing a tougher position, and playing it spectacularly well at that.
No such concessions were needed for this rivalry. Born less than a year apart, both were immensely popular, multi-talented shortstops and first round draft picks who broke in around the same time, with Jeter winning the AL Rookie of the Year award in 1996 and Garciaparra taking home the honors the following year (both unanimously). Because they played in the same division just as their clubs' century-long rivalry was being renewed, they were often pitted against each other for the the most intense, high-stakes games. Jeter, like DiMaggio, was a "winner" with the rings to prove it. Garciaparra was statistically superior, the better hitter and rangier defender, but like Williams was destined to never win a World Series in his career.
While neither one was quite on the level of
Alex Rodriguez
, Garciaparra and Jeter were not far behind. More importantly, they were close enough to each other that one could reasonably compare them without sounding like a delusional homer. Anyone who said Jeter was better than A-Rod was clearly an idiot, but saying Jeter was better than Garciaparra, while misguided, was at least more defensible and understandable. They were both five-time All-Stars from 1997 through 2003 and won the same number of Gold Gloves (0) and MVP awards (also 0). Garciaparra at least won a Silver Slugger, something Jeter wouldn't do until 2006.
From a statistical standpoint, however, it's impossible to conclude anything other than what every Red Sox fan and informed baseball follower knew ten years ago:
Garciaparra was better
, before 2004, that is.
From 1997 through 2003 (excluding 2001, when Garciaparra missed virtually the entire season):
Jeter: 890 G 707 R 1,160 H 175 2B 96 HR 456 RBI 1,685 TB 137 SB 32.2 bWAR
Nomar: 883 G 661 R 1,186 H 267 2B 165 HR 645 RBI 2,036 TB 77 SB 40.5 bWAR
Even including 2001, when Garciparra played just 21 games to Jeter's 150, Nomar still comes out way ahead in doubles, home runs, RBI, total bases, and WAR. And that's with spotting Jeter almost an extra full season.
In 2004, however, their careers began heading in opposite directions. Garciaparra got hurt again, was traded away from Boston and was really never the same. He bounced around, couldn't stay healthy, and played his last game in 2009, a year in which Jeter secured his fifth World Series ring and finished third in the AL MVP voting. Jeter would continue to produce long after Garciaparra had faded away, leading the major leagues in hits in 2012 at the age of 38 and playing past his 40 birthday. Jeter's going into the Hall of Fame on his first try, whereas Garciaparra has almost no chance of getting inducted (off the writer's ballot, anyways) due to the brevity of his career.
Still, it's worth remembering that for a while in the late 1990s and early 2000s, Garciaparra was better than Jeter.
For nearly a decade they were equals
, before Garciaparra broke down and faded away. Here's a year-by-year breakdown to prove it:
1997 Nomar
No sophomore slump for Jeter, who proved his Rookie of the Year campaign was no fluke by posting the same OBP and swatting just as many home runs as the year before, not to mention totaling more runs, hits, doubles, triple, walks, steals, total bases, and wins above replacement. With decent defense and 23 steals, he was somewhere in the neighborhood of four to five WAR (FanGraphs has him at four exactly, B-R rates him at 4.9).
Garciaparra, however, was worth close to six and a half after authoring one of the
greatest rookie seasons of all time
. In addition to leading the American League with 209 hits and 11 triples, Garciaparra racked up 122 runs, 44 doubles, 30 homers, 98 RBI, 22 steals and 365 total bases, making him the unanimous choice for AL Rookie of the Year honors. He also earned his first All-Star selection and won his only Silver Slugger award.
While Jeter's season was in many ways an improvement on his rookie campaign, he was simply not as outstanding as Garciaparra. Nomar outproduced DJ in virtually every offensive category, swatting three times as many home runs and posting an OPS 100 points better than his Yankee counterpart's .775 mark, all while playing superior defense and stealing one fewer base.
Garciaparra's superiority was reflected in that year's MVP voting, where he scored an eighth place finish, though he should have been in the top five and probably would have had Boston not stumbled to a 78-84 record that year. Jeter's did not fare as well, finishing a distant 24th in the MVP balloting even though his Yankees won 96 games and made the playoffs. Both should have finished higher than they did, but the voters correctly recognized that Garciaparra was significantly more valuable than Jeter.
1998 Nomar
Jeter took a significant step forward in his third full season, nearly doubling his home run output, adding almost 90 points to his OPS and becoming a much more efficient basestealer. He topped 200 hits and 300 total bases for the first time, paced the American League in runs scored with 127, and enjoyed one of his finest seasons defensively. Baseball-Reference rates him at 7.5 bWAR that year, a tremendous number, while FanGraphs and Baseball Prospectus have him around six.
Garciaparra was right there with him, topping seven WAR by both B-R and FG's calculations while falling just short of seven according to BP. Garciaparra also made a big leap from his previous season, raising his OPS more than 70 points, establishing career highs with 35 home runs and 122 RBI, and cutting his strikeout rate from 12.5 percent to 9.5 percent. His defense remained exceptional, worth close to two wins by itself.
Based on WAR, choosing between the two comes down to splitting hairs. The voters must have felt the same way that year, as Garciaparra finished second (to an undeserving
Juan Gonzalez
) with Jeter taking bronze in that year's maligned MVP vote. Nomar did receive five first place votes to Jeter's two, however, an impressive feat considering Jeter's Yankees won 114 regular season games that year, or 22 more than the Boston Red Sox. Jeter hit .324, Garciparra hit .323/ Jeter got on base at a better clip, but Garciaparra outslugged him by over 100 points and played better defense. In the end, that's enough to swing the pendulum in Garciaparra's favor.
1999 Jeter
Jeter continued to improve in 1999, the finest season of his storied career. Not only did Jeter bat. 349, a personal best, but he also drew 91 walks--also a career high--to fuel his .438 OBP, the third-highest mark in the American League that year behind
Edgar Martinez
and
Manny Ramirez
. Nobody matched his major league leading hit total of 219.
Jeter would have won his first batting title were it not for Garciaparra, who eclipsed the Yankee's .349 mark by batting .357 to take the crown. But because Nomar walked 40 fewer times than Jeter, his OBP was significantly lower at a still-great .418. Garciaparra, as he normally did, compensated by hitting for more power. Though his 27 home runs and 104 RBI barely surpassed Jeter's 24 and 102, Garciaparra's .603 slugging percentage was over 50 points higher than Jeter's .552 mark. Both players slipped defensively and came out practically even, negating Garciaparra's previous advantage there. They both posted identical OPS+ scores of 153, indicating that Jeter's bat was Garciaparra's equal after adjusting for league and park. Nomar was slightly better on the bases, with 14 steals in 17 attempts compared to Jeter's 19 out of 27, but not enough to tip the scales either way. Garciaparra outhit Jeter in their first postseason meeting that year, which New York won in five games, but Jeter had a great series in his own right and I'm not going to put much stock in five playoff games.
Another very close call here, which again was apparent in the MVP voting. Jeter finished sixth, one spot ahead of Garciaparra. BP favors Garciaparra, but BR and FanGraphs both give the edge to Jeter. So shall I, for Jeter played 23 more games than Garciaparra and thus made more of an impact. Plus he also led the loop in two very important sabermetrics: runs created and times on base. This time, it's Jeter by a nose.
2000 Nomar
Jeter regressed following his career year in 1999, turning in a season that was still great but not elite. All his numbers except for steals and strikeouts were down compared to the year before, and his defense continued to slide as well. The result was that Jeter's value plummeted by three to four wins.
The same cannot be said of Garciaparra, who enjoyed his finest season in the first year of the new millennium. Not only did he bat .372, the highest mark in the American League that year as well as his career, but he also walked a career-best 61 times (20 intentionally) to post a .434 OBP, also a career high. With 51 doubles, 21 long balls and a .599 slugging percentage, his power remained elite as well, not to mention better than Jeter's 31, 15, and .481, respectively. And while Garciaparra essentially became a nonfactor on the bases with only five steals, he bounced back defensively with a season on par with his first two. With Jeter so far below average and Garciaparra so far above average, the difference between them in glovework alone was worth anywhere from three to four wins. Throw in Nomar's big offensive edge, and this one's not nearly as close as the MVP ballot would suggest. I'm surprised that for the third straight year they finished next to each other in the MVP polls. Nomar pulled a ninth place finish while Jeter came in tenth, maybe because their teams finished so close in the standings (New York edged Boston by two games to win the division).
2001 Jeter
No contest here, for Jeter produced a typical Jeter season while Garciaparra played only 21 games because of a wrist injury that unfortunately ended his days as an elite hitter.
2002 Nomar
Garciaparra bounced back to play 156 games, a career high, and amass almost seven bWAR despite losing more than 150 OPS points off his 2000 production. His .880 mark was still nearly 90 points better than Jeter's OPS, which dipped below .800 for the first time since his sophomore season. Garciaparra outhit Jeter .310 to .297, and while Nomar's OBP was considerably lower (.352 to Jeter's .373), he made up for it by slugging 107 points higher. In nine fewer at-bats, Garciaparra collected 30 more doubles, five more triples, six additional home runs, 45 more RBI, and 64 more total bases. Garciaparra's defense was considerably better as well, thereby negating Jeter's clear edge on the basepaths. Whereas Jeter did not appear on a single MVP ballot that year, Garciaparra finished 11th tied with
David Eckstein
even though New York won the division and Boston missed the playoffs altogether.
2003 Nomar
Garciaparra's final full season in Boston was another great one, contributing approximately six wins above replacement for a colorful Red Sox team that won 95 games and the AL Wild Card. His OPS slipped ever so slightly to .870, down ten points from the year before, but his counting numbers remained impressive with 120 runs, 198 hits, and 19 steals--all his most since his sterling rookie season--plus 28 homers, 105 RBI, and 345 total bases. Jeter, who made his first trip to the DL after an Opening Day collision with Blue Jays backstop
Ken Huckaby
at third base, was limited to 119 games and so his numbers paled in comparison. On a per game basis, though, Jeter was just as good as Nomar, batting .324/.393/.450 (to Garciaparra's .301/.345/.524) while scoring 0.73 runs per game and compiling a slightly better adjusted OPS than Garciaparra, a performance that added up to about four wins.
Had Jeter not gotten hurt, it's likely his numbers would have been right there with (and possibly better than) Nomar's, but we'll never know. What we do know is that Nomar played 37 more games with way more power (almost three times as many home runs and more than twice as many RBI), better defense and superior baserunning, thus making him the more valuable player that year. Accordingly, there was a wide gap between them in the MVP voting, with Garciaparra finishing seventh (his last time in the top-ten) and Jeter much further down at 21st. Neither player shined in that year's unforgettable (thanks to
Aaron Boone
) ALCS, both notching seven hits in the seven games with sub-.700 OPS's.
2004 Jeter
2004 amounted to another lost season for Garciparra, who didn't take the field until June 9th and appeared in only 81 games that year. While solid offensively, Garciaparra pouted his way out of Boston with numbers that were down across the board and defense that had slipped precipitously. At best he was worth maybe two wins above replacement. Jeter was worth four in a year where he played a full slate of games (154), cracked 23 home runs, stole 23 bases, and won the first of many Gold Gloves he did not deserve. Though the formerly cursed Red Sox went on to stun their arch-rivals in the ALCS and win their first World Series title in 86 years, they did so without the help of Garciaparra, who played 38 games for them before he was dealt to the Cubs in a trade deadline deal that shored up Boston's leaky infield defense by bringing former Gold Glovers
Orlando Cabrera
and
Doug Mientkiewicz
to Beantown.
The rest is history. From that point forward, there would never again be a time when Garciaparra outproduced Jeter or when anyone could even claim that they were on the same level. Nomar would enjoy one more good season, with the Dodgers in 2006, but by then he was a first baseman. He was unable to sustain the peak that made him look like a surefire Hall of Famer in his 20s. In terms of career value, Jeter has him beat by a long shot. But if you narrow the window to Garciaparra's Boston days, he comes out on top. It's just too bad things turned out the way they did, that he didn't amount to much after leaving Beantown, because while he was here he was
more celebrated
than any Red Sox player ever, save maybe
Carl Yastrzemski
.
Now, he's nothing more than a distant memory, the sad story of a promising career unfulfilled. I see so much of him in
Troy Tulowitzki
, another
supremely talented but injury-plagued shortstop
, and I can only hope he avoids the same fate.