The Red Sox are playing so well, not even a hurricane can stop them.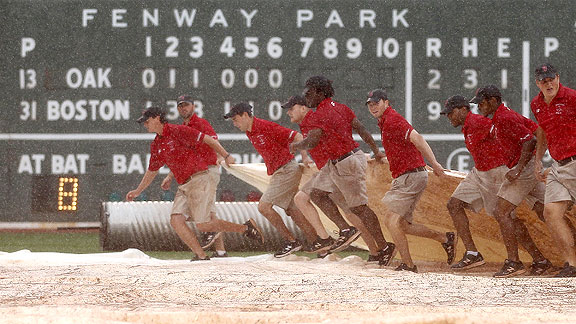 It rained, it poured, and still the Red Sox won
Literally.
Yesterday Boston took both games of doubleheader against the Oakland A's, persevering through three lengthy rain delays during the afternoon and evening to beat the Athletics 9-3 in the first game and 4-0 in the second as Hurricane Irene descended on the Boston area.
The first game was a typical Bosox blowout; the Sox burst out of the gates and had nine runs up on the scoreboard before the sixth inning, and with
Jon Lester
on the bump that cushion was more than enough. Each member of the starting nine notched at least one hit, run, or RBI as Beantown's Bruisers fattened up on
Guillermo Moscoso
's pitching before the storm rolled in and snuffed out both offenses for the rest of the game. You know it's a rout when
Jason Varitek
can get in on the fun; the Captain cranked a two-run homer (his ninth of the year, or as many as
Joe Mauer
and
Victor Martinez
combined)
and added an RBI single for good measure
The nightcap was less one-sided, but the feeble Athletics mustered just three hits, all singles, off Red Sox pitching and were shut out by
Erik Bedard
,
Alfredo Aceves
,
Daniel Bard
and
Jonathan Papelbon
. Bedard was shooting for his first win in a Boston uniform but a mid-game rain delay washed away his chances. At the dish
David Ortiz
and
Jarrod Saltalamacchia
inflicted most of the damage; Big Papi, who had already roped two doubles in the first game, continued his big day by going 3-for-4 with a two-run blast (his 27th) over the Green Monster in the second inning. Salty plated the other two runs with a fourth inning groundout and a sixth inning double.
The pair of wins pushed Boston's division lead over the Yankees, who had their doubleheader rained out in Baltimore, to two games. The Sox are off today and tomorrow, and then the Bronx Bombers (currently engaged in a doubleheader of their own with another game tomorrow) come to town for a midweek series. If you merely looked at the division standings you would deem those three games crucial with first place in the AL Beast on the line, but New York has such a stranglehold (seven game lead over the plucky Rays) on the wildcard race that, barring a sweep, they barely affect either combatant's postseason chances.
Both still have outside shots at 100 wins and both will be playing October baseball this year, so if we're lucky we just might get to see Yankee-Red Sox ALCS. But for now, a surprisingly meaningless early September series at the Fens will have to do.