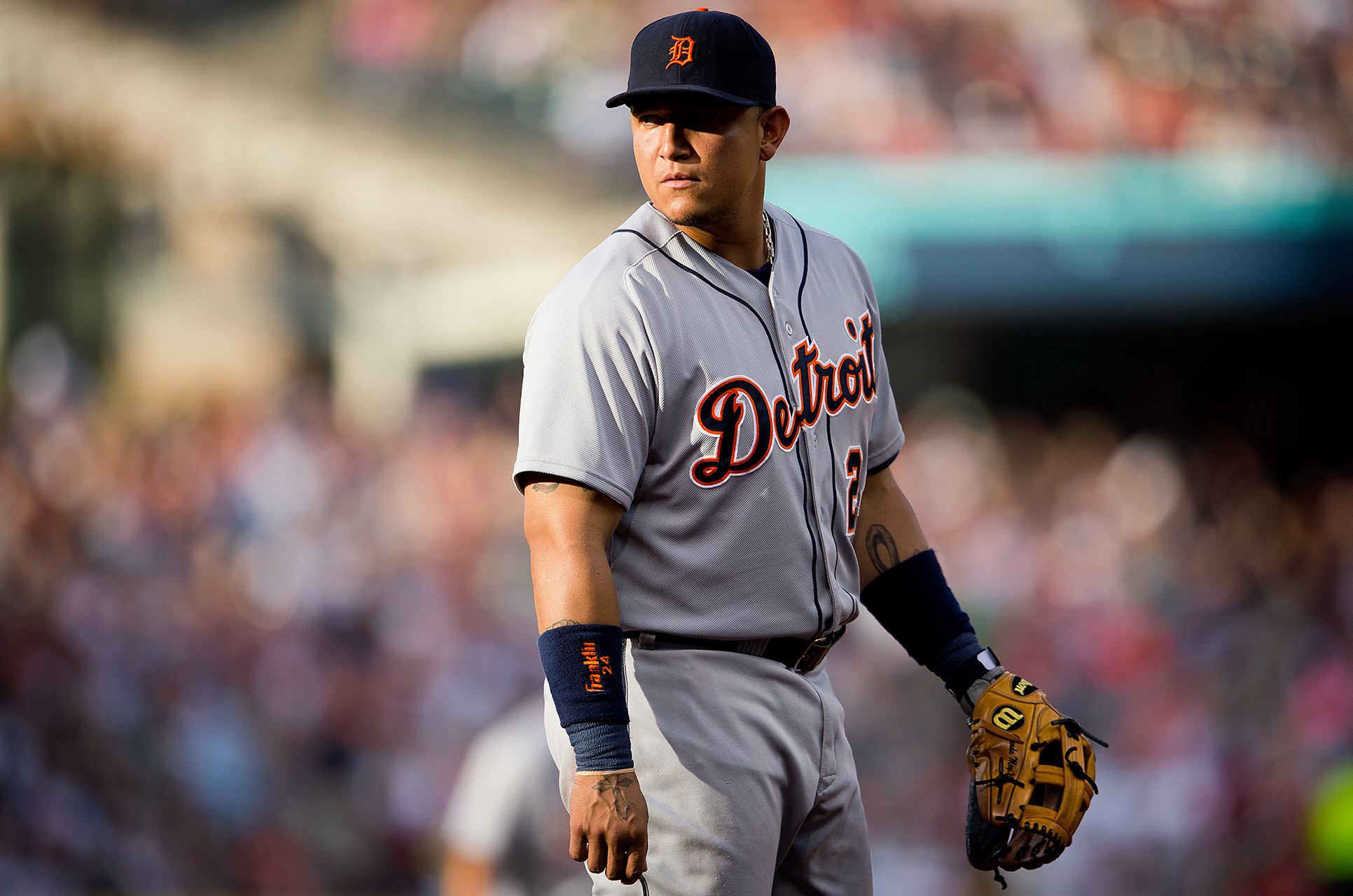 Cabrera was curiously ignored this season despite his impressive numbers (ESPN)
Maybe I wasn't paying close enough attention, but I felt like we just went through an entire baseball season without talking about
Miguel Cabrera
.
Not only did his Tigers capture their fourth straight division title, but they did so with Cabrera once again posting monster numbers in the middle of their lineup. While his production sagged below his career norms--especially compared to the last four years--it was still outstanding. He batted .313/.371/.524, good for a 147 wRC+ and .384 wOBA (both seventh in the American League). His counting stats were exceptional as well; 25 home runs, 109 RBI, 101 runs, 320 total bases and a league-leading 52 doubles. With 5.4 fWAR he was one of the ten most valuable position players in the American League, but nobody seems to be seriously campaigning for him to win his third straight award.
I just don't get it. The guy puts up huge numbers, his team wins the division, and we forget about him? Like all of the sudden he doesn't exist anymore? What makes this lack of recognition even more strange is that Cabrera was a constant presence, playing all but three games this year. It's not like he got hurt for a few weeks and fell off the face of the earth for a little while. He was out there everyday. How do you think he reached 25 home runs, 100 RBI and 300 total bases for the 11th straight year?
Cabrera's consistency went unnoticed, as a lot of other Tigers got more ink this year.
Justin Verlander
and
Joe Nathan
fell apart
, and their demise attracted a lot of negative attention.
Victor Martinez
had a remarkable,
MVP-caliber seaso
n batting behind Cabrera.
Ian Kinsler
was phenomenal in his Detroit debut, making everyone forget about
Prince Fielder
.
Torii Hunter
somehow
warded off age for another year
.
J.D. Martinez
came out of nowhere and emerged as one of the
best hitters in baseball
.
Brad Ausmus
replacing
Jim Leyland
. Detroit trading for
David Price
at the deadline and still almost not winning the division. Just on the Tigers alone, there were lots of other storylines besides Cabrera this year. He was overshadowed.
Part of me thinks it was a response to Cabrera became a little overrated over the last couple of years. He won the Triple Crown in 2012, something nobody had done in 45 years, but
Mike Trout
was clearly better. Last year was more of the same. Cabrera once again had awesome statistics, even better than the year he won the Triple Crown, but again Trout was better. Cabrera won the MVP both years even though he was the league's fourth-most valuable player each time. It was like
Juan Gonzalez
beating out A-Rod,
Nomar Garciaparra
, and
Derek Jeter
for MVPs in the late '90s.
Then Cabrera signed that
ridiculous contract
, the eight-year,
$248 million extension
that doesn't even kick in until after next year, and for the first time in over a decade baseball's highest paid player wasn't
Alex Rodriguez
. The love for Cabrera, one of the game's more underrated players for the first ten years or so of his career, had swung too far in the other direction. He'd gone from under-appreciated to horribly overrated.
So, when he had a merely great season this year, nobody seemed to notice. He very clearly declined, but not so much that people started asking "what's wrong with Cabrera?" or began calling him out for being an overpaid bum. He was not extraordinary enough to fawn over like Trout or
Giancarlo Stanton
or
Clayton Kershaw
, but he was still productive enough to skirt any criticism that might come his way.
Of course, the Tigers
should
be worried about Cabrera. Despite moving back to first base, his OPS still fell nearly 200 points compared to last year. He just had the second-worst ISO and third-worst walk rate of his career. After walking more than he whiffed in 2011 and maintaining an almost-even ratio last year, he fanned more than twice as often as he walked this year, something he hasn't done since 2008. He's going to be 32 next April. Alarm bells should be going off. It's
Albert Pujols
all over again.
But for now Cabrera continues to fly under the radar. That will probably change over the next couple weeks if he comes up with a few big hits or strikes out in key situations. The Tigers are still trying to win their first World Series in 30 years, after all, and if Cabrera helps them do that then he'll be back in the spotlight where he belongs.
Maybe he's not the best hitter on the planet anymore, but he's still among the best, and that's worth talking about.