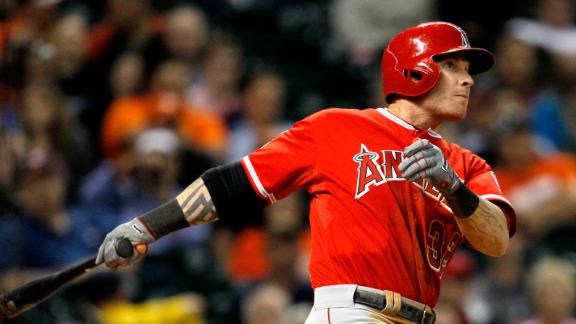 Hamilton is one of many stars currently on the DL (ESPN)
Is your fantasy team already ruined by injuries? You're not alone. We're barely a month into the season, and star players have been dropping like flies. Here are some of the best players at each position currently waylaid.
C
Wilin Rosario
Colorado's backstop went down over the weekend with...a viral infection. His DL stint should include plenty of bed rest and orange juice.
Honorable Mention:
Wilson Ramos
1B
Chris Davis
The reigning major league home run and RBI champ is recovering from a strained oblique and hopes to be back on Sunday. Last year's AL MVP runner-up will give Baltimore's sagging lineup a big boost when he returns.
Honorable Mention:
Logan Morrison
2B
Jason Kipnis
Less than four weeks after signing a
new contract extension
with Cleveland, the All-Star second baseman went down with a strained oblique. He will need to spend additional time on the DL--possibly the whole month of May--which is not good news for the sputtering Indians, currently in last place.
Honorable Mention:
Jurickson Profar
3B
Ryan Zimmerman
The Nationals third baseman made his annual trip to the Disabled List on April 13th with a fractured right thumb. Expected to miss 4-6 weeks, he has yet to pass the X-ray test that will clear him for hand strengthening exercises.
Honorable Mention:
Chase Headley
SS
Jose Iglesias
I had to scrounge the position to find this one, since the usual suspects of
Jose Reyes
,
Jed Lowrie
and
Troy Tulowitzki
have remained healthy thus far. Last year's AL Rookie of the Year runner-up will miss the entire season after suffering stress fractures in both shins during spring training. Detroit would have been wise to replace him with
Stephen Drew
but decided to give
Miguel Cabrera
an absurd amount of money instead.
Honorable Mention:
Rafael Furcal
OF
Bryce Harper
In typical Bryce Harper fashion, he tore a thumb ligament diving head-first into third base while legging out a triple on April 25th. Unfortunately, it will cost him at least two months of his season, as he underwent surgery and is not due back until early July.
OF
Ryan Braun
Braun was back to form before a possibly-karma-related oblique strain derailed what was shaping up to be a strong April for him. It goes without saying that the red-hot Brewers will sorely miss his bat in the middle of their order.
OF
Josh Hamilton
Hamilton has never been able to stay healthy for long, so after playing 299 games over the past two seasons it shouldn't have been surprising to see him crash early in 2014. He was on fire before tearing a ligament in his thumb diving head-first into first base (probably the dumbest thing a player can do) and was lost only eight games into the Angels' season. LA is hopeful he will re-join
Albert Pujols
and
Mike Trout
in the Halos lineup at the end of May/beginning of June.
OF
Michael Cuddyer
Last year's NL batting champion was off to a fast start before a strained hamstring felled him. He was placed on the DL on April 21st, retroactive to April 18th, and Rockies manager
Walt Weiss
says there's still no timetable for his return.
OF
Mark Trumbo
Trumbo was raking in his Diamondbacks debut with seven home runs and 19 RBI through his first 21 games until a stress fracture in his foot sent him to the Disabled List on April 24th. The bad news for Arizona: he may not return until early July. That leaves
Paul Goldschmidt
to carry the lineup in his absence.
OF
Jay Bruce
Went under the knife to repair a torn meniscus in his left knee yesterday and could miss a month. A big loss for the Reds, who don't have much offense outside of
Joey Votto
.
Honorable Mentions:
Adam Eaton
,
Carlos Quentin
, Kyle Calhoun
DH
Adam Lind
The Blue Jays have had better luck with injuries this year, but that luck eluded Lind, who's been sidelined since mid-April with back tightness. He began his minor league rehab assignment Sunday and should be back by the end of the week.
Honorable Mention:
Josh Willingham
SP
Clayton Kershaw
The defending NL
Cy Young
winner made only one start (in Australia) before a back injury knocked him out of commission. Luckily for the Dodgers, he's due back today and they have more than enough pitching (
Zack Greinke
,
Dan Haren
,
Josh Beckett
) to hold down the fort while he was gone.
SP
Chris Sale
A left forearm strain sent the White Sox ace to the DL in mid-April after only four starts. The southpaw threw a 40-pitch bullpen session yesterday and should be able to begin a rehab assignment in two weeks. Chicago's short on starting pitching with him, so they really need a healthy Sale to return to form in order to stay afloat.
SP
Mat Latos
Latos has yet to make his 2014 debut because of a strained right flexor mass tendon, which is probably the most complicated-sounding injury on this list. The Reds need their ace back if they want to turn their season around.
SP
Anibal Sanchez
Last year's AL ERA champion is currently dealing with a laceration on his finger but should return sometime next week. Luckily for the Tigers, they have more than enough starting pitching with
Justin Verlander
,
Max Scherzer
,
Rick Porcello
and
Drew Smyly
to get by without him.
SP
Matt Cain
Cain was struggling even before a cut on his right index finger landed him on the DL Sunday, but since it was retroactive to April 24th he'll be able to start against the Dodgers on Saturday. Not a huge deal for the Giants, who are well-stocked with starters
Tim Lincecum
,
Madison Bumgarner
,
Tim Hudson
, and
Ryan Vogelsong
.
Honorable Mentions:
Doug Fister
,
Alex Cobb
, Hyun-Jin Ryu (not including guys out for the season like
Matt Moore
,
Matt Harvey
,
Kris Medlen
, etc.)
CL
Aroldis Chapman
The Cuban Missile opened the season on the DL after taking a line drive to the face off the bat of
Salvador Perez
during spring training. He needed facial fracture surgery but his recovery is nearly complete; he got promoted to Triple-A today and should be back in the Show shortly. In the meantime,
Jonathan Broxton
has done a fine job as Cincinnati's closer.
CL
Jason Grilli
Out since April 21st with an oblique injury, the Pirates closer played catch yesterday but has no set date for his return.
Mark Melancon
will close in the interim.
Honorable Mention:
Casey Janssen