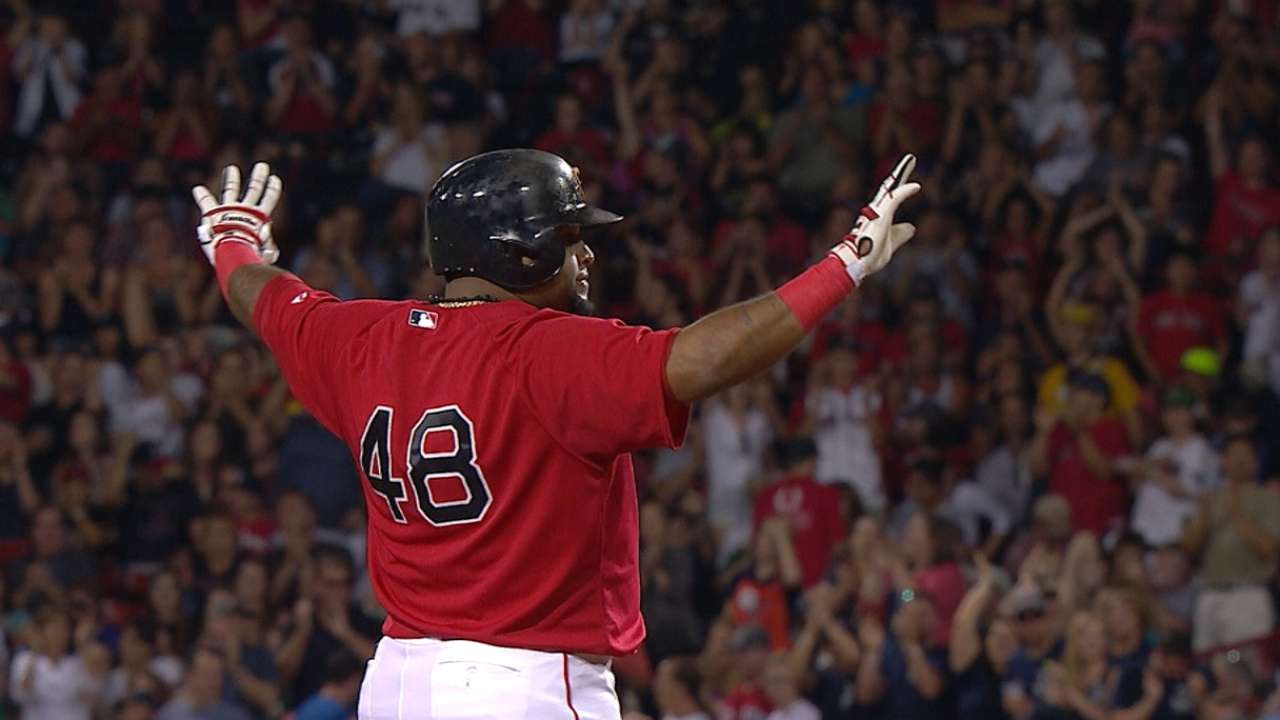 Pablo Sandoval paced the assault with three hits and three RBI (MLB.com)
John Farrell
never lets himself be the story. In his three tumultuous seasons as manager of the Boston Red Sox, he has never said anything even remotely controversial.
He stays out of his own way, keeps his opinions to himself and his foot out of his mouth.
In that sense he is the ideal manager, especially in a baseball-crazed town like Boston. No matter how stormy the seas get, he doesn't rock the boat.
Farrell is nothing like his predecessor, a diva manager who loved the spotlight and became a running punchline during his lone season at the helm. Perhaps that's why the Red Sox hired Farrell in the first place; because he was the
exact opposite
of
Bobby Valentine
.
Now, because of circumstances beyond his control and almost certainly against his wishes. John Farrell has become the story.
***
2015 has been a lost season for the Red Sox, a season of l
ost games
,
lost hopes
, and
lost personnel
. Through it all Farrell has been his usual stoic self, keeping a steady hand and a straight face throughout another rocky season. He's kept an even keel even when his players
lost their cool
, the media ripped him to pieces, and Red Sox Nation called for his head as he steered the team towards a second-straight last-place finish.
Now, the Red Sox will have to carry on without him. Yesterday Farrell announced that he has
treatable lymphoma
, and that he'll be stepping away from the team for the remainder of the season. Red Sox bench coach Tory Lovullo will take his place in the dugout.
Farrell's bombshell was the latest and most severe blow in a season wracked by frustration, disappointment, and underperformance. When it rains, it pours, like when Carl Beane and
Johnny Pesky
passed away during Boston's nightmare 2012 season. The Red Sox just learned they're
losing Larry Lucchino
, their CEO since 2002, at the end of the season. Now they've lost their manager, too.
It's probably a blessing that the Sox are in last place as they deal with the unexpected departure of Farrell. Suffering such an emotional blow in the middle of a pennant race would have been even more devastating. It's still a punch in the gut regardless of the team's standing, but it would have been tough for the Sox to mount a playoff run without their skipper. There's no pressure on Lovullo or his players, who are free to play out the string and start preparing for next year.
Thankfully there was a game--or more accurately, a distraction--last night, which allowed the Red Sox and their fans to get back to the business of playing ball. With the Farrell news breaking earlier in the day, there was a dark cloud hanging over Fenway Park even though it was a gorgeous evening. The crowd spoke of Farrell's condition in hushed tones, anxiously seeking updates as they tried to keep pace with the developing story. For once Farrell was the headline, only everyone wished he was anything but.
The Fenway Faithful needed something to celebrate. What they needed was a win.
The Red Sox delivered, pulling out their most dominant victory of the season with a 15-1 rout of the Seattle Mariners. Boston's 15 runs, 21 hits, and 14-run margin of victory were all season-highs. How fitting was it that the Sox followed their worst loss of the season with their most resounding win? It was the highest peak of what has been an up-and-(mostly) down year, the finest hour of a team struggling through its darkest.
The Bosox rallied behind their cancer-stricken skipper, putting on a show for their sellout crowd. Seattle scored the game's first run, but after that it was all Boston. The game produced several memorable moments, including another multi-homer performance from
Travis Shaw
and another
highlight-reel catch
by
Mookie Betts
.
Last night's rout of the Mariners was the best kind of win, the kind where everyone contributes. Nine different Red Sox banged out two or more hits, and the only Bostonian to go hitless (
Xander Bogaerts
) still contributed by scoring a run. Even
Joe Kelly
--a
trainwreck
on the mound this year--was masterful, firing six innings of one-run ball while striking out six. For a night, at least, the Red Sox could do no wrong.
As it turned out, Boston's bats were just getting warmed up. They followed the romp with an even bigger outburst on Saturday, demolishing the previous night's season highs with 22 runs and 26 hits. They lit up one of the sport's best pitchers in
Felix Hernandez
, pounding him for 10 runs on 12 hits and knocking him out in the third inning. Six different Red Sox finished the game with three hits or more, and every member of the starting nine registered at least one except Shaw.
So far this weekend has been exactly what the Red Sox and their fans needed: to vent four months of frustration by beating another team's brains out. The Red Sox haven't won much this year, but for two days they've played like the juggernaut they were supposed to be.
Unfortunately winning isn't a cure-all. Winning won't treat Farrell's cancer. But it sure can make everyone feel a little bit better.