For the third time in four years, Trout was denied an MVP he deserved to win (LA Times)
To be fair, that tough call was borderline impossible.
Mike Trout
's stats and
Josh Donaldson
's stats were
virtually identical
, and when that happens you tend to see voters falling back on wonky criteria to make their decisions, i.e. whose team made the playoffs, who had the better second half, who was part of a better story, etc. I'm sure some also felt less compelled to vote for Trout since he won last year, whereas Donaldson had never won.
I'm really starting to feel bad for Trout. The dude should have four MVPs by now, and instead he just has one and three second-place finishes. While that's still an impressive accomplishment, there's no trophy for second place. He could/should have been the first player in baseball history to be a four-time MVP before his 25th birthday, not to mention the only player not named
Barry Bonds
with more than three. Instead, he's still searching for his second.
Trout's starting to suffer from the
Willie Mays
effect, which is that even though everyone acknowledges him as the best all-around player in baseball, they still find ways to give the MVP to someone else. His seasons are all so great that none of them feel special anymore; it's just business as usual, another ho-hum nine-win season from Trout. People don't appreciate just how ridiculously good he has been--
the best ever
in baseball history at his age up to this point.
It's probably no coincidence, either, that despite leading American League position players in bWAR four years in a row, the only year he won MVP was the year his team made the playoffs--and that was his worst season individually! The other three times, he lost out to an inferior player on a postseason team. Voters are still failing to isolate the player from the team.
People didn't have that problem with Harper, who was far and away the best player in baseball this year even though he played for one of the most disappointing clubs in recent memory. The failures of his teammates not named
Max Scherzer
didn't stop him from winning unanimously, becoming the youngest player to do so (Trout had been the previous record-holder after winning unanimously
last year
).
It also helped that Harper had the trophy locked up by Memorial Day, surviving historic second halves from
Joey Votto
and
Jake Arrieta
. Of course, the MVP at the end of May isn't always the MVP come October, as we saw with
Josh Hamilton
in 2012 and
Troy Tulowitzki
in 2014
, but Harper hit plenty over the season's final four months to protect his lead. When the dust settled, he had the highest WAR, OBP, slugging, OPS, and OPS+ in the majors, not to mention the most runs and long balls in the National League. Not even a
surprise strangling
by
Jonathan Papelbon
could knock him off.
Harper is very much a modern MVP winner in that he won because he had the best numbers. Even though he came from a crappy team, failed to drive in 100 runs, didn't play a premium position, and was not well-liked throughout the game--reasons voters might opt for someone else--he still won unanimously. His numbers were simply too overwhelming.*
*Which is funny, because he had the kind of season Ted Williams used to have every year, only Williams was usually dismissed for all the reasons I just mentioned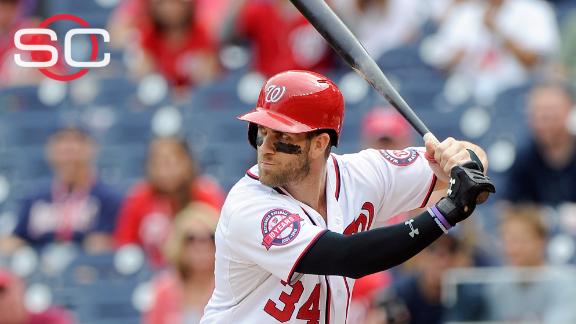 Unlike the AL award, the NL MVP was never in doubt (ABC6)
So while the NL race was effectively over by June, the American League remained an epic back-and-forth struggle between Trout and Donaldson throughout the summer. Whenever one seemed to take the lead, the other would get hot and pull even again.
The stretch that sealed it for Donaldson was the six weeks between the end of July and middle of September. Toronto took off during that time, rising from a game under .500 to first place in the AL East, leapfrogging three teams to get there. Donaldson went out of his mind during his team's ascension to the top of the standings, batting a sizzling .364/.433/.755 with 14 homers and 49 RBI over 39 games from July 29th through September 11th. With the Blue Jays firmly in control of first, no one seemed to notice how much he tailed off over the season's final three weeks, losing 31 points from his OPS.
While Toronto and Donaldson were kicking it into high gear for the stretch drive, Trout and the Angels were falling apart. Fourteen games over .500 and leading the AL West on July 23rd, Los Angeles plummeted to a game below .500 and 7.5 out of first by the end of August. Not surprisingly, LA's slide coincided with Trout's
worst month
as a professional. From August 1st through August 29th he batted .194/.336/.290 with just six extra base hits and six RBI.
Both rebounded in September, but were unable to make up the ground they lost in their late summer swoon. The Angels missed out on the second wild card by one game, and Trout was unable to overtake Donaldson in the MVP vote.
He should have. Trout was the best hitter in the American League--his raw OPS was 52 points better than Donaldson's in a much tougher hitting environment--while playing center field, a more demanding position than third base (Donaldson's position). Donaldson had better counting numbers, but that was largely because he had better hitters around him and walked less, so he ended up with 45 more at-bats even though Trout played one more game. Besides, we know stats like runs and RBI are team-dependent and thus should not hold much weight in these discussions.
So how did Donaldson win? Trout won last year, which probably hurt him, but I think the real reason was that that Donaldson had narrative on his side. He comes over in a
blockbuster trade
and then immediately leads his team to the postseason--their first playoff berth in 22 years, mind you--his very first year there. He had plenty of help from
Jose Bautista
,
Edwin Encarnacion
,
Russell Martin
, and
David Price
, but people seem to think Donaldson, like Maris coming to the Yankees in 1960 or Bonds going to San Fran in '93, made the difference.
I don't think so. I think Toronto still makes the playoffs with
Brett Lawrie
at third, all else being equal but they probably don't win the division. Los Angeles, on the other hand, wouldn't have even sniffed the second wild card were it not for Trout. They had a negative run differential with their superstar center fielder, so they surely would have had a losing season without him. Trout single-handedly turned a mediocre team into a contender, whereas Donaldson made a contender the best team in the American League.
I'm more impressed by what Trout did for LA than what Donaldson did for Toronto. Then again, I'd still vote for Trout even if the Angels had lost 100 games. Because the best player is the most valuable, and once again Trout was the best.