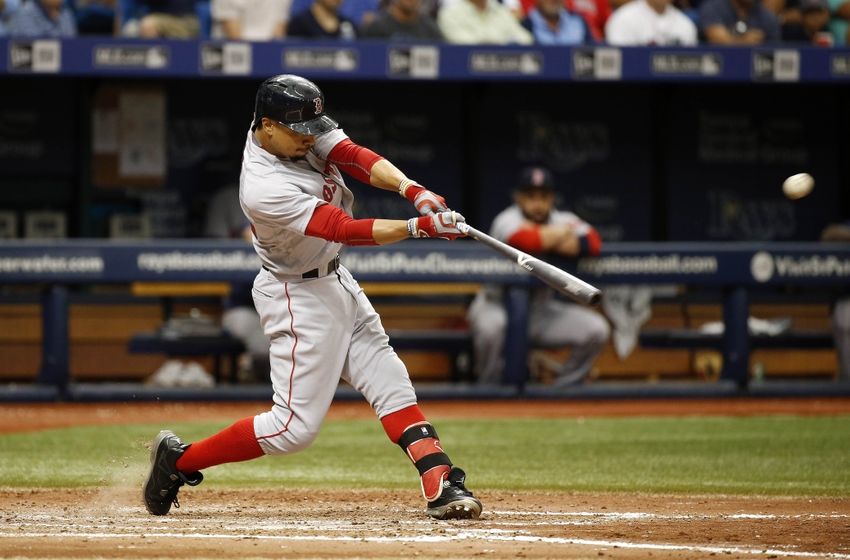 Betts matched his career high with eight RBIs on Sunday (BoSox Injection)
Mookie Betts
has been a streaky hitter throughout his Major League career (just look at his monthly splits from
2015
and
2016
), but it's a clear sign that he's hot when he has a game like today's where he ruthlessly pounds the enemy into submission. He was the driving force behind Boston's
15-1 massacre
of Toronto this afternoon, slugging a pair of homers and singles while driving in eight runs, setting a new franchise record for RBI by a leadoff man.
While the Red Sox would have won easily even if Betts had gone 0-for-6 rather than 4-for-6, his performance Sunday is just the latest example of him destroying the other team from the batter's box. He's done this several times now since the start of last year:
5/21/16: Betts paces Boston's 9-1 win over Cleveland by going 3-for-5 with a double, two home runs (
including a grand slam
) and three runs scored. He doubled and scored their first run in the third, extended the lead to 4-0 with a solo shot in the next inning, and put the game out of reach with his grand slam in the seventh. WPA = 0.083
5/31/16: Betts wipes out the Orioles by
homering three times
and driving in five of Boston's six runs in its 6-2 victory. The Sox cruised after Betts put them up 5-0 through the first inning and a half with his first two homers. He went deep two more times the following day, but no one was on base either team and the Red Sox fell 13-9. WPA = 0.326
8/14/16: Mookie has
another three homer game
, knocks in eight and scores four during a 4-for-6 effort as Boston routs Arizona 16-2. Until today, this was the gold standard of Betts' monster performances. WPA=0.237
8/16/16: Betts
obliterates the Orioles
again by going yard twice and driving in all five BoSox runs, fueling a 5-3 victory. Both homers were go-ahead shots, with his first clout shattering a scoreless tie in the fifth and his second putting Boston ahead for good in the eighth. WPA=0.506
6/14/17: Betts
powers Boston past Philadelphia
, 7-3, by going 4-for-5 with a double, two homers, three RBIs and four runs. Both home runs were solo shots, however, and provided insurance, coming after the Red Sox already led 5-3. WPA=0.228
Betts' ability to have such dominant performances multiple times throughout a season have transformed him into an MVP candidate. Most players are lucky to have one game like that per season, or even in their careers, but Betts has them semi-routinely, jamming a month's worth of production into a handful of games. It's games like these that cement his status as a superstar, proving he can carry a team to victory with his bat on any given night.