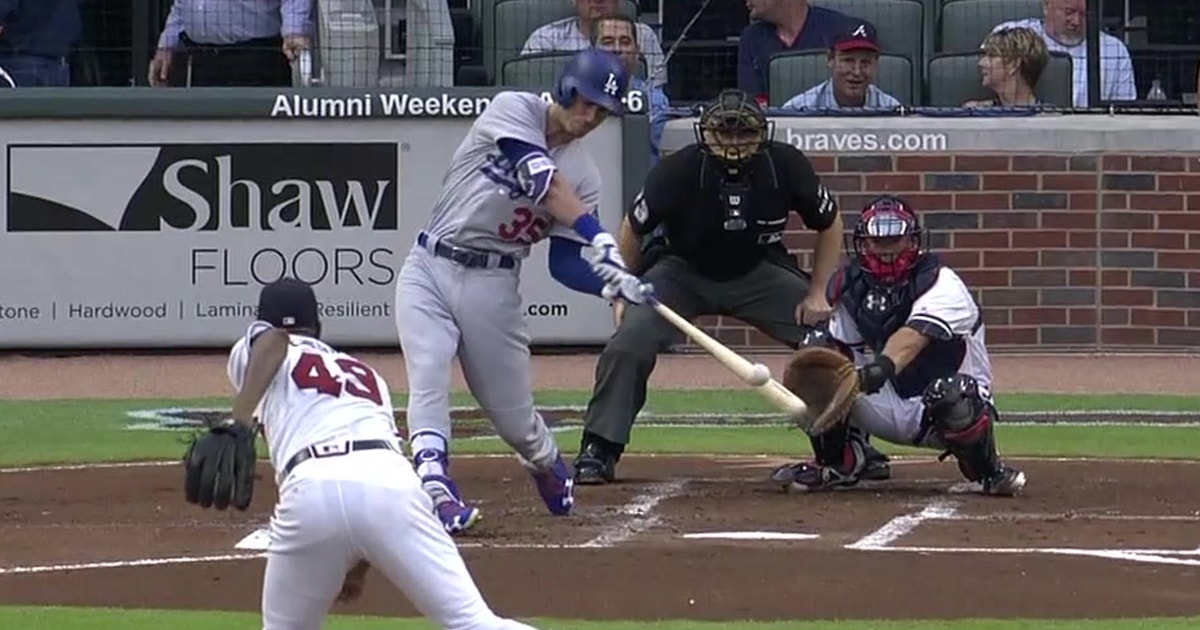 Bellinger leads off the second innings with a 410-foot moon shot (Fox Sports)
Last night
Cody Bellinger
launched another homer
, his second in as many days and his 30th of the season. The milestone blast put the 22-year-old freshman in rare company, making him just the
10th rookie in National League history
with at least 30 bombs. That Bellinger reached the mark in only 87 games is even more impressive, as most of the others required a full season. The only one who came close to matching his breakneck pace (which projects to 56 homers over 162 games) was
Ryan Braun
, who needed 91 games to club 30 homers back in 2007 -- the last time an NL rookie hit that many (as did
Chris Young
).
With a third of the season to go, Bellinger is a lock to break the Senior Circuit rookie long-ball record of 38 shared by
Wally Berger
and
Frank Robinson
, which hasn't been matched since 1956. He still has an outside shot at breaking
Mark McGwire
's all-time rookie record of 49, although
Aaron Judge
-- who leads the Majors with 34 -- has better odds. In addition to playing his home games at the homer-friendly Yankee Stadium, where New York will play 29 more times this year, he gets six more games in Toronto, three in Boston, and three in Baltimore (not to mention three in Texas). He could easily go deep multiple times in any of those series, especially against the lesser pitching staffs of the Blue Jays, Rangers, and Orioles.
The deck remains stacked against Bellinger, however, who plays in one of baseball's toughest home run parks and probably baseball's least long-ball friendly division. While the Dodgers only have 21 of their remaining 55 games at home, the constant travel may wear down Bellinger during the dog days of August and September. He's already cooled off considerably from his torrid start, going deep six times in his last 30 games after belting 24 in his first 57. His 26.4 percent strikeout rate isn't doing him any favors, either.
The talk in June of Judge and Bellinger both breaking McGwire's record now appears premature. I still like Judge's chances, but his second-half slump is certainly a concern. Bellinger would have a few more dingers under his belt had he not spent most of April in Triple-A, which may wind up costing him the record. Even if they both fall short, however, they should each clear 40 with relative ease, which would be the first instance in baseball history of multiple rookies with 40 homers in the same season. McGwire is still the only one to reach that rarefied air, but he should have some company before long.