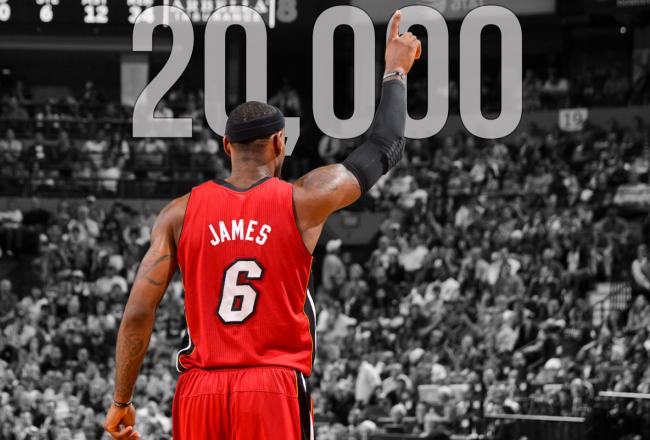 Last night
LeBron James
of the Miami Heat became the
youngest player
in NBA history to reach 20,000 points.
He was 28 years and 17 days old when he took the court in Oakland, needing 18 points to reach the benchmark. Aggressive from the start, King James didn't wait around. He came out shooting and got his milestone by halftime, helping Miami build a 14-point lead over the Golden State Warriors. With his scoring goal accomplished, James started spreading the ball around and found open teammates. He had already notched his 5,000th career assist in the first half as well (joining
Kobe Bryant
and
Kevin Garnett
as the only active players with 20K points and 5K helpers), but kept passing and finished the game with ten dimes to go along with his 25 points and seven rebounds. With LBJ facilitating their offense, the Heat built their lead up to 34 points in the third quarter. Miami cruised to a 92-75 blowout from there, allowing Erik Spoelstra to rest his starters in the fourth quarter. With the win, Spo's squad held on to their one game lead over the New York Knicks for first place in the Eastern Conference.
The Heat had struggled on their current roadtrip, losing three games to Indiana, Portland and Utah. Even so, the shorthanded Warriors, without
Andrew Bogut
(ankle) and
Stephen Curry
(knee), never stood a chance.
Mark Jackson
's squad struggled to get good looks against Miami's defense and shot just 36.3 percent from the floor, including 25 percent from beyond the arc. It also didn't help that they committed 21 turnovers, ten more than Miami. But it wasn't all bad for Golden State. In his first start of the season,
Jarrett Jack
filled in for Curry and scored 16 points on 7-of-14 shooting.
David Lee
and
Carl Landry
both notched double-doubles. The Warriors get a day off to lick their wounds, only to face another challenging matchup tomorrow night when they square off with
Tim Duncan
,
Tony Parker
and the San Antonio Spurs.
James just set one record, but he still has a long way to go (18,380 points to be exact, more than
Isiah Thomas
,
Magic Johnson
,
Chris Webber
, and
Kevin McHale
scored in their entire NBA careers) to tie
Kareem Abdul-Jabbar
's record for most career points. He's already more than halfway there, but that's a lot of ground to make up. To
reuse a comparison
I made two summers ago,
Alex Rodriguez
was the youngest player to 500 home runs, well on his way to passing Babe Ruth,
Hank Aaron
and
Barry Bonds
. Now, based on his
declining performance
and
inability to stay healthy
, I'm skeptical he'll hit 700 home runs, much less the 800 some once projected him for. To some extent, the same thing is happening to
Albert Pujols
as well.
It's impossible to predict injuries. LBJ is built like an Abrams tank and never gets hurt, but you could have said the same thing about A-Rod five years ago. Forecasting athletic careers is a dangerous game. A lot can change very quickly. Father Time catches up to everyone eventually, and luck contributes more to athletes' health than we would like to believe. Especially in basketball, where a mistimed jump or awkward landing can spell doom. You're always one play away from a catastrophic career-altering injury. The bottom line is that even the best players break down in their thirties, and who's to say James will still be playing like
Michael Jordan
ten years from now?
But the real reason I'm not betting on him to break is the scoring drop-off that resulted from his joining forces with
Dwyane Wade
and
Chris Bosh
. Despite improving his efficiency--his field goal percentage has improved every year since 2006-2007--his slight slip in shot attempts, especially those from the charity stripe and three-point range, have cut into his scoring numbers. Excluding his rookie year, James averaged 29 points on 21.1 field goal attempts per game-- 4.5 of which were of the three-point variety--and 9.5 free throw attempts per game in his last six seasons with Cleveland. Since taking his talents to South Beach, his scoring has dropped to 26.7 points on 18.7 shots per game. He's getting to the line less often than at any point since his rookie season, and his three point attempts are down 33 percent. There's no denying that James is a much better player and more polished scorer than he was in his early days with the Cavs, but now that he's surrounded by a great supporting cast he simply doesn't need to score as much. My money's on
Kevin Durant
to break Jabbar's record (assuming
Kobe Bryant
doesn't get there first) and think James will end up somewhere in the 35,000-36,000 point range.
The Heat wrap up their West Coast swing tonight against the Los Angeles Lakers in a must-see battle of the Big Threes: James, Wade, and Bosh versus Bryant,
Steve Nash
and
Dwight Howard
(
Pau Gasol
will receive limited minutes in his first game back from a concussion). A few months ago this game looked like a preview of the NBA finals, and while the Heat have held up their end of the bargain LA is languishing four games below .500. After firing
Mike Brown
just five games into the season, the aging Lakers have yet to gel under Mike D'Antoni. They endured a six-game losing streak to begin the new year, but are coming off back-to-back wins against Cleveland and Milwaukee. The Lakers are going to turn it around at some point and get on a roll, but can they do it tonight against the top team in the Eastern Conference?
Tune in to TNT tonight to find out.