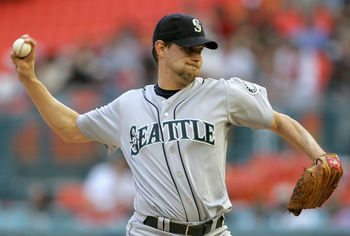 Aaron Sele a Hall of Famer? Somebody thought so (Bleacher Report)
Aaron Sele
became a Twitter phenomenon last year when he managed to pick up a vote on what may have been the most stacked
Hall of Fame ballot
in baseball history up to that time. Though many writers had to exclude players they wanted to vote for (borderline guys like
Alan Trammell
,
Fred McGriff
, and
Lee Smith
) because of the depth of this year's class, one of the 569 ballots was returned with Sele's name checked off even though his career is
hardly Hall material
. With his 4.61 ERA and 1.49 WHIP, Sele rates as the 502nd best starting pitcher of all time by Jay Jaffe's JAWS metric.
But Sele is not the first unqualified player to snag a vote for the Hall, and he won't be the last. The BBWAA has cast votes for the Hall of Fame every year since 1966, and in that time 118 candidates ended up with a singular vote. While most of these players would have a hard time persuading their own mothers to vote for them, there were also a handful that definitely deserved more support.
Denny McLain
, for instance, won back-to-back
Cy Young
awards and was the 1968 American League MVP when he produced one of the best seasons for a pitcher since
Jackie Robinson
broke the color barrier. He won 114 games before he was 26, and like
Dwight Gooden
the young hurler seemed destined for Cooperstown. Instead, he got into too much trouble off the field and never pitched a game after his 29th birthday. I liken his career to that of a shooting star--bright but short--like the pitching equivalent of
Roger Maris
. Think of it this way. If
Justin Verlander
got on the wrong side of the law and retired today, don't you think he'd get more than
one
Hall of Fame vote?
But I digress. Without further adieu, here is the list of everyone who received exactly one vote for baseball's Hall of Fame since 1966, the year
Ted Williams
was inducted:
2014:
Armando Benitez
,
Kenny Rogers
,
Jacque Jones
2013: Aaron Sele
2012:
Javy Lopez
and
Eric Young
2011:
Benito Santiago
(1987 NL Rookie of the Year) and
Bret Boone
2010:
Pat Hentgen
(1996 AL Cy Young winner),
Kevin Appier
and
David Segui
2009:
Jesse Orosco
2008:
Chuck Knoblauch
(1991 AL Rookie of the Year),
Shawon Dunston
,
Chuck Finley
,
Todd Stottlemyre
, and
David Justice
(1990 NL Rookie of the Year)
2007:
Jay Buhner
, had three straight 40-homer seasons
2006:
Walt Weiss
, 1988 AL Rookie of the Year
2005:
Tony Phillips
and
Terry Steinbach
2004:
Cecil Fielder
(
Prince Fielder
's father),
Terry Pendleton
(1991 NL MVP over
Barry Bonds
) and
Randy Myers
2003:
Mark Davis
,
Danny Tartabull
and
Darren Daulton
2002:
Lenny Dykstra
and
Tim Wallach
2001:
Tom Browning
,
John Kruk
,
Ron Darling
,
Jose Rijo
,
Jim Deshaies
, and
Steve Bedrosian
2000:
Lonnie Smith
,
Bruce Hurst
,
Bob Welch
(1990 AL Cy Young winner over
Roger Clemens
), and
Bill Gullickson
1999:
John Candelaria
1998:
Rick Dempsey
1997: Two Terrys--
Terry Kennedy
and
Terry Puhl
1996:
Chet Lemon
(no relation to
Bob Lemon
)
1995: Jim Sundburg,
Mike Krukow
, and
Chris Speier
1994:
Ray Knight
, immortalized by Vin Scully for scoring on
Mookie Wilson
's grounder that scooted through
Bill Buckner
's legs
1993:
Bill Campbell
, one of the first big name free agents in baseball history
1992:
Toby Harrah
and
Dennis Leonard
1991:
Richie Hebner
,
Burt Hooton
(one of the three pitchers
Reggie Jackson
took deep in Game 6 of the 1977 World Series),
John Lowenstein
,
Jeff Burroughs
(1974 AL MVP), Mike Jorgenson,
Ellis Valentine
, and
Mike Hargrove
(1974 AL Rookie of the Year)
1990:
Jim Bibby
,
Greg Luzinski
,
Mike Torrez
(will forever live in infamy for serving up the gopher ball to
Bucky Dent
), and Torrez's then-teammate
Jerry Remy
1989:
Don Money
and
Gene Tenace,
who would have been a poster boy for
Billy Beane
1988:
Al Hrabosky
1986:
George Scott
,
Bud Harrelson
,
Jose Cardenal
, and
Jack Billingham
1985:
Jesus Alou
(younger brother of
Felipe Alou
and
Matty Alou
)
Dock Ellis
, and
Rico Carty
1984:
Clay Carroll
,
Bob Bailey
and
Nelson Briles
1983:
Dave Giusti
,
Tommy Helms
(1966 NL Rookie of the Year), and
Felix Millan
1982:
Leo Cardenas
and
Claude Osteen
1981:
Sonny Siebert
,
Gates Brown
,
Jim Northrup
,
Lindy McDaniels
, Leo Cardenas, and
Glenn Beckert
1980:
Sonny Jackson
,
Jim Hickman
, and
Don McMahon
1979:
Hal Lanier
,
Johnny Callison
and
Chris Short
1978: Denny McLain (baseball's last 30-game winner),
Camilo Pascual
and
Clete Boyer (
homeless man's
Brooks Robinson
)
1975:
Rocky Colavito
(the Junior Circuit's best right-handed slugger from the Boomer years not named
Harmon Killebrew
) and
Bill Virdon
(1955 NL Rookie of the Year)
1973:
Harvey Haddix
and
Smoky Burgess
1972:
Jackie Jensen
(1958 AL MVP)
1971:
Bill Bruton
1970:
Gil McDougald
(1951 AL Rookie of the Year),
Preacher Roe
, Jackie Jensen, and
Eddie Lopat
1969: Jackie Jensen
1968:
Vic Raschi
(
ace of
Casey Stengel
's Yankee squads that won five straight World Series from 1949-'53)
1967:
Clint Courtney
,
Ned Garver
,
Billy Martin
(favorite drinking buddy of
Mickey Mantle
and
Whitey Ford
),
Grady Hatton
,
Walt Dropo
(1950 AL Rookie of the Year/RBI leader),
Andy Pafko
, and
Jim Hearn
1966:
Bobby Adams
,
Bob Porterfield
, Jim Hearn,
Chico Carrasquel
,
Solly Hemus