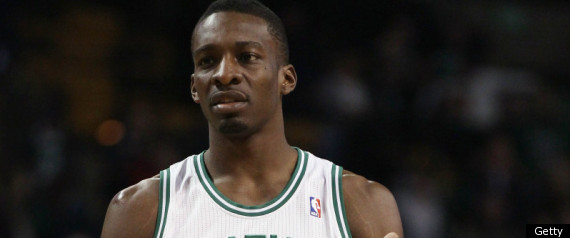 It's been nearly two months since the Boston Celtics lost
Rajon Rondo
for the remainder of the season. At the time, Rondo's ACL tear seemed like a
devastating blow
for an aging Celtics team that had just lost six in a row and was going nowhere fast. But instead of folding without their star point guard as many (myself included) predicted they would, the resilient Green are 16-8 in his absence. Several Celtics have picked up the slack in Rondo's absence, but none have enjoyed a bigger turnaround than the much-maligned
Jeff Green
.
Yes, the same Jeff Green who couldn't do anything right his first two years with Boston is on the path to redemption. He hasn't played this well since his heyday alongside
Kevin Durant
and
Russell Westbrook
in Oklahoma City, and it couldn't have come at a better time. Green's done his best to erase a dismal first half by stepping up when the Celts need him most. Since Rondo went down, Green has hiked his scoring to 15.5 points per game while maintaining stellar percentages: 50 percent from the floor, 40.7 percent from downtown and 84.8 percent from the charity stripe. He's also blocked 1.4 shots per game over that stretch. Not only has his success sparked the Celtics' recent surge, but it has also gone a long way towards silencing the fans and media that soured on Green and wanted him gone months ago.
Now, it's hard to imagine what Boston would do without the athletic swingman. It took time for Green to adjust to his bench role, and even more time to play his way back from heart surgery, but he's finally coming around. He seems to have settled down and started producing like he can and should.
That potential, which typically manifests itself in the form of monster dunks, was on full display Monday night when he erupted for 43 points. The Celtics fell to the Miami Heat, 105-103 at the Garden, but Green was the talk of the town after torching the NBA's hottest team. Though he typically comes off the bench, Green started in place of
Kevin Garnett
and made the most of it. He nearly carried the Celtics to victory by drilling 14 of his 21 field goal attempts (including five three-pointers) and sinking 10 of 13 free throw attempts. In a game loaded with future Hall of Famers, Green was the best player on the court that night save for
LeBron James
.
Look for Green to continue to play a key role for Boston down the stretch as one of the team's top scorers (arguably the best one not named
Paul Pierce
) and best reserve. He seems to be in a groove right now and is poised to finish the season strong. The Celtics need him to continue playing at a high level as they fight to improve their playoff seeding in the Eastern Conference, so expect
Doc Rivers
to keep leaning on the versatile 26 year-old, hoping his next big game is right around the corner.