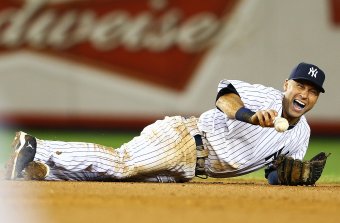 Jeter is one of many Yankees trying to overcome age and injury
The New York Yankees are have enjoyed 20 consecutive winning seasons and missed the postseason just once since 1995. No matter how old and banged-up they get, they always find a way to win 90+ games and get back to the playoffs.
That's about to change.
Opening Day is still three weeks away, and the New York Yankees are already decimated by injuries. A third of their lineup is wiped out--
Mark Teixeira
and
Curtis Granderson
will miss all of April, and
Alex Rodriguez
is not expected to return from his latest hip surgery until the All-Star Break. If the Yankees can't survive spring training, how in the world are they going to make it through a grueling six month regular season?
Last year New York featured one of baseball's most potent offenses. The Bronx Bombers hammered 245 home runs in 2012--most in the majors--but nine of its top-ten home run hitters will not be in the Opening Day lineup (the aforementioned trio plus free agent departures
Nick Swisher
,
Andruw Jones
,
Eric Chavez
,
Raul Ibanez
, and
Russell Martin
). Assuming everyone doesn't get old at once, New York still figures to feature one of the AL's better lineups, albeit one that's only one or two more bad breaks away from unraveling at the seams:
C
Ian Stewart
and
Francisco Cervelli
Stewart can hit for power but has played just 103 games over the past two seasons. What's worse, he's batted just .183/.272/.289 in those games. Cervelli's a capable backup, but with just five career home runs his power is non-existent. The tandem is a far cry from Russell Martin and an even further cry from
Jorge Posada
.
1B Mark Teixeira
As if it wasn't bad enough that his OPS has declined in five consecutive seasons, a strained wrist will sideline him for two months and has the potential to hamper his swing when he returns.
2B
Robinson Cano
A perennial MVP candidate, Cano is money in the bank for .300-30-100-100 with Gold Glove caliber defense. The 30 year-old is one of the few Yankees still in the prime of his career. Most importantly, he's durable, having missed only a dozen games over the past six years. If he suffers a freak injury this year a la
Jacoby Ellsbury
, the Yankees will be toast.
3B
Kevin Youkilis
Youk turns 34 next spring and is just as injury prone as the man he's replacing at the hot corner. Over the past three years, Youkilis has averaged just 115 games played per season while his OPS has plummeted from .975 to .833 to .745. Youkilis is expected to move across the diamond while Teixeira is on the mend and could see more time at DH when Rodriguez returns this summer.
SS
Derek Jeter
DJ led the major leagues in hits last year, but his defense has deteriorated to the point where any erosion in his offensive performance makes him a replacement level player. Given his advanced age (he'll be 39 in June) and bum ankle, he's a good bet to regress in 2013.
LF Curtis Granderson
Nobody's swatted more home runs than him since Opening Day, 2011, but Granderson seems to have fallen in love with the long ball per his all-or-nothing approach. As a result, the 32 year-old batted a career-worst .232 last year with 195 strikeouts last season. A broken forearm has him out until early May and might hinder his power.
CF
Brett Gardner
At his best, Gardner is an on-base machine who helps win games with his legs. However, he missed most of last year with an elbow injury and will have to transition to center field.
RF
Ichiro Suzuki
New York hopes a 39 year-old outfielder who's batted .277/.308/.361 over the past two seasons. On the bright side, Suzuki can still play everyday and provides speed for a lineup that relies on the long ball.
DH
Travis Hafner
One of baseball's best hitters from 2004 through 2006, Pronk has seen his career ruined by myriad injuries that have prevented him from playing 100 games in four of the past five years. He's still an effective hitter when healthy (117 OPS+ over that span), but nothing close to the offensive force he was during the mid-aughts.
The starting rotation is only marginally better.
CC Sabathia
is a workhorse and the ace of the staff, but even he isn't immune to injury. The big guy made two DL trips last summer and could be at risk of breaking down after logging nearly 1,400 innings the last six years combined.
Hiroki Kuroda
is 38 and logged a career high 235 and two-thirds innings pitched last season (playoffs included).
Andy Pettitte
will turn 41 and has not pitched a full season since 2009.
Phil Hughes
has never thrown 200 innings in any season and started more than 29 games just once.
Ivan Nova
had an ERA north of five last year.
Michael Pineda
is still working his way back from labrum surgery and there's no firm timetable for his return. The bullpen is solid but will miss
Rafael Soriano
if
Mariano Rivera
is unable to rebound from the torn ACL that caused him to miss most of last season.
Add it all up and what do you have? A good-not-great team loaded with question marks trying to contend in what is arguably baseball's toughest division. For the first time in a long time, the Yanks need everything to break right in order to secure a postseason birth. The roster is devoid of upside and fraught with injury-risk, but it will have to do. Because Brian Cashman was forced to pinch every penny this winter,
Joe Girardi
does not have the depth nor the farm system to tap into should it need reinforcements.
Best case scenario: Granderson, Tex, and A-Rod all return strong, the pitching holds up, and most of the team eludes Father Time for another year. Worst case? The old guys break down, everything falls apart and the Yankees endure their first losing season since 1992.
I guess $208 million doesn't buy what it used to.