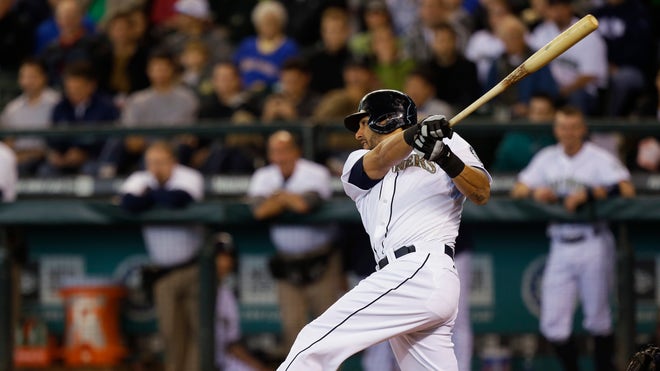 Bay, a massive bust with the Mets, has been worth every penny for Seattle
After three frustrating, injury-plagued, and disappointing seasons with the New York Mets,
Jason Bay
is back.
Well, sort of.
Bay, now a proud member of the Seattle Mariners after signing a one-year, one million dollar deal with them last winter, smashed two solo home runs at Target Field yesterday. His first multi-homer game since July 5th, 2011 gives him four big flies in his past five games and pads his batting line to a solid .239/.343/.479, which translates to a 132 OPS+. The 34 year-old leftfielder hasn't been this productive since 2009, when he landed a four-year, $66 million deal with the Mets after popping 36 homers and driving in 119 runs (both career highs) for the Boston Red Sox.
Bay isn't going to approach those numbers again, but he's proven himself to be an asset with the bat for a team that's been starved for offense in recent years. He ranks second on the M's in slugging and OPS (behind
Kendrys Morales
), and only
Mike Morse
has hit more home runs. If not for
Mariano Rivera
's return to glory, Bay might have an outside shot at winning Comeback Player of the Year.
But playing for the mediocre Mariners means few baseball fans outside of Oregon are aware of Bay's renaissance. Far from the spotlight of the Big Apple, Bay has thrived in his new surroundings and is proving that he still has some juice left in his bat. Left for dead when the Mets released him after he hit just .165/.237/.299 in 70 games with New York last year, Bay, like many washed-up sluggers in their mid-thirties (
Eric Chavez
,
Vernon Wells
, and
Travis Hafner
come to mind), has found a way to prolong his shelf-life by latching on to a new team and exceeding expectations.
Health remains Bay's biggest obstacle--he missed 198 games over the past three years--but if he can stay on the field he has a good shot at surpassing 20 home runs and re-establishing some of the value that evaporated during his trying tenure in New York. If he keeps hitting well, he might even luck into a midseason trade that sends him to a contender in search of an outfield bat (i.e. the Athletics or Nationals).
Not bad for someone who was out of a job six months ago.