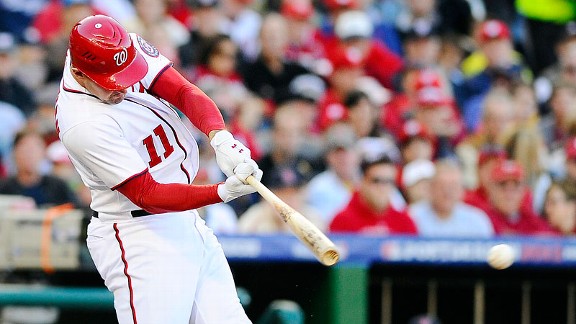 Offense has been hard to come by for the Washington Nationals
The Washington Nationals, winners of 98 games last year, just can't seem to get it going here in 2013. The reigning NL East champions came roaring out of the gate with a 7-2 start, seemingly poised to run away with the division once again. But they've sputtered since then, slipping to third place in the standings and entering play today below .500 (29-30) with a minus-34 run differential.
On paper, the Nationals appear to have it all; plenty of starting pitching, a killer bullpen, great defense, and a lineup loaded with power and speed. Many preseason pundits predicted them to win the World Series. So what's gone wrong?
In a word: hitting, as in the lack thereof. Washington's spring struggles can be attributed to the team's offensive woes. After fielding one of the better offensive units in the National League last year, the Nats' lineup has been one of the league's worst this year. Only the moribound Miami Marlins are scoring fewer runs per game and getting on base less often.
Everyone's to blame here. Catcher
Kurt Suzuki
has been a black hole, but he had to play with
Wilson Ramos
on the mend.
Adam LaRoche
and
Ryan Zimmerman
got off to a painfully slow starts.
Danny Espinosa
was utterly helpless before (mercifully) landing on the Disabled List with a fractured right wrist.
Ian Desmond
has hit for power but is making too many outs.
Denard Span
has disappointed. So has
Jayson Werth
, who's gone bust since inking his undeserved seven-year, $126 million contract prior to the 2011 season.
The bench hasn't been much help either. Steve Lambardozzi,
Tyler Moore
,
Roger Bernadina
,
Chad Tracy
, and anyone else
Davey Johnson
throws in there hasn't hit a lick. With Washington desperately needing a spark from its reserves, the role players have come up empty.
In fact, the only National who's been consistently great at the plate is wunderkind
Bryce Harper
. The 20 year-old has put up MVP-type numbers when healthy, but got dinged up early on and is currently on the DL with a knee injury. If you think Washington was offensively challenged with Harper, just wait and see how bad things get without him. If you think things can't possibly get any worse, think again.
However, the Nats should be able to stay afloat (or at least tread water) because their starting rotation has been almost as good as advertised.
Jordan Zimmermann
, in his age 27 season, has emerged as an early
Cy Young
candidate. He's been even better than
Stephen Strasburg
, who was having an excellent season in his own right before going down with a lat strain.
Gio Gonzalez
hasn't been able to replicate his
dominance from one year ago
, but he's still a great number three behind Zimmermann and Strasburg. Before joining Strasburg on the DL,
Ross Detwiler
managed to keep runs off the board despite some ugly peripheral numbers.
The lone disappointment has been
Dan Haren
, who Washington hoped would bounce back after enduring the worst full season of his career in 2012. Instead, he's been even worse; he leads the majors in home runs allowed and his ERA ballooned to 5.45 after the New York Mets battered him last night. I don't think he's going to pitch this poorly all season, but it's clear that he's no longer the elite pitcher he once was.
He's not the only Nationals hurler who's struggling though. Their bullpen was lights-out last year but has seen its ERA rise by nearly a full run this year, from 3.23 to 4.13. New closer
Rafael Soriano
has been everything he was for the Yankees last season, but Washington's other relievers (specifically
Drew Storen
,
Ryan Mattheus
and
Henry Rodriguez
) haven't been quite as sharp. They'll be put to the test more with Strasburg and Detwiler on the DL, so it's critical that the relief corps pitches up to its potential.
There's a lot of unrealized potential on this team, which leads me to believe that Washington is going to rebound sooner or later. But given the loss of Harper, Strasburg, and other key regulars, I' don't see that turnaround happening in the near future. I could, however, see them getting healthy in the second half, hitting more as the weather heats up and making a run after the All-Star Break, so I'm not going to write them off just yet. It's still early, and there's a lot of baseball left to be played.