Read a
great piece
by Joe Posnanski the other day that got me thinking about the best players not in the baseball Hall of Fame. Joe came up with a great list, but a couple of things bothered me.
One problem I had was that Joe included active players like
Miguel Cabrera
and
Alex Rodriguez
(or recently retired ones like
Mariano Rivera
,
Derek Jeter
, and
Chipper Jones
) when they aren't even eligible for induction yet. By the same token I felt it was not fair to include
Pete Rose
and
Shoeless Joe Jackson
, neither of whom has ever appeared on a Hall of Fame ballot because they were banned from the game. They fall into the same category as the active/recently retired players.
I also felt a little ambivalent about including players who are still on the ballot (
Barry Bonds
,
Roger Clemens
,
Mike Piazza
, etc.) because one can argue that their cases have not been heard out yet. It's much harder to determine a player's Hall chances when he's only been on the ballot for two years as opposed to someone who's in his 13th year on the ballot (we know
Don Mattingly
and
Lee Smith
aren't getting in). In the end I decided to include them because they could (and in many cases, should) already be in the Hall of Fame, but for whatever reason the BBWAA has not deemed them worthy.
The result is a very different list, one I suspect is much closer to the list Joe envisioned when he began his. In parentheses I have included each player's Hall rating per the
Hall of Stats
, with 100 representing the cutoff for a Cooperstown-caliber career. These were helpful in guiding me and choosing between very close players, but I didn't let them (or want them to be) the end-all, be-all.
Lastly, you will find no pre-integration era players below, as that era is over-represented in the Hall of Fame. The only player I gave serious consideration to from this time was
Wes Ferrell
, younger brother of Hall of Fame catcher
Rick Ferrell
, but ultimately decided he didn't make the cut.
There are currently 306 Hall of Famers. More deserve to join them (WIBX)
25
Albert Belle
(74)
Belle was putting together a
Lou Gehrig
-esque career before a deteriorating hip condition forced him out of baseball when he was just 34. Still, like
Ralph Kiner
, Belle packed a ton into a very short career. Despite playing only 1,539 games, the equivalent of 10 full seasons, he still slugged 381 home runs, cracked 389 doubles, drove home 1,239 runs, and batted .295/.369/.564 (144 OPS+). When his career ended he was working on a string of nine straight 20 homer, 100 RBI seasons. He never won an MVP award despite exceeding a .300 batting average, .400 OBP, .600 slugging percentage, and 1.000 OPS four times each, but deserved the 1995 award over
Mo Vaughn
and the '96 and '98 trophies over
Juan Gonzalez
. Three times he led his league in total bases, three times in RBI, twice in slugging, and once each in OPS, OPS+, home runs, doubles, and runs. He made five All-Star teams, won five Silver Sluggers, and finished in the top eight of MVP voting five times. He was basically
Frank Thomas
without the tack-on seasons at the end to pad his counting totals. The abrupt end to his career did not elicit a
Kirby Puckett
-type treatment from the writers, who despised him the same way they despised Barry Bonds and
Gary Sheffield
. I have little doubt that had he been able to finish out his career uninterrupted, he'd be considered one of the best hitters of all-time.
24
Fred McGriff
(94)
Here's my thought on Fred McGriff, who's kind of like the modern-day
Gil Hodges
statistically speaking; give Crime Dog one more home run for every year he played, one more ball that nudges over the wall instead of bouncing off it or being caught at the warning track, one ball that doesn't get knocked down by the wind or doesn't slice just in front of the foul pole. Over the course of his career, we're probably talking about an extra 100 feet all those balls combined have to travel. Give Fred McGriff that, and he has 512 home runs instead of 493 (which is still as many as Lou Gehrig, by the way). 512--same as
Ernie Banks
, same as
Eddie Mathews
, one more than
Mel Ott
. He'd also have more than 2,500 hits, for what it's worth, if we assume those balls landed in the seats instead of outfielder's gloves. Now, if that were the case, would Fred McGriff be in the Hall of Fame? Probably not, but I bet he wouldn't be in danger of falling off the ballot, either.
23
Ken Boyer
(116)
I can not emphasize this enough: he was
Ron Santo
before Ron Santo
. For 10 years he was a tremendous two-way third baseman, making seven All-Star teams, winning five Gold Gloves, and receiving an MVP award (which he did not deserve, but whatever). Maybe if he'd had more than one 30-homer season or knocked in over 100 runs more than twice, he'd have a plaque hanging in Cooperstown.
22
Dick Allen
(115)
Allen was like the
Manny Ramirez
of the Vietnam era--a mercurial but insanely talented slugger who rubbed a lot of people the wrong way and was also a terrible fielder. He was
the
top
hitter in baseball
from 1964--when he had one of the greatest rookie seasons of all-time--through 1974--when he made the last of his seven All-Star teams. His .912 career OPS and 156 OPS+
should not be ignored
.
21
Dwight Evans
(123)
Outstanding defensive right fielder (eight Gold Gloves), got on base a ton (.370 career OBP) and had very good power (385 home runs, 11 years with 20 or more). His 66.9 career bWAR are more than Sosa,
Dave Winfield
,
Ichiro Suzuki
, Gary Sheffield, and
Vladimir Guerrero
. Was a lot like
Edgar Martinez
in that he was a late bloomer but mashed throughout his 30s.
20
Kenny Lofton
(131)
If
Tim Raines
is a poor man's
Rickey Henderson
, then Lofton is a poor man's Tim Raines. Lofton was
the
leadoff hitter of the '90s, batting .310/.384/.429 (113 OPS+) with 433 steals, third-most in the decade to
Otis Nixon
and Henderson, and 47.4 bWAR. The catalyst of those great Cleveland Indians squads, he made six straight All-Star teams and won four consecutive Gold Gloves as their speedy center fielder. He bounced around a ton in the second half of his career, but never got "old" and was above average ballplayer to the end. I was shocked to learn Lofton ranks ninth among center fielders in JAWs, just a smidge below
Carlos Beltran
and better than
Andruw Jones
,
Richie Ashburn
, and
Andre Dawson
. A .299 career hitter with over 600 steals, 1,500 runs, and 2,400 hits, Lofton had a much better career than most people realize. Hid greatest sin was never hitting more than 15 big flies in any season when baseballs were rocketing out of ballparks at unprecedented rates.
Lofton totaled 52.7 bWAR with Cleveland from 1992-2001 (MLBlogs)
19.
Alan Trammell
(141)
Trammell was basically
Barry Larkin
, so why isn't he in the Hall of Fame yet?
Good question
. I have him below Whitaker and Grich because his bat wasn't nearly as strong as theirs, and because the difference between a great shortstop and great second baseman isn't sizable.
18
Lou Whitaker
(143)
JAWs has him as the 11th-best second baseman, ahead of Biggio, Kent, and
Roberto Alomar
. With 74.9 bWAR he's a worthy Hall of Famer, and yet he fell off the ballot after his first try. Whitaker was one of those guys who did everything well but nothing exceptionally well--he never led the league in any offensive category--who tend to be criminally underappreciated. Furthermore, I think what makes Whitaker so underrated is that he didn't have very many great seasons, which explains why he only once received MVP consideration. Instead, was good-not-great pretty much every year. Only twice in his 19 year career did he have an OPS below .710, and only four times was he not worth at least 3.5 bWAR. He was a great player long after people stopped giving him credit for it, with an .834 OPS (129 OPS+) and 32.2 bWAR in his final eight seasons (4.025 bWAR per year) but no All-Star nods, Gold Gloves, or MVP votes to show for it (I blame Alomar and Detroit's general mediocrity during those years). I had no idea his career OBP was identical to
Craig Biggio
's (.363), or that his closest comp is
Ryne Sandberg
. Hopefully a veteran's committee will put him in someday soon.
17
Bobby Grich
(139)
JAWS rates Grich as the seventh-best second baseman ever and the best not yet enshrined in Cooperstown. Grich is basically Dwight Evans as a second baseman: a terrific fielder (four Gold Gloves) who was constantly on base (.371 career OBP) and had great power for a middle infielder. According to FanGraphs, he was the third-most valuable position player from 1972 to 1984, behind only
Mike Schmidt
and
Joe Morgan
. A six-time All-Star, Grich did everything well but was not well-appreciated during his day, never finishing higher than eighth in MVP voting even though he banged out five straight seasons worth more than six bWAR and two others with over five. Grich inexplicably fell off the ballot on the first try.
16.
Ted Simmons
(111)
Simmons, the 10th best catcher of all-time according to JAWs, deserves to be recognized as such. An eight-time All-Star, he was a tremendous offensive performer for many years, batting .285/.348/.437 (118 OPS+) for his career with 248 home runs, 483 doubles, 2,472 hits and more walks than strikeouts. The switch-hitting backstop also scored more than 1,000 runs and knocked in nearly 1,400. Those are incredible numbers for any position, but for a catcher they are elite (only
Ivan Rodriguez
has more hits and doubles, and only
Yogi Berra
has more RBI). They look even better after accounting for the suppressed offensive environments of the 1970s and '80s. It's a travesty that he lasted just one year on the ballot and that the
Expansion Era committee
failed to induct him last year.
15.
Kevin Brown
(137)
Brown's career trajectory was almost identical to
Pedro Martinez
's. Both had were pretty good early in their careers, enjoyed overwhelming peaks during the heart of the steroid era, then quickly faded away. Brown at his best
wasn't quite as good as
peak Pedro (who was?), but his five-year run from 1996 through 2000 was
Greg Maddux
-esque. He averaged 6.9 fWAR per year during that span, topping 230 innings every year while compiling a 2.51 ERA (164 ERA+), 1.05 WHIP, and 4.17 K/BB ratio. Brown, a six-time All-Star who finished in the top-six of
Cy Young
voting five times (but never won), did not deserve to be dismissed after one year on the ballot. He had enough success before and after that incredible peak to merit serious Hall consideration, but the writers didn't give him a chance because they didn't like him.
Brown: 211-144 3.28 ERA (127 ERA+) 3.33 FIP 1.22 WHIP 3,256.1 IP 68.5 bWAR
Pedro: 219-100 2.93 ERA (154 ERA+) 2.91 FIP 1.05 WHIP 2,827.1 IP 86 bWAR
Prime Pedro was incomparable, but Brown pitched two more full season's worth. They're reasonably close, and yet Martinez is going in on the first ballot while Brown fell off it.
Before he was a washed-up Yankee, Brown was one of baseball's best hurtlers (NYTimes)
14. Edgar Martinez (134)
Martinez's career batting line is a thing of beauty; .312/.418/.515 (147 OPS+), maintained over 18 years. People dismiss his numbers because he was a DH who played the majority of his career in the steroid era and at the Kingdom, but he could hit anywhere. He was a great hitter for a third baseman (.302/.391/.459 at the hot corner) and batted almost as well away from home (.926 OPS) as he did at home (.940 OPS). In 1992, when run-scoring levels were about as low as they are today, he batted .343/.404/.544 with 46 doubles as Seattle's everyday third baseman. And he wasn't merely a product of the Kingdome the way some are of Coors Field or Fenway; in his five full years at Safeco--his age 37-41 seasons, mind you--he still hit .295/.401/.499 with 22 home runs and 96 RBI per season. E-Mart would have been a Hall of Fame third basemen (he was hardly terrible) if the Mariners had let him, but they decided to make him their full-time designated hitter. They clearly picked the right man for the job.
13
Jeff Kent
(102)
Kent's numbers would be Hall-worthy at any position. For a second baseman, they are unheard of; 377 home runs, 560 doubles, nearly 2,500 hits and more than 1,500 RBI. He had nine seasons with over 100 RBI and a dozen with at least 20 homers. His case is similar to Mike Piazza's in that he put up outstanding offensive statistics at a premium defensive position, albeit one he played poorly. Kent's numbers weren't quite as good nor was his position as important, but that doesn't change the fact that he belongs in Cooperstown.
12 Tim Raines (127)
Raines, who only has three years left on the writer's ballot thanks to the recent rule change, probably isn't getting in without the help of a veteran's committee. Which is too bad, because he's the best percentage basestealer of all-time and was a sensational all-around player in his prime.
From 1981 to 1993
, he was the second-most valuable outfielder and fourth-most valuable position player. He got on base more times than
Tony Gwynn
. If not for Rickey Henderson, Raines would probably be in the Hall already.
11.
Larry Walker
(150)
JAWs ranks Walker as the 10th-best right fielder of all-time, in the same neighborhood as
Reggie Jackson
and
Paul Waner
and better than Tony Gwynn. He's one of only 19 guys to exceed a ,300 batting average, .400 on-base percentage, and .500 slugging percentage for his career, resulting in a .965 OPS (141 OPS+) that ranks 15th all-time. He could run (230 steals at 75 percent success rate) and was tremendous defensively, earning seven Gold Gloves (as many as
Carl Yastrzemski
, Dave Winfield, and
Curt Flood
). All in all, a terribly underrated ballplayer in danger of falling off the writer's ballot this year after seeing his vote total plunge to 10.2 percent last year.
10.
Sammy Sosa
(115)
The only player with three 60-homer seasons (but, incredibly, failed to lead his league all three times), Sosa slammed 609 round-trippers in his 18 year career, 537 of which came in a 12-year span (1993-2004). That means Slammin' Sammy averaged 45 bombs per season for a dozen years, which is simply ridiculous. He hit more home runs in 12 seasons than
Mickey Mantle
did in 18, than
Jimmie Foxx
did in 20, and
Willie McCovey
did in 22. People also forget that before he bulked up and became one of the most prodigious sluggers in baseball history, he was an excellent defender and pretty good baserunner, surpassing 30 steals three times and swiping 234 in all. And while he struck out a ton, he developed a pretty good batting eye later in his career, exceeding 70 walks and batting better than .288 every year from 1998 through 2002, when he set the record for most home runs in a five-year period with 292 (58 per season!).
Sosa stole the 1998 NL MVP from the next guy on this list (Hardball Talk)
9
Mark McGwire
(123)
I get why people don't want McGwire in the Hall of Fame. His case is heavily dependent on his prowess as a home run hitter, and if you disregard his home run totals because of his admitted steroid use (or think his career would have ended much sooner than 2001 had he not used them to recover from injury), then his candidacy falls apart, because he was a one-dimensional slugger (.263 career hitter, 12 steals, six triples) who either walked, struck out, or went yard in 45.6 percent of his plate appearances. Without steroids, McGwire probably wouldn't have had a Hall of Fame worthy career.
But fact is, McGwire
did
hit all those home runs, untold numbers of which came against pitchers who were also juicing. He didn't just break
Roger Maris
's single season home run record: he shattered it. At the peak of his powers in the late '90s he was probably the most famous athlete in America. Not since
Babe Ruth
had a slugger captivated the nation like that.
And here's the thing; McGwire wasn't the
Dave Kingman
or
Adam Dunn
-type that people make him out to be. He was, on a per at-bat basis,
the best home run hitter of all-time.
He is one of only three men with four 50-homer seasons (Ruth and Sosa are the others) and one of only two to ever reach 70. For his career, he
averaged
50 long balls per 162 games and 56 (57 if you round up) per 600 at-bats. He always great at getting on-base (.394 career) in spite of his poor averages (which were actually petty good in the second half of his career) because he walked so much. He also played a decent first base, even winning a Gold Glove in 1990.
So don't tell me Mark McGwire isn't a Hall of Famer, because he did one thing better than everyone who's ever played the game, and that one thing also happens to be the best thing a hitter can do: put the ball in the seats.
8
Rafael Palmeiro
(124)
One of only four players to attain both 3,000 hits and 500 home runs, Palmeiro has first-ballot numbers. As a hitter he was like a modern Henry Aaron: relentless and exceptional well into old age. His OPS+ was over 100 in all but one of his 20 seasons, and in the one where it wasn't (his rookie year) it was still 91. Granted, he was a first baseman/DH for most of his career, but its still impressive how durable he was. Raffy played at least 152 games every year from 1988 through 2004 (excluding the two strike-shortened seasons, when he missed just one game each year). That remarkable attendance record, combined with friendly home parks (Wrigley, Texas, and Baltimore) and the bloated run-scoring environment, helped him compile some truly gaudy numbers. Two things I never noticed before about Palmeiro is that a) he walked more than he struck out and b) only once did he fan more than 100 times in a season, which is almost unheard of for a modern slugger. It takes a pretty special hitter to be so consistently good year in and year out, not to mention be 32 percent better than average for two full decades. People who don't say he had a peak must be missing the nine straight seasons with at least 38 home runs and 100 RBI (1995-2003).
7
Mike Mussina
(162)
Moose was doomed to be underrated, spending the bulk of his career in hitter's parks during the steroid era. A poor man's Greg Maddux, Mussina didn't blow anybody away but beat opponents with his brains and command. He was everything you could ever want out of starting pitcher; smart, durable, accurate, and a good fielder to boot. You can't honestly tell me that if Mussina wins at least 20 games in the five years he won 18 or 19, thus making him a six-time 20-game winner, that he doesn't go in last year alongside Maddux and
Tom Glavine
. Because Mussina was a better pitcher than Glavine, only his career wasn't quite as long and he wasn't in the playoffs every year. But Glavine pitched four more years and won 35 more games (and won a World Series and Cy Young, two things Mussina never did), so he's in the Hall of Fame and Mussina's not. All of Mussina's peripherals and advanced stats are better, except his ERA because he pitched his entire career in tougher parks against stiffer competition, which is why Glavine's raw ERA is better but his adjusted ERA is worse.
6
Curt Schilling
(170)
Despite having the same Hall Rating as
Ken Griffey
Jr., the best K/BB ratio of the modern era, and a sterling postseason resume, Schilling still seems to have a ways to go before he gets the call. It baffles me that he drew just 29.2 percent last year. He's not as easy as a call as
Randy Johnson
, Greg Maddux, and Pedro Martinez, but he should still be a no-brainer. He was absurdly good at his best, a workhorse who topped 250 innings and 290 strikeouts in a season four times. Who cares if he never won an ERA title (he was second twice) or copped a Cy Young (he was runner-up three times), or that he won "only" 216 games (still had a .597 winning percentage despite pitching for lots of lousy teams). Only 25 pitchers have ever compiled more bWAR.
5 Mike Piazza (145)
The best-hitting catcher ever. Period. JAWS, which is based on WAR and thus rewards/penalizes players for their defensive contributions (or lack thereof), rates him as the fifth-best catcher ever, nestled between
Carlton Fisk
and Yogi Berra. That's a pretty good place to be.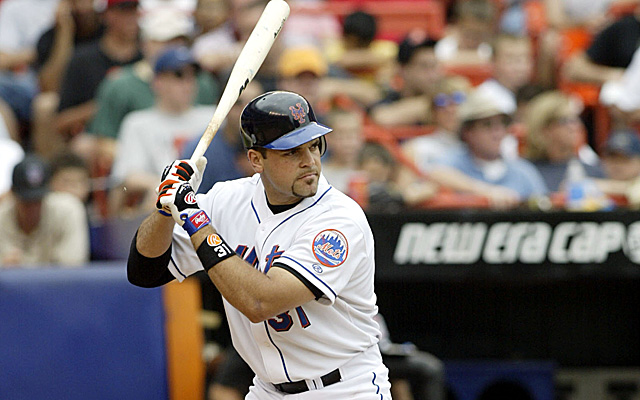 A better hitter than Ivan Rodriguez, Johnny Bench, and all the rest (CBSSports)
4
Jeff Bagwell
(163)
Until
Albert Pujols
came along, Bags was the best all-around first baseman since the golden days of Jimmie Foxx, Lou Gehrig, and
Hank Greenberg
. Consider that Bagwell, proud owner of a .948 career OPS (149 OPS+), had five seasons with an OPS over 1.000 (and six more over .890), six seasons with at least 39 home runs, seven seasons with more than 100 walks, eight 100 RBI campaigns, and nine years with over 100 runs. Throw in his Gold Glove-caliber defense and unusual speed (202 steals) for a first baseman, and we have one heck of a baseball player. JAWs rates him as the fourth-best first-sacker who debuted after 1900 behind Gehrig, Pujols, and Foxx. I'd say that's pretty good company.
3 Craig Biggio (126)
Should have been a first-ballot selection, and not just because he notched 3,060 hits. He also got on base a ton (.363 career OBP), scored truckloads of runs (1,844), and had great power for a middle infielder (668 doubles and nearly 300 home runs), all while playing second second base (where he won four straight Gold Gloves). He's not as underrated as he was during his playing days, but he still doesn't get the respect he deserves.
2 Roger Clemens (291)
The best pitcher of the live ball era. Seven Cy Young awards (and let's be honest, he deserved more than that). Third in pitcher bWAR (eighth all-time) and strikeouts, he belongs in the Hall of Fame, warts and all.
1 Barry Bonds (359)
The best position player ever. Seven MVPs (and let's be honest, he deserved more than that), more home runs and walks than anybody. Steroids or not, he belongs in the Hall of Fame.
Felt bad leaving off:
Vada Pinson
,
Dale Murphy
, Gil Hodges,
Jim Wynn
,
Minnie Minoso
,
Graig Nettles
,
Buddy Bell
,
Rick Reuschel
,
Dave Stieb
,
Reggie Smith
, Wes Ferrell, Juan Gonzalez,
Bobby Bonds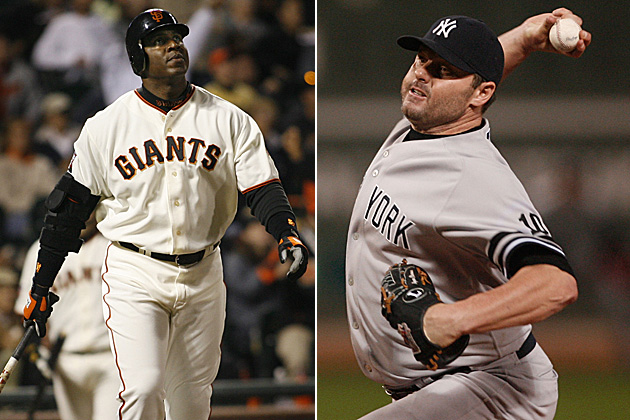 Bonds and Clemens were Cooperstown-bound before they started doping (CBS)