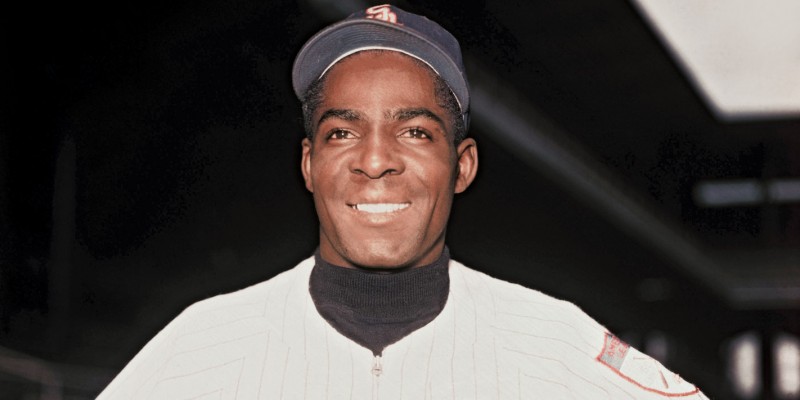 Another deserving HOFer died before he saw his day in Cooperstown (WTTW Chicago)
Minnie Minoso
, also known as the Cuban Comet,
died today
in Chicago, Illinois. He was 89.
Few players had more historical impact than Minoso, who became the first black Cuban to appear in the major leagues when he debuted with the Cleveland Indians on April 19th, 1949, at the age of 23. It was Opening Day for most teams, and the Tribe were in St. Louis to play the lowly Browns. Minoso pinch-hit for
Mike Garcia
, who had relieved future Hall of Famers
Bob Feller
and
Early Wynn
and would be replaced by another Cooperstown-bound player by the name of
Satchel Paige
. The rookie walked, loading the bases for
Larry Doby
--the American League's first African-American player. With Cleveland trailing 5-1, Doby represented the tying run, but flew out to end the inning.
It was a star-studded debut for Minoso, who has yet to take his rightful place alongside those hallowed names in Cooperstown. Minoso was just up for election on the
Golden Era ballot
, but fell short of induction along with the rest of the candidates (including
Dick Allen
,
Luis Tiant
,
Gil Hodges
, and
Ken Boyer
). Given his age (89), the voters must have known that this could be their last chance to elect Minoso while he was still alive.
They failed
.
That Minoso is still outside the Hall of Fame 66 YEARS after his debut is inexcusable, and to me ranks right up there with
Ron Santo
's belated election as one of the Hall's most egregious travesties. Somebody please explain to me why
Bill Mazeroski
,
Jim Rice
, and
Andre Dawson
were elected before Minoso. Tell me how
Tony Oliva
,
Maury Wills
, and
Jim Kaat
all pulled more votes on that
screwy Golden Era ballot
than Minoso.
When are people going to realize that Minoso was one of the most dominant players of his time? From 1951-1961, in which he played nearly 90 percent of his career games, he was the sixth-most valuable position player in baseball per fWAR,
a rounding error behind
Henry Aaron at number five. Among American Leaguers, he was
second only to
Mickey Mantle
during this time. The Commerce Comet trailed by the Cuban Comet; how fitting is that?
In the AL during this time, Minoso ranked first in doubles and hit-by-pitches while placing second in hits, runs scored, triples, and stolen bases. He was third in RBI and offensive value, and fourth in walks. He was even 10th in home runs, despite never having a season where he slugged 25. A perennial .300 hitter, Minoso did so eight times and batted .298 for his career. He also walked a lot--way more than he struck out--and mastered the art of getting plunked, ending up with an impressive .389 OBP. For his career, he was 33 percent better than the average hitter after adjusting for league and park.
Minoso sustained his brilliance for more than a decade. He made seven All-Star teams, won three Gold Gloves, and drew MVP consideration eight times, finishing fourth in four of those years. That run probably would have stretched even longer had he not been forced to play in the Negro Leagues for several years early in his career, preventing him from playing his first full season until he was already 25. What if he had come up in 1946--his first year in the Negro Leagues? He matured quickly, after all, becoming an All-Star in 1947 and 1948. Give him a handful of seasons at the beginning of his career and he probably winds up with close to 2,500 hits, 1,500 runs/RBI, 200+ homers, and 300+ steals. Those sound like Hall-worthy numbers to me.
For whatever reason, Minoso has never received the credit he deserves for being a pioneer. Paige, Doby,
Jackie Robinson
,
Roy Campanella
,
Monte Irvin
, and many others all sailed into the Hall of Fame with far lesser career statistics. Why not Minoso, who paved the way for generations of Cuban ballplayers? He was the first black player in Chicago White Sox history, and one of the first Latin American players to make the All-Star team. I'm sure he faced his share of prejudice and discrimination. Who knows how that affected his performance on the field?
Hopefully Minoso's death will force voters to realize their mistake and induct Minoso the next time he is eligible. But it will be too late, just as it was too late for Ron Santo, and
Joe Gordon
, and all the other posthumous inductions. Their numbers didn't change in the decades it took to deem them worthy of baseball's highest honor. Neither will Minoso's.
Those tasked with putting people in the Hall of Fame must do a better job of identifying and electing deserving candidates as soon as possible, to admit them while they're still alive and capable of giving a speech at their ceremony. It's nice to honor and remember the dead, but I think we can all agree it's even better to celebrate the living.