That blur is Dee Gordon, perhaps the fastest man in baseball (Business Insider)
C
Buster Posey
Posey's been the National League's best-hitting catcher (only Oakland's
Stephen Vogt
has been better with the stick) and
most valuable backstop in baseball
per fWAR. That makes him an obvious choice for his third All-Star selection.
1B
Paul Goldschmidt
If not for
Bryce Harper
's incredible season, we'd be showering all that praise unto Goldschmidt, whose .350 batting average, .466 OBP, and 62 walks are tops in the major leagues. He's also blasted 20 home runs, stolen 15 bases, and racked up 5.4 bWAR--a rounding error below Harper's 5.5.
2B Dee Gordon
I know in my heart of hearts that
Joe Panik
is the better ballplayer and will probably end up with better numbers, but there's no denying Gordon's first-half accomplishments. He's having the kind of year
Jose Altuve
did last year, what with his .350 batting average (just a tick below Goldschmidt), 26 steals, and ML-leading 114 hits. His .411 BABiP is unsustainable, he never walks (10 free passes) and just hit his first home run of the year the other day (
an inside-the-park job
), but I'd love to see his game-changing speed on display at this year's game.
3B
Todd Frazier
Really close call between Frazier and
Nolan Arenado
, who's been hitting out of his mind lately, but Frazier's already superior numbers are even more impressive when you remember Arenado gets to play half his games at Coors Field. Arenado's defense has been better, but Frazier's been the
game's best-hitter
at the hot corner. What's more, his 48 extra base hits and 186 total bases are tops in the majors.
SS
Brandon Crawford
Troy Tulowitzki
and
Jhonny Peralta
are bigger names, but Crawford's been the best shortstop in baseball this year
by a considerable margin
. His 11 home runs (a career-high), 47 RBI, and .207 ISO top the position, and he's a strong defender to boot. The Giants have arguably the best double-play combo in baseball between him and Panik.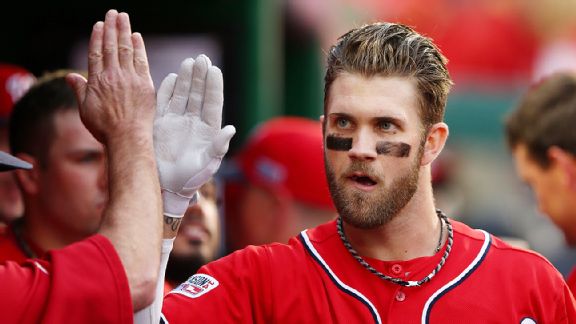 Harper's the very definition of an All-Star (ABC News)
OF Bryce Harper
Harper's been the best player in baseball this year. There's really nothing more to say.
OF
Giancarlo Stanton
It's a shame Stanton
got injured
, because he was on pace for close to 60 home runs and 150 RBI. Nobody's hit 60 homers since 2001, when
Barry Bonds
and
Sammy Sosa
both did it, and 150 RBI hasn't been done since
Alex Rodriguez
during his 2007 MVP campaign. Stanton's the only player today capable of such historic power numbers, so let's wish him a speedy recovery.
OF
Joc Pederson
I'm already growing tired of the
Kris Bryant
-Pederson rookie race coverage, but I can't wait to see what Pederson will do in his first All-Star Game. He's having a
Jose Bautista
-type season with a .240-ish average but stellar power and on-base numbers, and he also happens to be a pretty good center fielder. The 23 year-old is the NL version of
Mike Trout
.
As for who the starting pitcher should be, well, that's easy. Ladies and gentlemen:
Max Scherzer
.