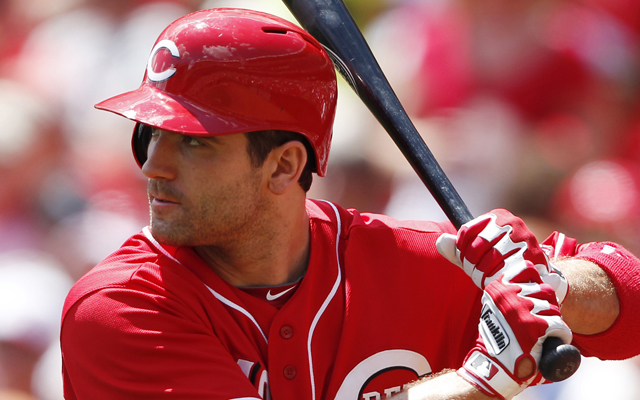 Votto has never been more locked in (CBS Sports)
While the American League MVP race is very much alive thanks to
Josh Donaldson
's
amazing August
and
Mike Trout
's
mediocre one
, the NL award has been sewn up for months. Ever since
Bryce Harper
took a torch
to National League pitching in May, he's merely marked time until his inevitable christening as the Senior Circuit's MVP.
Here are his numbers through yesterday:
.333/.461/.630 (195 OPS+) 31 HR 78 RBI 100 BB 107 K 267 TB 6/10 SB in 531 PA
He's not the only National Leaguer having such a superlative season, though. Take a look at
Joey Votto
's numbers, also through yesterday:
.315/.458/.563 (179 OPS+) 26 HR 78 RBI 116 BB 101 K 252 TB 8/11 SB in 568 PA
Obviously Harper's been a little better, which also comes across in his superior bWAR total (he has eight to Votto's 6.5). But those numbers are awfully close--they even have the same number of hits (141).
The difference will be much greater when MVP votes are tabulated next month. While Harper is expected to
walk away
with the award, Votto will be lucky to get even one first-place vote. As great as his season has been, nobody's giving him the nod over Harper or
Zack Greinke
given how poorly his team has played compared to theirs.
Such is the curse of being an outstanding player on a terrible team. Unless you're a historically-great slugging shortstop, a la
Ernie Banks
or
Alex Rodriguez
, your chances of winning MVP are about as good as the Phillies' odds of winning the World Series this year.
Because he plays for an often-mediocre small market team, Votto is used to such snubs. Only once has he ever finished higher than sixth in an MVP race (when he won in 2010), and he couldn't even muster a hometown All-Star selection this year with Cincinnati playing host (
Todd Frazier
went instead). Even though he's been one of the league's three best players based on WAR and common sense, my guess is that he'll finish outside the top-five again as writers opt for the likes of
Buster Posey
,
Andrew McCutchen
, and
Anthony Rizzo
(all younger, flashier, and playoff-bound).
Between Cincinnati's suckiness and his hot and cold first half, the soft-spoken Canadian flew under the radar for much of the summer. As recently as six weeks ago, nobody was talking about him as a viable MVP candidate. In fact, nobody was talking about him much at all.
Boy, how that's changed. Based on the recent
batch of articles
lauding his batting excellence, however (more on that in a moment), people are only now just realizing what an incredible season Votto's having. Meanwhile, Harper's hot start
announced his leap to superstardom
, and he's been riding the wave ever since. Harper's held baseball's attention all summer long, while Votto's showing up just in time for Labor Day.
The four-time All-Star might be late to the party, but he sure knows how to make an entrace! While Harper has more or less plateaued since his monster May, Votto's gone bananas since the All-Star Break. His second half slash line is an otherworldly .399/.581/.739, elevating his seasonal numbers into Harper's stratosphere (see above). It's those kind of numbers that
got people talking
about Votto. Finally.
The
Ted Williams
comparisons, while a bit exaggerated, are nevertheless fitting (Harper earned the
same comparison
s earlier this year). Votto, like Williams, has impeccable plate discipline, hits for high averages, and is blessed with tremendous power. Also like Williams, Votto has been subjected to endless criticism for being
too
selective, for refusing to alter his approach with runners on base (hence the low RBI totals). His gaudy stats are less impressive, the critics argue, because he doesn't help his team win.
It's easy to say that now because the Reds aren't winning, though they have made three postseason appearances during Votto's nine seasons. It's just bad timing that the finest campaign of his career has coincided with Cincinnati's worst. In a year where everyone seems to have a fighting chance at a playoff spot, the Reds have fallen a whopping
31.5
games behind the Cardinals. Of all the last place teams, they are in last by the most extreme margin.
As if to prove Votto's performance and the results of his team are mutually exclusive, the Reds have only gotten worse as their first baseman's caught fire. They cratered in August after trading
Johnny Cueto
, managing an 8-21 record last month. Imagine how much worse they'd have been without Votto's 1.140 OPS in August.
So with Cincy playing out the string, all Votto can do is ride out this scorching hot streak as long as he can. It won't win him his second MVP award, but at the very least it will keep him in the discussion. It's just crazy one of the best pure hitters in the game had to have a run like this to get noticed.