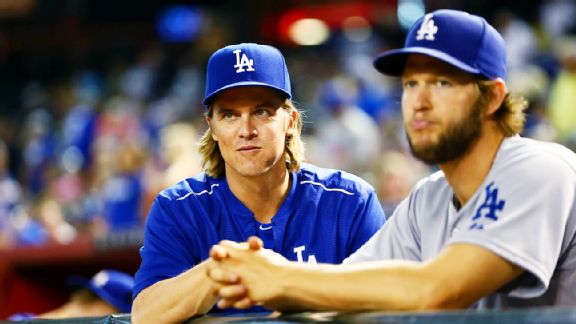 Dodger aces Greinke (L) and Kershaw are players to follow in September (ESPN)
Labor Day weekend is upon us (seriously, how did that happen?), which means there's but one month left of the regular season. Even with most of the divisions and playoff races already decided, several exciting stories have yet to be played out. Will the Blue Jays win their division, thus ending the longest postseason drought in American professional sports? Can Houston hang on in the AL West? And just who is going to put themselves over the top in various award races?
Even if your team is toast and you can't wait for football to start, there's still enough going on to keep fans engaged into October. Here's a sample:
1.
David Ortiz
's march to 500 home runs
It's been another tough year for the Red Sox but another great one for Ortiz, who's closing in on his 500th career long ball. He has five to go which, given his
feverish home run pace
(23 taters in his last 70 games), shouldn't take too long.
2.
Clayton Kershaw
's quest for 300 strikeouts
As
Jeff Sullivan noted yesterday
, Kershaw's up to 251 K's on the year after fanning 15 Giants in Wednesday night's masterpiece. With five or six starts remaining, he has a chance to become the first pitcher since 2002 to eclipse 300 punchouts. If he does that, a third straight
Cy Young
award may be in the cards.
3. AL East showdown
As always, the AL East has become a dogfight between its top two teams, one being the Yankees of course. For once, however, the other combatant isn't Boston. It's the Blue Jays, currently clinging to a 1.5 game lead over the Bombers. Toronto will get every opportunity to widen the gap down the stretch with the rest of its games coming against sub-.500 teams and New York. The Yankees have a similarly easy slate, however, so it wouldn't be surprising to see first place change hands several times over the next month.
4. How will the West be Won?
The fate of the AL West is still up in the air, for it's the only division where the third place team isn't more than 10 games out. It has been turned completely upside down this year, with Houston and Texas (both losers of 90+ games last year) rising to the top while Oakland and Seattle (winners of 88 and 87, respectively) sinking to the bottom. In between are last year's division champs--the Angels--still trying to find their way. LA's coming off a terrible August but could catch up if they play like they did in July. Houston's had control of first place for most of the year, but now find themselves holding on for dear life with a two game edge over the surging Rangers. So hold your breath, Astros fans, and don't exhale until this time next month.
5. Who will snag the second AL wild card?
The Pirates and Cubs have both NL wild card spots wrapped up, and whoever loses the Yankees-Blue Jays duel is guaranteed the first wild card in the AL. The second wild card berth, however, is very much up for grabs. Texas currently leads by one game over Minnesota, with Los Angeles and Tampa Bay looming not far behind. The Twins and Angels are fading fast, while the Rangers have rolled since trading for
Cole Hamels
. Fingers crossed for a tie, which would mean a play-in game for the play-in game!
6. Will Washington pull it together?
It's now or never for the Nats, who've
hovered around .500
all summer and allowed the Mets to break away. They're still close enough (six games) that Washington could steal the division out from under them with a huge September, but time is dwindling. Which team will the Nationals be this month: the one that everyone
predicted to win 100 games
or the one that might wind up with a losing record? I say they finish strong but still miss the playoffs.
7. St. Louis shoots for 100
Improved parity has made 100-win teams increasingly rare--there were none in each of the past three seasons. Only one team has a legitimate shot to do it this year, and it's not the preseason favorites. The best team in baseball this year has been the St. Louis Cardinals, currently 86-47 and steaming towards their third straight division title. With 29 games remaining on their schedule, the Redbirds need only go .500 to reach the century mark.
8. Does anyone get to 50 homers?
There have been just two instances of a player surpassing 50 home runs during the past seven seasons, but it's possible we'll see two or more players crack that many this year.
Nelson Cruz
--last year's long ball champion and the current major league leader--needs 11 to get there while
Chris Davis
--the last to break the 50 barrier--is a dozen away. Look for
Carlos Gonzalez
, who's cranked 31 over the last three months, to make a run as well.
9. Award races
The AL MVP was seemingly
Mike Trout
's to lose until about a month ago, at which point he and his Angels
went in the toilet
while
Josh Donaldson
and the Blue Jays
took off
. Now Donaldson appears to have the upper hand, but that could change in an instant if Trout gets back to being himself and leads LA to the playoffs. The NL MVP belongs to
Bryce Harper
no matter how often
Joey Votto
reaches base
, but
Zack Greinke
could become the second straight Dodger pitcher to win it if he continues to be lights-out in September.
Speaking of Greinke, he and Kershaw will duke it out for the NL Cy Young award. Wonder which Dodger (and former Cy) voters prefer; Greinke with his sparkling ERA or Kershaw and his gaudy strikeout totals and only slightly less-sparkling ERA? The AL trophy is probably going to
Dallas Keuchel
(who saw that one coming?), but don't count
Chris Sale
out just yet.
The AL Rookie of the Year race is a tight one too, with
Carlos Correa
,
Miguel Sano
, and
Andrew Heaney
all having strong cases. The NL field is a two-horse race between
Joc Pederson
and
Kris Bryant
, though
Noah Syndergaard
deserves consideration as well.
10. September call-ups
No matter where your team falls in the standings, it's worth checking in on them throughout September as their future stars get a first taste of the big leagues. For instance,
Corey Seager
made his
major league debut
last night.