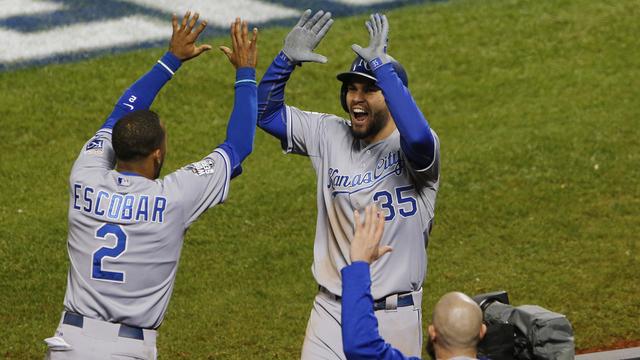 Kansas City came back to win Game 4 (CBS Sports)
After yet another
comeback win
, the Kansas City Royals are one victory away from winning the World Series. The New York Mets, on the other hand, need to win three more times--in a row, including twice on the road--to capture the flag. Simple math would seem to favor the Royals.
But while the Mets are down, you can't say they're out. Not when they have
Matt Harvey
pitching tonight,
Jacob deGrom
going on Tuesday, and
Noah Syndergaard
starting Game 7 if needed. Those three rank among the best, hardest-throwing pitchers in baseball. When you have them lined up like that, you have a fighting chance against anybody.
It's just weird that the Mets find themselves in this position. After never trailing in the NLCS, New York has been playing catch-up this whole series, or at least since they lost
Game 1
. I felt at the time that their inability to hold onto that ninth inning lead would come back to haunt them, and sure enough, it has completely altered the Fall Classic's dynamic. If
Alex Gordon
flies out to the track there, or even hits it off the wall, the Series would be tied at two rather than 3-1 Royals. But in a best-of-seven, you can't afford to make those
mistakes
.
Teams wins 95 percent
of games they lead going into the ninth inning. During the most important games of the year, you better not have one of those 5 percent games, but the Mets have basically had two in five days.
Tonight's game will be a rematch between Game 1 starters
Edinson Volquez
and Matt Harvey, who compiled nearly identical stat lines in the Series opener. Volquez has been tough since
suddenly finding
an extra foot on his fastball, but Harvey's still the superior pitcher. He's had one very good start sandwiched between two decent turns this postseason, but he'll have to be at his absolute best tonight. When your team is one loss away from being eliminated, there's no margin for
error
.