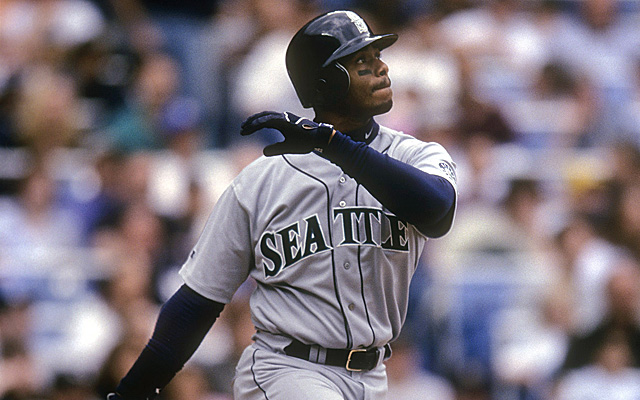 Griffey won a lot of his awards in his career. But only one MVP? (CBS Sports)
I don't envy the person who had to write
Ken Griffey
, Jr.'s Hall of Fame plaque. There's a lot to say and not nearly enough space to say it. How do you sum up a 22 year career into a single paragraph? You have to mention the 10 straight Gold Gloves--the most by a center fielder not named
Willie Mays
. You can't overlook the 13 All-Star appearances, including 11 in a row at one point. And there absolutely needs to be a line about his home run total--he hit 630 of them, after all, sixth-most in baseball history.
The inscription also had to say that Griffey was AL MVP in 1997 (but failed to mention he won unanimously). What it doesn't say is how many others Griffey could, or should, have won.
It's simply mind-boggling to me that a player as beloved and talented as Griffey won but a single MVP award. He was the face of baseball for an entire decade, the same way Mantle was the face of baseball for the '50s and
Babe Ruth
was during the '20s. Griffey wasn't just a star or even a superstar; he was a super-duper-star. He was everywhere, on everything from
cereal boxes
and
videogames
to
commercials
and
movies
. The only athlete more popular than Griffey during the '90s was Michael Jordan.
He was so good and so popular that you would have thought he was winning the MVP every year, or at least coming close. As it turns out, Griffey had two seasons in his 22 year career where he finished in the top three of his league's MVP voting.
Two.
It's incomprehensible that among players who won MVPs during the '90s, Griffey has the same number as
Terry Pendleton
,
Ken Caminiti
,
Dennis Eckersley
, and
Mo Vaughn
. None of those players were anywhere close to the player Griffey was during his prime.
I can't get over it. How how did Griffey, the face of baseball and the
best player in his league
for a decade, a .300 hitter who slugged more home runs and drove in more runs than all but one player during the '90s, a dazzling defender who won the Gold Glove every year, who made the Mariners relevant for the first time, win just one MVP award when
Juan Gonzalez
--
Juan Gonzalez--
won two. It doesn't make any sense.
By my count, there were a half-dozen seasons during the '90s when Griffey had a legitimate MVP case. Only once--in 1997 when he led the league in WAR (for a position player), runs, homers, RBI, slugging, and total bases--did he actually win the darn thing. Even though everyone knew he had been the best player in the American League for several years by that point, it all had to come together (Seattle making the playoffs, him leading the league in almost everything) for the MVP to go his way.
In this regard, Griffey is like another tremendous all-around center fielder who preceded him by a few generations: Willie Mays. Starting when he won his first MVP at age 23, Mays was clearly the best player in the National League for more than a decade. And yet, voters kept finding reasons to give the MVP to someone else (it didn't help that Mays's teams only made the playoffs once from his age 24-39 seasons). As such, Mays didn't win again until 34, by which point he only had one more MVP-caliber season left in him. He retired with two MVPs when he easily could have had seven or eight.
Griffey, who ceased to be healthy after turning 30, wouldn't have won that many. But he should have more than one, right? I mean, there was a four-year stretch in the late '90s where he averaged 52 homers, 142 RBI, and a .996 OPS (152 OPS+) while winning the Gold Glove every year. Surely he deserved at least one, maybe two more?
Let's go back and find out...
Griffey was more than just a great hitter, he was a freak athlete (ESPN)
1993: Griffey finishes fifth, should have won
Griffey was a great player for the first few years of his career--an instant star--but it wasn't until his fifth year/age 23 season that he became a superstar. That was the year he cranked 45 homers--blowing away his previous career high of 27, and set a bunch of other personal bests. He batted .309/.408/.617 (171 OPS+), led the league in total bases and, for the only time in his career, walked more than he struck out. His 8.7 bWAR were the most by an American League position player, plus he helped the Mariners to a winning season--which was a big deal considering they'd lost 98 games the year before.
Still, being a star on an also-ran isn't going to get you much love from the BBWAA. Seattle finished fourth in the AL West, 12 games behind Chicago, who produced the league's unanimous MVP in
Frank Thomas
. In retrospect, it's puzzling to see how Thomas was a unanimous selection. His offensive stats (.317/.426/.607, 41 HR, 128 RBI) were almost identical to Griffey's, but he was a first baseman. Griffey was a Gold Glove-winning center fielder, not to mention a better baserunner (Thomas had four steals to Griffey's 17). All told, Griffey was much more valuable, holding a 2.5-win edge in WAR.
The same goes for the other three players who finished ahead of him;
Paul Molitor
,
John Olerud
, and Juan Gonzalez. Molitor was a DH with half as many homers and an OPS that was over 100 points lower than Griffey's. Olerud had better hitting stats but, like Thomas, played first and was a non-factor on the bases (0 steals). Gonzalez, a left fielder, basically had the same stats as Griffey except in OBP, where he trailed by 40 points. Griffey should have won his first MVP at 23, just like Mays, or at least deserved to be a close second.
1994: Griffey finishes second, right call
Few players got shortchanged more by the player's strike than Griffey, who already had 40 homers--most in the AL--when his year was cut short with 50 games remaining. He was wielding a red-hot bat at the time, with four home runs and 13 RBI in just 10 August games. Who knows what Griffey might have done with the rest of August and September--he might have been the first man to break
Roger Maris
's home run record.
As good as Griffey's numbers were, they weren't as good at the time as those of Frank Thomas (MVP again) and
Albert Belle
, who finished third. Thomas had 30 points of batting average, 85 in OBP and 55 in slugging on Griffey, with just two fewer homers but 11 more RBI. Belle also probably had a better case, as his slash stats were all about 35-40 points better than Griffey's. Of course, it's hard to hit .350 for a full season so maybe those numbers would have come down, but we'll never know.
1996: Griffey finishes fourth, deserves second
After an injury-plagued down year, Griffey came back with a vengeance in 1996, slamming 49 home runs and knocking in 140 in just 140 games. He also batted .303/.392/.628, stole 16 bases in 17 tries, and played the best center field of his career. Not surprisingly, Griffey led the league in bWAR with 9.7--which easily would have been a 10-win year had he not missed three weeks leading up to the All-Star Break.
This was the best year of Griffey's career to that point, but voters bypassed him and teammate
Alex Rodriguez
(who was actually more deserving) in favor of Juan Gonzalez, who helped Texas to a division title with slightly more impressive power numbers (47 homers, 144 RBI and a .643 slugging). Griffey and A-Rod were both much better all-around players and posted superior offensive numbers at more demanding positions, which is why B-R credits both with over nine wins while Gonzalez gets less than four.
Part of the problem was that Griffey and Rodriguez stole votes from each other, as A-Rod received 10 first-place votes and Griffey got four. Had all those first place votes gone to one Mariner, he would have exceeded Gonzalez's 11 and won the award. If only the baseball writers had co-ordinated which Seattle superstar they were voting for.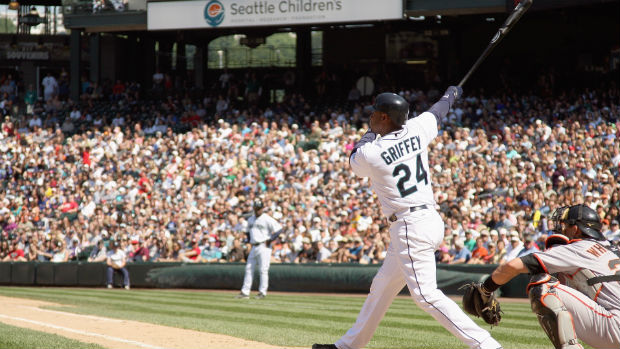 It took a home run barrage to win Griffey his first (and only) MVP (NY Daily News)
1997: Griffey wins! (finally)
Griffey had his best season and Seattle won the division, making him an easy choice for MVP (he won unanimously). Upon closer inspection, however, one finds that there was a player considerably more valuable than the Kid that year, and his name was
Roger Clemens
. The Rocket totaled an otherworldly 12.1 bWAR in his Blue Jays debut yet finished a distant tenth in the MVP race, failing to receive even a first place vote despite leading the majors in wins, innings, FIP, ERA+, and WAR. Clemens was undoubtedly hurt by the fact that Toronto finished last in the AL East, while Griffey clearly received much of the credit for leading the Mariners to a division title. When tasked with choosing between the game's best pitcher and the best position player for MVP honors the BBWAA, as they usually do, opted for the position player. I usually prefer the position player as well, so I won't argue here.
1998: Griffey finishes fourth, deserves top-three
Griffey was at it again in '98, blasting 56 homers for the second consecutive year as he give Roger Maris another run for his money. While the rest of his numbers dipped slightly, they were still almost identical to the ones he posted the previous season. And yet, he went from winning the MVP unanimously to finishing fourth, with nary a first place vote. Ahead of him finished Juan Gonzalez (again) and two superlative shortstops,
Derek Jeter
and
Nomar Garciaparra
. While both were phenomenal in helping their teams reach the playoffs, their power numbers were dwarfed by Griffey's. He ripped 21 more home runs than Garciaparra, for instance, and nearly three times as many as Jeter. He also knocked in more runs than either of them and, despite hitting 40 points lower, more than made up for this discrepancy with his power, which allowed him to out-OPS both of them.
While the most valuable player in the American League suited up for Seattle that year, his name wasn't Griffey. It was Alex Rodriguez, the league-leader in hits and bWAR who became the third player in baseball history (and still the only infielder) to go 40/40. However, his power numbers paled in comparison to Junior's and so he finished ninth. Both were also hurt by their team's lackluster record, which saw them go from division champs the year before to nine games below .500.
1999: Griffey finishes tenth, deserves higher
Griffey's final dominant season saw him finish 10th in the MVP voting despite winning his third straight home run title (and fourth overall) with 48, complemented by his typical gaudy runs/RBI totals as well as 24 steals--a career high. While his defense was slipping by this point, he still won another Gold Glove--his tenth in a row.
I'm not going to argue that Griffey deserved to win the last MVP of the '90s, because he didn't.
Pedro Martinez
,
Ivan Rodriguez
, Derek Jeter,
Manny Ramirez
,
Roberto Alomar
, and Nomar Garciaparra were all more deserving. Still, he definitely should have finished higher than
Jason Giambi
,
Rafael Palmeiro
, and
Shawn Green
.
So after all that, it appears Griffey deserved at least two MVP awards, maybe three if you give him '96 over A-Rod (had Griffey stayed healthy that year, it might have happened). Two is a good number of MVPs to win--that's as many as
Frank Robinson
,
Ernie Banks
, and
Lou Gehrig
, among others. When you win multiple MVPs, you're in pretty good company.
Like
Mike Trout
, Griffey had the misfortune of peaking when one of the greatest righthanded hitters in history was at his zenith (
Miguel Cabrera
's batting record is remarkably similar to Thomas's). Later on, his ridiculous run in the late '90s overlapped with the emergence of baseball's Holy Trinity at shortstop, not to mention some very short-sighted MVP votes. I mean, how crazy is it that a center fielder who averaged 52 homers, 142 RBI, and a .996 OPS (152 OPS+) for four years had one top-3 MVP finish? Probably about as crazy as a different center fielder leading his league in WAR every year for four years and winning just one MVP award.