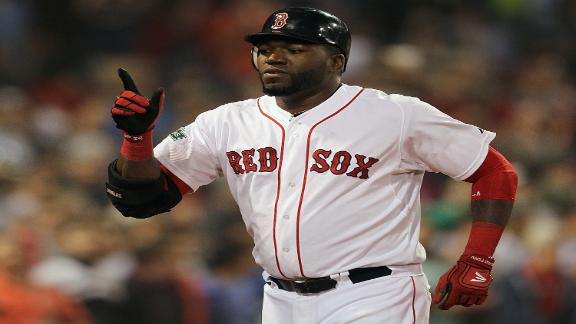 May is almost over, Memorial Day has come and gone, and for the first time in their rollercoaster season, the Boston Red Sox finally have a winning record attached to their name in the standings.
All I can say is this; it's about damn time. Six times they had reached the .500 mark, only to lose the following game every single time. Talk about frustrating. That's like flipping a coin six times and getting six straight heads. What are the odds? One in 64. Less than two percent.
Facing
Justin Verlander
, the odds weren't looking much better for their seventh attempt. After all, we're talking about a guy who's probably the best pitcher on the planet, the 2011 American League
MVP
and
Cy Young
winner. He'd dominated them on
Opening Day
, when he fired eight shutout innings before
Jose Valverde
's blown save spoiled what should have been his first victory in 2012. The Sox went with
Daniel Bard
, who came in with a losing record, a 1.56 WHIP, and more walks than strikeouts. A future Hall of Famer versus a converted reliever whose days in Boston's starting rotation are numbered. The advantage seemed to be in Detroit's favor.
This time around Verlander failed to bring his "A" Game. After a 1-2-3 first inning he struggled, allowing ten hits and five earned runs, both season worsts, over the next five innings.
David Ortiz
paced Boston's balanced hitting attack by stroking two doubles and a homer as he scored/drove in a pair of runs. It was a true team effort, though, as every Boston starter not named
Ryan Sweeney
recorded at least one hit. Meanwhile, Bard gritted through five and one-third frames of two-run ball, giving way to the bullpen after 94 pitches. He'd been shaky early on, allowing eight men to reach base and surrendering solo home runs to
Jhonny Peralta
and
Prince Fielder
, so it made sense that
Bobby Valentine
had
Rich Hill
and
Scott Atchison
(both have been lights-out, by the way) complete the inning for him. Journeymen
Andrew Miller
,
Vicente Padilla
and
Alfredo Aceves
proceeded to secure a 6-3 win for the Red Sox. Luckily for Boston the Tigers disappointing offense continued to struggle, stranding ten men on the basepaths in all and going just one-for-eight with runners in scoring position.
This team, like last year's squad, took its sweet time rounding into form. But it looks like they've finally turned the corner, as they have gone 13-5 since May 11th.
Now that's more like it.
It's been a tumultous two months, but the Sox seem to be hitting their stride. Yes, they're still toiling in last place in the AL East, but there are plenty of encouraging signs in every facet of the game. The lineup ranks second in the American League in runs scored, hits, batting average, and total bases despite losing star outfielders
Jacoby Ellsbury
and
Carl Crawford
to injury (
Dustin Pedroia
may join them after jamming his thumb yesterday on a diving play that robbed
Danny Worth
of a base hit) while enduring prolonged slumps from heart of the order bats
Adrian Gonzalez
and
Kevin Youkilis
. That high level of production in the face of adversity is a reflection of the team's remarkable depth that wouldn't be possible without much needed contributions from
Cody Ross
,
Mike Aviles
,
Jarrod Saltalamacchia
, Will Middlebrooks
,
Daniel Nava
, and the aforementioned Ryan Sweeney.
Josh Beckett
, Golfgate aside, has
pitched like an ace
for much of the season even though his 4-4 record and 4.15 ERA suggest otherwise. Young southpaw
Felix Doubront
is holding his own in his first season as a full-time starting pitcher, and
Clay Buchholz
's strong start against the Rays on Sunday is a step in the right direction. The bullpen, despite lacking a true closer and setup man, has stabilized since suffering a nationally televised meltdown against the Yankees in April. The defense boasts the best fielding percentage of all AL teams.
Seeing as how they currently have a small army on the Disabled List, it seems obvious to me that once this team starts to get healthy, they're going to be a force to be reckoned with. For now they're finally above .500, and I think they are there to stay.
Interesting side note; the Los Angeles Angels also cleared the .500 hurdle today, beating the Yankees 5 to 1.