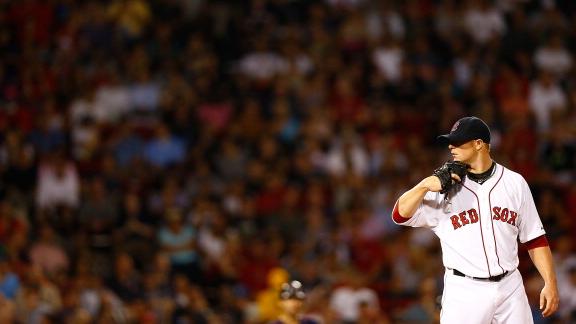 New York and Boston are limping to the finish line (ESPN Boston)
You know something's gone horribly wrong when the Yankees come to town for a September series at Fenway Park, and Red Sox Nation couldn't care less.
Don't let the sellout crowds fool you; these games mean nothing to Boston, who were just swept by the equally terrible Toronto Blue Jays. That makes 11 losses in their past dozen contests, a slide that's dropped them to last place in the AL East. Their season's
in the toilet,
and fans have already checked out and moved on. I hear the
Patriots
are supposed to be pretty good this year.
On the other hand, these three games are crucial for the Yankees, who lead the division by just one game over those pesky Baltimore Orioles. New York
hasn't played well lately
, and now finds itself in the unenviable position of fighting tooth and nail to hold on to the top spot in the AL Beast, a situation that seemed unimaginable on the morning of July 19th when they were up ten games in the standings. Coolstandings.com gives them a 50.7 percent chance of winning the division. A coin toss. Most teams, Red Sox included, would gladly take those odds, but not the Yankees, not when they should have had this race locked up already.
But untimely injuries to
C.C. Sabathia
,
Alex Rodriguez
,
Mark Teixeira
,
Andy Pettitte
, and
Ivan Nova
, along with the pre-existing ones to
Mariano Rivera
,
Michael Pineda
, and
Brett Gardner
, depleted the Bombers as their midsummer surge became a swoon (same thing happened to the Red Sox last year and, well, look how that
turned ou
t). They haven't won back-to-back games since the middle of August and desperately need to get back on track against their rivals, whom they've beaten eight times in their twelve meetings thus far. They'd love to cream Boston and gather some momentum for their pivotal weekend series with the Rays. Most importantly, they want to stay in first place and maintain their status as division leaders, a title they've held each and every day for the past three months.
With the Sox rolling out a glorified version of the Pawsox most nights, this series is there for the taking. All New York has to do is win (I know, I know, easier said than done). Tonight
Joe Girardi
sends
Hiroki Kuroda
(13-10, 3.14 ERA) to the bump. The 37 year-old free agent acquisition has quietly been the team's best pitcher this year as well as their hottest; over his past 19 starts he has a 2.58 ERA, averaging more than seven innings per turn with nearly five strikeouts per walk.
Bobby Valentine
will counter with
Jon Lester
(9-11, 4.99 ERA), who's looked like the Jon Lester of old since he
cratered against Toronto
. With those two aces colliding, expect a pitching duel that should keep the Fenway Faithful in their seats for much of the game.
And while they are there, maybe they can ignore the standings posted on the Green Monster, close their eyes and pretend that Yankees-Red Sox still matters.