For much of the summer, the Milwaukee Brewers and Philadelphia Phillies were considered major disappointments, and rightly so. After winning their respective divisions a year ago both teams carried losing records deep into the summer. At the end of July they were sellers in a buyer's market and found ways to unload some of their established talent. The Brewers shipped former
Cy Young
winner
Zack Greinke
to the Angels
and Philadelphia
parted ways
with
Joe Blanton
plus All-Star outfielders
Shane Victorino
and
Hunter Pence
shortly after
re-upping
Cole Hamels
. With their underachieving teams in ruins, both clubs seemed to be waving the white flag.
Six weeks later, they've somehow managed to claw their way back to .500 (Milwaukee is 72-71, Philly is 72-72). They're closing in on St. Louis (76-68) for the league's second wild card spot, and one of them could wind up making the playoffs if they maintain their torrid pace for three more weeks.
How the hell did
that
happen?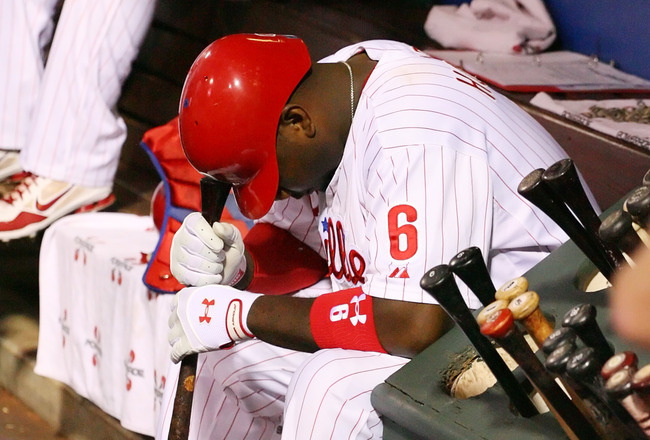 On Friday the (July) 13th, Philadelphia began the second half at Coors Field with a 6-2 loss to the woeful Colorado Rockies.
Cliff Lee
surrendered nine hits while Colorado's
Christian Friedrich
stymied a Phillies lineup featuring
Jimmy Rollins
,
Chase Utley
,
Ryan Howard
,
Carlos Ruiz
,
Placido Polanco
, and the aforementioned duo of Pence and Victorino. The defeat represented Philly's fifth loss in a row, the eleventh in their past twelve, and it dropped them to 37-51 on the season. A top heavy team that had adopted a stars and scrubs approach, constructed around a nucleus of aging superstars, had been ravaged by injuries and slumps to many of its key contributors (sound familiar,
Red Sox
fans?). They were dead.
Except they weren't. Since then, Philly has gone 35-21 despite continuing to field a lineup that is average at best (losing Pence and Victorino didn't help). They've scored in double digits just once since the beginning of June and lack the firepower necessary to build up big leads. Every game they play is a tightly contested affair. Most nights, they barely scrape together enough runs to win.
So if their unlikely resurrection hasn't been fueled by hot hitting, then the answer must lie in improved pitching. As a whole,
Charlie Manuel
's staff has trimmed its ERA by nearly a full run in the second half. The rotation has benefited from Cliff Lee and
Roy Halladay
returning to form, supplementing the success of Hamels,
Kyle Kendrick
and
Vance Worley
. The other major turnaround came within the bullpen, which has gone from lackluster to dominant in the span of two months. Philly's relievers went 9-16 with a 4.76 ERA and 1.38 WHIP (essentially
Ricky Nolasco
) in the first half but are 12-8 with a 3.14 ERA and 1.17 WHIP so far in the second (similar to
Hiroki Kuroda
) while upping their K rate by more than two batters per nine innings. The team's biggest weakness and fatal flaw has become its main strength. But then again, the pitching was
supposed
to
be good
, so it was only a matter of time before they all got on a roll.
As for the Brewers, their renaissance has taken a different path. On August 15th, the Rockies bested the Brew Crew 7-6, to cap off a three game sweep at Coors Field. The Brewers fell to 52-64 on the season, a dozen games below .500 with six weeks to play. At that point, most teams would have admitted that it just wasn't their year and mailed it in. Call up the reserves in September and start playing for next year. But the Brewers didn't see it that way. They looked at their soft schedule, saw a golden opportunity and seized it by the throat. During the last month Milwaukee has gone 20-7, making the most of their 17 game stretch from August 20th through September 6th in which they played three slumping teams; the Chicago Cubs, Pittsburgh Pirates, and Miami Marlins. The Brewers have lost consecutive games just once--back-to-back losses against Philadelphia over the weekend of August 18th/19th--but have won two or more games seven times and were practically unbeatable at home (11-2), where they've swept the Cubbies, Bucs, and Braves.
The Brewers boast the best lineup in the National League and have feasted off opposing hurlers all season long. Despite losing
Prince Fielder
to the
Detroit Tigers via free agency
, their powerful offense leads the Senior Circuit in runs scored, home runs, and total bases (with so much pop, you'd think they be a station-to-station offense that stands around waiting for somebody to crank a home run, but they're not. Manager
Ron Roenicke
is aggressive on the basepaths; his team rates second in the NL in steals). After a quick glance at the starting nine, it's easy to see how Milwaukee's bats have been so prolific.
Ryan Braun
is putting together another MVP-caliber season. Free agent addition
Aramis Ramirez
has rebounded from a slow start to post his typically strong all-around numbers.
Corey Hart
needs just three big flies for his second 30 homer season since 2010. Backstop
Jonathan Lucroy
has produced on par with
Buster Posey
when healthy. Outfielders
Carlos Gomez
and
Norichika Aoki
have been productive. Even
Rickie Weeks
, who's looked utterly lost at the plate this year, is salvaging his season with a torrid September. Top to bottom, this lineup is stacked with heavy hitters. It's been even better in the second half, averaging nearly 5.5 runs per game while seeing a 58-point improvement in their OPS compared to the first half.
So scoring runs isn't an issue for the Brewers, but preventing them is (In this sense they remind me of the 2004 Red Sox before the
Nomar Garciaparra
trade; they can hit with the best of them, but streaky pitching and abysmal glove work have prevented them from taking off). Their defense is brutal; bringing in
Alex Gonzalez
to man shortstop couldn't cure that. Their inefficiency in the field makes the pitching look worse than it is, but the arms have endured their own set of problems, too. The bullpen has been a mess all season long, primarily because
John Axford
and
Francisco Rodriguez
have struggled in the late innings--that explains why Milwaukee is just 23-29 in one-run games. The rotation is solid and has soldiered on without Greinke and
Randy Wolf
(released), but lacks consistency.
Yovani Gallardo
and
Marco Estrada
have been lights out lately, but
Mike Fiers
and
Shaun Marcum
are slumping. If the Brewers are going to have any shot of sneaking into the playoffs this year, the bullpen will need to step up. Every win counts, and they can no longer afford to lose close games by one run.
After digging themselves in such deep holes early on, the recent surges by both teams will most likely be too little, too late. There are still substantial challenges to overcome as the season draws to a close, and these roadblocks may prove insurmountable. The Phillies have three more games in Houston (piece of cake), but from then on out they play all their games against their NL East rivals; three each with the New York Mets, Atlanta Braves, and Miami Marlins, but six against the Washington Nationals, who have the best record in baseball and are closing in on 100 wins. The hope is that with division all but wrapped up,
Davey Johnson
may begin resting his regulars/aligning his starting rotation as the postseason approaches. Philadelphia is a combined 10-20 against the Mets and Braves this year, so those match-ups could spell trouble as well. Expect the Brewers to continue to roll against New York and Pittsburgh, but their ten game road trip looms large for a team that has a .394 winning percentage away from home. To make matters worse, seven of those games are against the red-hot Reds and Nats. But if Milwaukee somehow survives that challenge with their playoff chances intact, they can look forward to six cushy games at home against the Astros and Padres to close out the season.
I don't think either one gets in. The odds aren't on their side; coolstandings.com gives Milwaukee a 6.7 percent chance of reaching the postseason and the Phillies are even bigger long-shots with just a 2.7 percent likelihood. But they're still breathing. They're not out of the race. They still have a chance and, given where they stood a month ago, that is nothing short of miraculous.
I guess the real question is; do you believe in miracles?