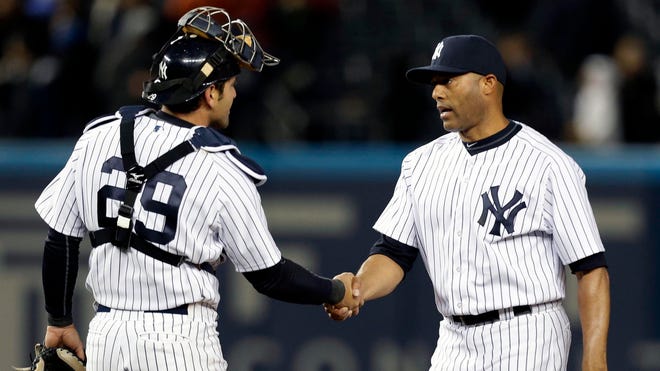 This was supposed to be the year the New York Yankees tumbled from their perch atop the American League East.
They were too old, inured, and washed-up
. They'd
grown weaker
over the winter while their division rivals
reloaded
. The writing was on the wall, and some went so far as to predict that, come September, the Yankees would be bringing up the rear in the AL East.
Well here we are, a quarter of the way through the season, and such speculation seems premature at best, downright foolish at worst. The decrepit Yankees have defied the odds, overcoming every obstacle that's threatened to derail their quest for another division flag. Age? Irrelevant. Injuries? Not a problem. The battered Yankees have taken their lumps and bruises, losing
Derek Jeter
,
Alex Rodriguez
,
Mark Teixeira
,
Kevin Youkilis
,
Curtis Granderson
, and now
Andy Pettitte
for large chunks of time, but still they keep winning.
How? Glad you asked.
1. Their cast-offs are stepping up
New York endured its fair share of criticism for filling out its roster with old, past-their-prime players that nobody else wanted. But while many of last winter's splashy acquisitions (
Josh Hamilton
,
B.J. Upton
,
R.A. Dickey
) have disappointed, the Yanks have gotten great early returns from several key additions:
Vernon Wells
--The Yankees were mocked after trading for Wells, thereby adding another albatross contract to their bloated payroll. But the 34 year-old has enjoyed a renaissance in the Big Apple. His ten home runs rank second on the team to Cano as he's been a steady source of righthanded pop for a team that craves it.
Travis Hafner
--Brian Cashman scored a massive bargain by signing the 35 year-old DH to a one-year, $2 million deal. Pronk's provided plenty of power batting cleanup for the Bronx Bombers. He also leads the team in OBP and OPS.
Lyle Overbay
--Playing for his fifth team in four years, Overbay has been perhaps the most pleasant of all New York's surprises. He'd done a capable job filling in at first with Teixeira on the mend. The 36 year-old ranks second among Yankees in doubles, RBI, and total bases to Cano.
Not sure any of these guys will still be producing at a high level a couple months from now, but that won't matter so much when Jeter, A-Rod, Tex, and Grandy are all back in the lineup.
Without his star-studded supporting cast, Cano has been forced to shoulder more of a burden on offense and be the "go-to" guy. New York needed Cano to step up and produce like the superstar he is. Well, after a rough first week of the season in which Cano went just 3-for-23, he's been the elite offensive force we all expected him to be. Tied for the league-lead in home runs with 12, he ranks second in total bases behind only
Miguel Cabrera
. He has hundreds of millions of dollars riding on his performance this year, so don't expect any lapses in focus or motivation from the perennial All-Star.
3. Big Three in the rotation
The Yankees boast the second best ERA in the American League despite the struggles of
Phil Hughes
and
Ivan Nova
.
CC Sabathia
isn't quite as dominant as he once was, but that hasn't prevented him from taking care of business as the team ace.
Hiroki Kuroda
continues to age like fine wine and has been one of the best starters in the American League this year. Andy Pettitte was still somehow a dependable number three at age 40 before going on the Disabled List.
4. The long ball
Yankee hitters have been woefully ineffective with men on base, batting a collective .237/.303/.381 with men on. They've been even worse with runners in scoring position, batting .224/.312/.364 in such situations. New York has compensated for this inability to manufacture runs by relying on the long ball. Their 52 dingers rank fourth in the AL and a dozen different Yankees have already homered this season.

5. Stellar bullpen
New York's bullpen, arguably the team's greatest strength entering the season, has performed as expected.
David Robertson
,
Boone Logan
, and
Adam Warren
have all been wonderful. But when it comes to Yankee relievers, the conversation starts and ends with
Mariano Rivera
. Mo, fully recovered from the torn ACL that ended his season last May, leads the majors in saves and has re-established himself as the best closer in baseball. When there's a lead that needs protecting at the end of a game, the timeless Rivera is money in the bank.
With Granderson back and Teixeira due to return by the end of the month, New York is only getting stronger by the day. That has to be a scary thought for their division rivals as they fight to wrestle away first place from NY in the coming weeks. Obviously there's still a long way to go, and I have my doubts about how such an old, injured roster will hold up over the summer, but for now it appears that those rooting for the Yankees' demise will have to wait until next year.