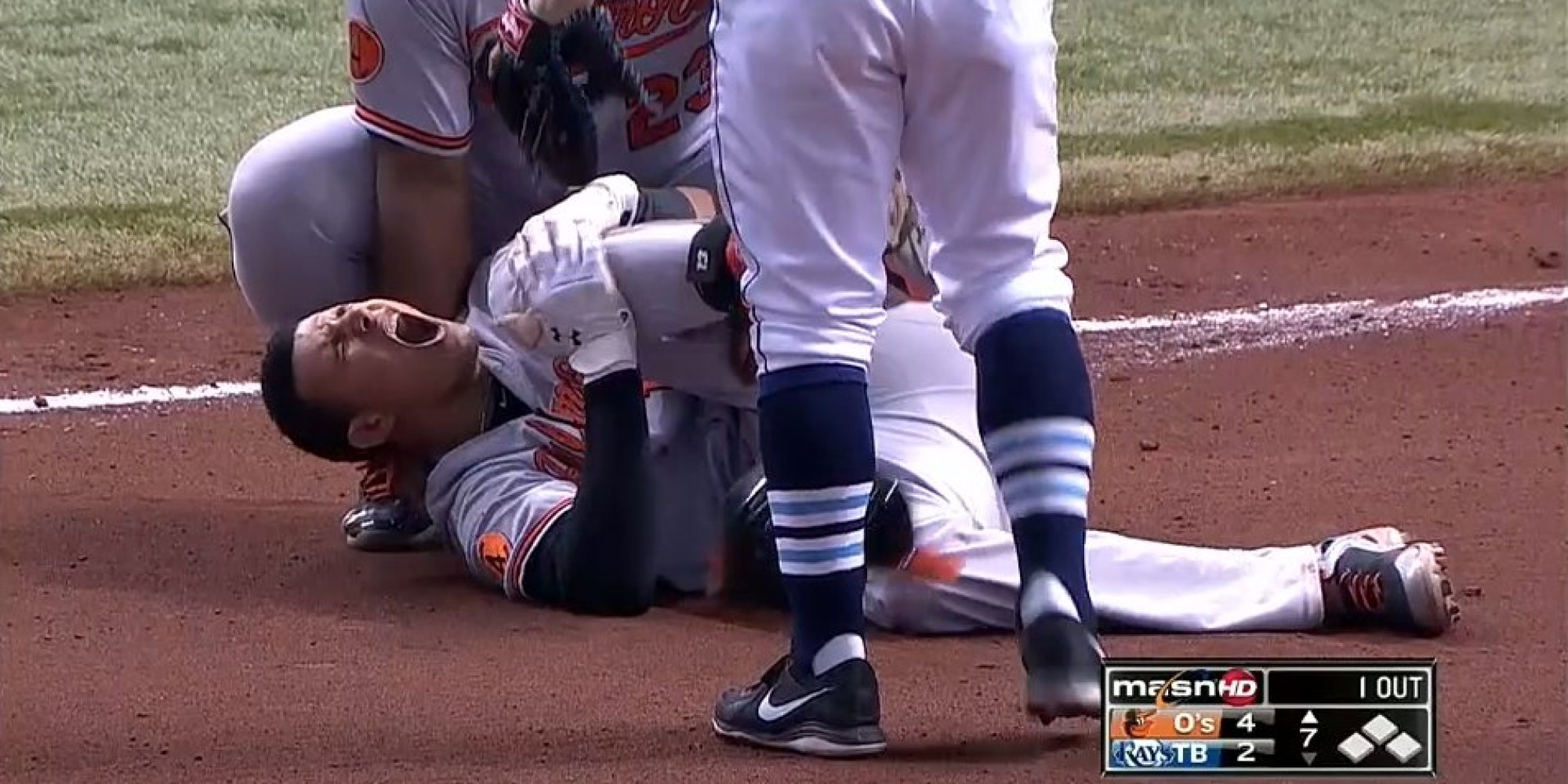 While writing a
recent post
about
Hanley Ramirez
, I started thinking about players who had really good seasons that were severely impacted by injury. There were several that came to mind, and I'm sure there are many more I'm forgetting. In the wake of
Manny Machado
's recent knee issue, this post feels particularly relevant.
The only rule is that a player must have appeared in fewer than 100 games because of injury. They are presented in chronological order, and strike-shortened seasons do not count.
Joe DiMaggio
1949 (76 games)
Plagued by a painful heel injury, DiMag didn't take the field until June 28th. It wasn't a moment too soon for the Yankees, who swept the Red Sox in a three game series at Fenway Park behind Joltin' Joe's four home runs and nine RBI. The Yankee Clipper continued to produce at an MVP-level throughout the rest of the summer, providing four and a half WAR in half a season's worth of games. He closed out the year hitting .346/.459/.596. If DiMaggio doesn't make it back that year, there's no way the Yankees overtake the Red Sox on the season's final day.
Projected: 116 R, 188 H, 28 2B, 12 3B, 28 HR, 134 RBI, 110 BB, 324 TB, 8.8 bWAR
Ted Williams
1950 (89 games)
The reigning AL MVP was well on his way to winning the award again. Teddy Ballgame pulled into the All-Star break batting .321/.466/.690. In just 70 games, he'd already accumulated 82 RBI, 75 runs, and 73 walks to go along with his 25 home runs and 22 doubles. Unfortunately, Williams suffered a broken elbow during the All-Star Game when he crashed into the scoreboard after hauling in a long drive off the bat of
Ralph Kiner
. While Williams remained in the game and later smacked a go-ahead single, he would miss nearly two full months of meaningful baseball. Losing the Splendid Splinter struck a devastating blow to Boston, who finished four games out of first and may very well have won the pennant had Williams remained healthy.
Projected: 150 R, 172 H, 44 2B, 50 HR, 164 RBI, 146 BB, 370 TB, 7.5 bWAR
Mickey Mantle
1963 (65 games)
While many of Mantle's seasons were curtailed by injury in some form or fashion, he missed the most time in 1963. The Mick got off to a rip-roaring start that year and seemed poised to run away with the league's most valuable player award. He was batting .310/.441/.647 when he got his foot caught in the chain-link fence at Memorial Stadium on June 5th. Mantle missed two months but returned in time to help New York capture its fourth consecutive pennant.
Projected: 104 R, 120 H, 20 2B, 40 HR, 100 RBI, 104 BB, 260 TB, 9 bWAR
Tony Conigliaro
1967 (95 games)
Tony C. had already missed 22 games before an errant
Jack Hamilton
fastball crashed into his eye. He was slumping at the time, but with a strong finish could've cleared 30 home runs and 100 RBI. More importantly, he may have delivered some key hits in the Fall Classic that could have propelled the Impossible Dream Red Sox to a World Series victory over
Bob Gibson
and the St. Louis Cardinals.
Projected: 90 R, 150 H, 30 HR, 100 RBI, 271 TB, 5.5 bWAR
Dick Allen
1973 (72 games)
The 1972 AL MVP was at it again in '73, batting .316/.394/.612. He suffered a fractured fibula on June 28th and appeared in just three more games that year.
Projected: 78 R, 158 H, 40 2B, 32 HR, 82 RBI, 14 SB, 66 BB, 306 TB, 6 bWAR
Mark McGwire
2000 (89 games)
Nagging injuries took their toll on the 36 yer-old slugger, limiting him to just 89 games. His performance was still on par with his ridiculous 1998-99 levels, for he crushed 32 long balls, drove in 73 runs, worked 76 walks, and batted .305/.483/.746. He homered once every 7.38 at-bats that year.
Projected: 120 R, 144 H, 64 HR, 146 RBI, 152 BB, 352 TB, 8.4 bWAR
Ivan Rodriguez
2000 (91 games)
Pudge was putting together an otherworldly encore to his MVP campaign before fracturing his thumb while trying to gun down a would-be basestealer on July 24th. The injury required season-ending surgery, but the 91 games he did play were truly remarkable. He had already swatted 27 home runs, 27 doubles, and knocked in 83 runs. He was hitting .347/.375/.667, on his way to one of the finest all-around seasons any catcher has ever had.
Projected: 100 R, 190 H, 40 2B, 40 HR, 125 RBI, 363 TB, 9 bWAR
Josh Hamilton
2007 (90 games)
Hamilton has always had trouble staying on the field, and it began in his rookie season. He spent time on the DL with gastroenteritis in late May/early June, then missed five weeks in the middle of the summer with a sprained wrist. He finished the year batting .292/.368/.554 but received no Rookie of the Year votes.
Projected: 78 R, 131 H, 26 2B, 29 HR, 71 RBI, 248 TB, 3.8 bWAR
Justin Morneau
2010 (81 games)
Morneau enjoyed a phenomenal first half (.345/.437/.618), putting himself on track to win his second MVP award. He suffered a concussion on July 7th and miss the rest of the season. He hasn't been the same since.
Projected: 106 R, 204 H, 50 2B, 36 HR, 112 RBI, 100 BB, 366 TB, 9.2 bWAR
David Ortiz
2012 (90 games)
Big Papi was one of the few bright spots in an otherwise bleak season for the Boston Red Sox. The team's lone All-Star representative batted .318/.415/.611 with 23 home runs and more walks than strikeouts. On July 16th, Ortiz injured his Achilles while rounding the bases on an
Adrian Gonzalez
home run. He appeared in just one more game before being shut down.
Projected: 118 R, 186 H, 47 2B, 42 HR, 108 RBI, 101 BB, 359 TB, 6 bWAR
Evan Longoria
2012 (74 games)
After a huge April (.994 OPS) Longo missed all of May, June, July, and the first week in August with a partially torn hamstring. In his absence the Rays went 41-44, ultimately missing the playoffs because they were unable to survive the loss of their top position player.
Projected: 78 R, 158 H, 28 2B, 34 HR, 110 RBI, 66 BB, 288 TB, 5 bWAR