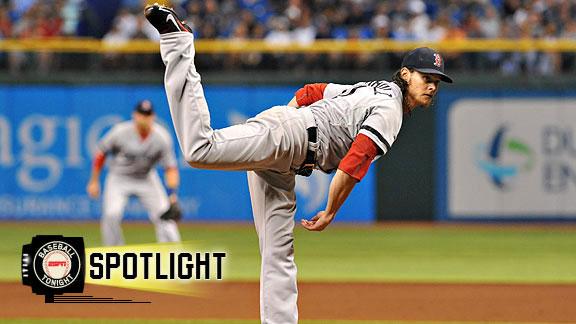 Buchholz was dealing in his return to action last night (ESPN)
Clay Buchholz
made his first start since June 8th last night, shutting down the Tampa Bay Rays at Tropicana Field in a 2-0 Red Sox win.
Buchholz, who missed more than three months with a strained neck, looked sharp in his pitch count-shortened return. He tossed five scoreless innings, allowing just three hits (all singles) and one walk while strking out six, reminding everyone why he was the AL
Cy Young
favorite before landing on the Disabled List.
Buchholz needed to be at the top of his game, too, given how well
David Price
pitched. Price was perfect until the fifth, when
Mike Napoli
doubled off the top of the centerfield wall to lead off the frame.
Jonny Gomes
drove him home with a single up the middle, then took second on Demond Jennings' wild throw to the plate.
Daniel Nava
bunted him over to third, allowing him to score easily on
Jarrod Saltalamacchia
's long sacrifice fly.
Boston's bullpen took it from there.
Craig Breslow
followed Buchholz with a pair of shutout innings, and
Junichi Tazawa
got the Sox two outs closer to victory in the eighth before
Yunel Escobar
doubled. That brought the tying run to the plate in the form of rookie sensation
Wil Myers
. Not taking any chances,
John Farrell
called upon
Koji Uehara
to retire the phenom.
Uehara, as he always does, came through, inducing Myers to pop out harmlessly into foul territory. The Red Sox closer came back out for the ninth and shut the door on the Rays, retiring
Ben Zobrist
,
Evan Longoria
and
Matthew Joyce
in order.
While beating Tampa Bay always feels good, it was made even sweeter by Buchholz's dominant performance. He looked fully recovered from the injury issues that sidelined him for most of the summer. A healthy and effective Buchholz will make a big difference in the postseason, giving the Sox a true ace at the top of their rotation. When he's pitching well, the Red Sox are a much more dangerous team, and I feel a lot better about the Boston's World Series chances now that he's back.