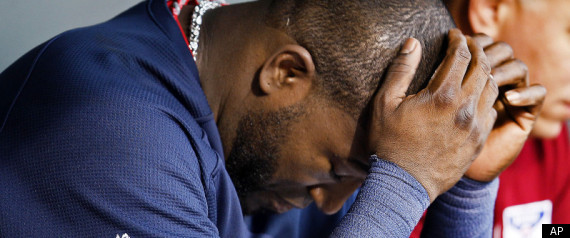 As the Red Sox built up an insurmountable lead in the AL East earlier this month, I couldn't help but think of the last time they held a big September lead, only to watch it slip through their fingers.
I'm talking about 2011 of course, the most painful experience in my lifetime as a Red Sox fan. Worse than the time New York walked into Fenway park and swept a five game series. Worse than the 19-8 beating they handed us in Game 3 of the 2004 ALCS. Worse, even, than the
Aaron Boone
home run.
I still can't get over it. I don't think I ever will.
It's been two calendar years since Boston swaggered into the season's final month atop the AL East, 1.5 games in front of the Yankees and nine games ahead of the Tampa Bay Rays for the Wild Card. The Sox were coming off an incredible three-and-a-half months of baseball and were considered postseason shoo-ins. All they had to do was finish what they started, cruise into October and win the World Series trophy that had been theirs for the taking since Adrian Gonzalez and Carl Crawford came on board the winter before.
We all know what happened next. The Bosox endured the
worst collapse
in baseball history, going 7-20 in the season's final month and allowing the Rays to leapfrog them in the standings on the season's final day. What made the choke even worse was that the Red Sox were winning--one strike away, in fact--and the Rays were down seven runs in the eighth inning that night, only to have their fortunes reversed. Boston blew its lead and the Rays came back, ultimately winning on
Evan Longoria
's walk-off homer.
Naturally, fans and media looked for people to blame in the aftermath of such a devastating meltdown. The targets were plentiful. Team manager
Terry Francona
got the
Grady Little
treatment and did not have his contract renewed. GM Theo Epstein, the architect of two World Series championship teams,
jumped ship
to become president of the Chicago Cubs. Fingers were pointed at
Josh Beckett
,
Jon Lester
, and
John Lackey
for drinking beer and eating fried chicken in the clubhouse while their team's seemingly impenetrable lead was reduced to ashes.
While such issues made for great cannon fodder in the press, they ignored the real reasons behind Boston's failure. Injuries, especially to
Clay Buchholz
and
Daisuke Matsuzaka
, left the team short on starters during the season's most important games. The lack of quality arms, in combination with untimely slumps from their aces and hiccups from their most trusted relievers,
doomed the Red Sox
. Boston pitchers compiled a 5.84 ERA in September. No team, not even one with an elite offense like the Sox had, can overcome that level of mediocrity from its pitching staff.
So who were the greatest contributors to the team's downfall? Let's take a look, starting with the pitchers:
Jon Lester (1-3, 5.40 ERA)
On the surface it seems like Lester played a prominent role in his team's demise. The Sox lost five of the six games he started that month and scored 14 runs in the lone win. However, a closer look reveals that he didn't pitch as poorly as his ERA suggests. Aside from one putrid outing--on September 24th the Yankees tagged him for eight earned runs and drove him from the game in the third inning--he wasn't all that bad. He struck out more than a batter per inning and the bullpen blew two games where he left with the lead. Boston's 14 run explosion notwithstanding, the Red Sox scored just ten runs in the other five games he started. On the final day of the season with Boston desperately needing a win, he delivered a quality start (six innings, two earned runs) and was in line for the W before
Jonathan Papelbon
blew the save.
Josh Beckett (1-2, 5.48 ERA)
Beckett was Boston's ace all year long but disappeared when the team needed him most. In his last two starts of the season, both against the last-place Orioles, Baltimore battered him for six runs each time and won.
John Lackey (0-2, 9.13 ERA)
Lackey was historically awful the entire year, but his September was especially bad. Case in point: he failed to notch a win despite the Red Sox scoring 35 runs in his five starts that month.
Kyle Weiland
(0-2, 7.36 ERA)
A rookie hurled into the fire of a red-hot pennant race, Weiland had no business pitching meaningful innings, but limited options forced Francona to throw him in and hope for the best. Weiland made three starts in September, failed to get through the fifth in any of them, and walked as many batters (7) as he struck out. Not surprisingly, Boston lost them all. Weiland was traded to the Astros with
Jed Lowrie
for
Mark Melancon
, lost all three of his starts there, and hasn't pitched in the majors since.
Tim Wakefield
(1-2, 5.25 ERA)
With the rotation in shambles, Francona leaned on his old war horse during crunch time, trying to squeeze a few more halfway decent starts out of Wakefield's 45 year-old arm. Wake made the last four starts of his career in September and allowed at least five runs to score in all of them. He managed to walk away with a win--
the 200th of his career
--in one of them because Boston hung 18 runs on the scoreboard.
Andrew Miller
(0-2, 11.70 ERA)
His two September starts--both losses--did not go well: 13 hits and 11 earned runs allowed in 6 and 1/3 innings of work with more walks than strikeouts.
Daniel Bard
(0-4, 3 BS, 10.64 ERA)
Seeing as how he was directly responsible for five Boston losses in September, Bard deserves much of the blame for the collapse. He'd been superb as Jonathan Papelbon's setup man before then, but was unable to get the job done during the season's most crucial moments.
Jonathan Papelbon (0-1, 2 BS, 3.72 ERA)
Pap blew as many save chances--two--as he converted in September. previous five months. Even worse, he suffered his only loss of the season at the season's most critical moment--one strike away from clinching at least a tie of the Wild Card.
Also bad:
Erik Bedard
(5.25 ERA),
Michael Bowden
(5.73 ERA)
Matt Albers
(7.20 ERA), and
Dan Wheeler
(10.38 ERA). Pretty much everyone minus
Alfredo Aceves
,
Scott Atchison
,
Franklin Morales
.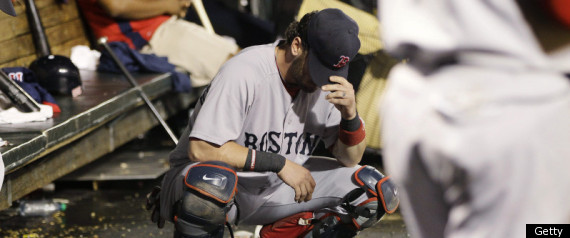 The prolific Red Sox lineup continued to crank out runs in September--5.41 per game (their season average exactly--but those runs were not well-distributed. For instance, Boston scored 18 runs in a game twice that month and cracked double digits three other times. Blowouts are nice, but some of those runs could've been better used elsewhere, like in the five games Boston lost by one run. Uneven run distribution is why the Red Sox played below their expected W-L level of 11-16 for the month.
While
Dustin Pedroia
,
Adrian Gonzalez
, and MVP candidate
Jacoby Ellsbury
were all doing their thing, there were a few guys who failed to carry their share of load:
Jarrod Saltalamacchia
(.162/.174/.368)
Salty struggled with the stick in September, which wasn't all too surprising given that 2011 was his first full season as an everyday catcher. He actually hit pretty well early on in the month, only to have his bat go ice cold during the final two weeks of the season (three hits and 15 Ks in his last 34 plate appearances).
Carl Crawford
(.264/.295/.440)
Considering how poor Crawford's season was, his September could actually be considered somewhat of an improvement over his previous play. Still, his performance that month wasn't particularly good (one home run, one steal, 21/4 K/BB ratio). I'll never forgive him for not getting to
Robert Andino
's sinking liner that scored the winning run in Game 162. It wasn't an easy play, but it was a play that had to be made and a ball he could've got to.
David Ortiz
(.287/.396/.372)
Big Papi's power stroke disappeared in September--he went yard once and drove in only eight runs. I feel bad criticizing Ortiz, but cleanup hitters need to provide more pop than that.
Kevin Youkilis
(.167/.302/.222)
Youk was diagnosed with hip bursitis and played just ten games in September before being shut down for the season midway through the month. The combination of getting hurt and not playing well when he was healthy (just two extra base hits and two RBI in those ten games) didn't do Boston's lineup any favors.
Jason Varitek
(.077/.200/.192)
Playing on his last legs
, the grizzled Red Sox captain limped through the last nine games of his career. A clear liability with the bat in his hands, he recorded just two hits in his final 30 (mostly empty) plate appearances. As much as I hate to see rookies thrust into tight spots, Francona would have been better off benching 'Tek in favor of rookie backstop
Ryan Lavarnway
.
As you can see, it took a true team effort to produce Boston's implosion. If I had to pick one goat, it's probably Bard with Papelbon being a close second for his
Calvin Schiraldi
moment. But many things had to go wrong for the Red Sox to fall apart the way they did, and no single man (or play, for that matter) should be faulted. Win as a team, lose as a team.
Boston won 90 games that year. If only they'd won one more.