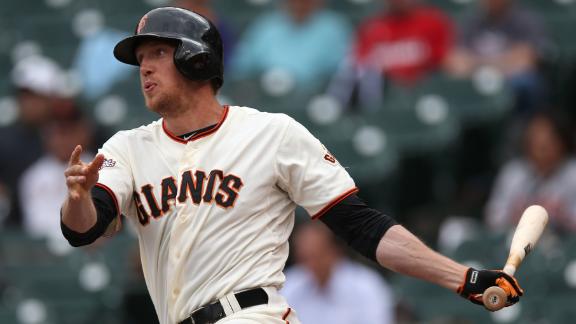 The Giants locked up Pence rather than let him become a free agent (ESPN)
On the heels of a
disappointing season
in which they finished ten games under .500, the San Francisco Giants have a lot of work to do this winter in order to get back to their winning ways. It's not surprising, then, that GM Brian Sabean got the ball rolling before the regular season even ended. His first major move addressed the potential vacancy in right field by re-signing the incumbent--
Hunter Pence
--to a five-year, $90 million contract extension before he could reach free agency.
A lot of people didn't like this deal when it was announced ten days ago, and I'm not sure why. Few players have been more consistent than Pence. Always good and sometimes great, he's hit between 22 and 27 home runs in each of the past six seasons, topped 90 RBI in each of the last four and almost never misses a game. You know what you're getting from him, which typically translates to three to four wins a year. On average, he's been worth about $16 million per year according to FanGraphs, so giving him $18 million a season barely qualifies as an overpay (especially when accounting for inflation).
Call me crazy, but Pence is exactly the type of guy I'd want to invest my money in. He has power, speed, doesn't strike out too much and doesn't kill you on defense. He's healthy and durable. He plays hard, and by all accounts he is a plus teammate and a positive clubhouse presence. More importantly, Pence keeps himself in great shape and has never sustained a serious injury, so he probably isn't going to be the type of guy who falls off a cliff in his early 30s. His best days may already be behind him, but he should have several more quality seasons ahead of him. Put it all together and he's a relatively safe investment, unlike, say, a
Josh Hamilton
. Or any pitcher (nobody needs to remind the Giants how their marriage with
Barry Zito
worked out).
$90 million is a lot of money, especially for a guy who's never been considered one of the sport's elite players. It's $10 million shy of $100 million. It's higher than the Opening Day payrolls of half the teams in baseball. But impact free agents are becoming rarer and rarer these days, and with offense at a premium I can understand why San Francisco felt the cost of replacing Pence's production outweighed the cost of keeping him in a Giants uniform.
There are better (read: more efficient) ways of spending $90 million on baseball players. Hell, last winter the Red Sox got
Shane Victorino
and
Mike Napoli
for half that. But you could do a whole lot worse than Hunter Pence.