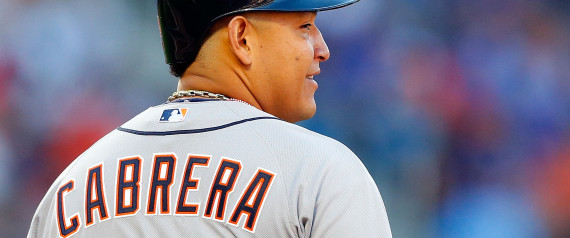 Cabrera just became the most expensive player in baseball history
For over 13 years
Alex Rodriguez
held the title of highest paid player in baseball. Now, for the first time since the year 2000, someone has surpassed him.
Not surprisingly it is
Miguel Cabrera
, the best hitter in baseball.
With Detroit
unable to reach an agreement
with last year's AL
Cy Young
winner
Max Scherzer
earlier this week, the Tigers turned around and inked Cabrera to a new
ten-year deal
that will pay him $292 million--$17 million more than Rodriguez was guaranteed when he signed his
megadeal
with the Yankees six years ago. The deal also includes vesting options for the two years after the contract expires, options that would pay him an additional $30 million per season and hike the contract's total value up to $352 million (!).
A quick aside: the Tigers better pray that Cabrera retires or gets traded before those vesting options kick in, as they cover Cabrera's age 41 and 42 seasons. If he lasts into his early 40s he'll probably be pursuing some major milestones such as
Barry Bonds
's home run record or
Hank Aaron
's RBI record, but there's just no way he'd have enough on-field value to justify earning $30 million per year (even after accounting for inflation and rising salaries). Owing $30 million per year to a former star on the wrong side of 40 is the kind of dumb decision that cripples a budget and ties a team's hands, especially if that team isn't the Yankees or Dodgers.
As for the contract itself, well, I think Detroit was incredibly dumb to lock him up when he was still two years away from free agency. Just as the Red Sox should have held off on extending
David Ortiz
, the Tigers could and should have waited until next year to begin serious contract discussion talks. They were fools to make this move now, especially with Cabrera coming off back-to-back MVP seasons that maxed out his earnings potential. Had they just waited another year or two, they probably could have bought out the rest of Cabrera's career for significantly less.
The Tigers are betting that Cabrera can sustain his current level of play for at least a few more years and remain an effective hitter throughout his 30s. But they have to be prepared for the possibility that his days as a superstar are already behind him or are about to come to an end. A lot can happen in two years, especially during a player's early 30s when he typically begins to show signs of decline. Sure, Cabrera looks great and healthy now, just a few weeks shy of his 31st birthday, but in the past we've seen many start to go downhill around that age as their skills diminish and they have trouble staying healthy. Alex Rodriguez was otherworldly at 31, but his OPS has gone down every season since.
Albert Pujols
, the player with whom Cabrera is most frequently compared, saw his OPS drop more than 100 points between his age 30 and 31 season and hasn't been an elite hitter since.
Frank Thomas
, another great comp for Cabrera, was a beast up through age 32, then struggled to stay healthy and consistent after that.
It's discouraging, then, that Cabrera struggled with injuries and slumped during the second half last year. His descent appears imminent.
In a lot of ways this deal reminds me of the
ill-fated contract extension
Philadelphia gave
Ryan Howard
prior to the 2010 season. The Phillies gave him a five-year, $125 million deal that didn't kick in until 2012. Howard was a monster at the time, having totaled no less than 45 home runs and 136 RBI in each of the previous four seasons, but his performance dropped off dramatically during the two intervening years, and by the time his contract kicked in it was already regarded as an albatross. Howard has only gotten worse as age, injuries, and an ability to hit southpaws have made him a very expensive shell of his former self.
Philadelphia's blunder has since become a
cautionary tale
: don't give a contract extension to a slugging baseman in his 30s, because chances are you're going to regret it. I thought the Tigers had learned a similar lesson from their failed
Prince Fielder
experiment. Apparently not.
Now Cabrera is a much, much better hitter than either of them, but the same logic still applies. Like Howard and Fielder, Cabrera is a big, slow, first base/DH type with the kind of body that typically doesn't age well and is ripe for regression. All of his value is tied up in his bat, so he won't be able to help Detroit with his legs or glove. If the Tigers are smart (which, based on their
head-scratching moves this offseason
, they don't appear to be) they'll turn him into a full-time designated hitter as soon as they part ways with
Victor Martinez
, who's contract is up at the end of the season, and hope Cabrera ages as well as Ortiz and
Edgar Martinez
.
Because if he doesn't, the Tigers are
going to get burned
.