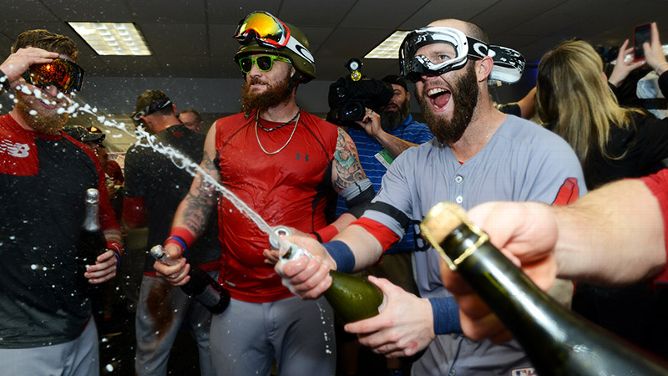 The Red Sox are well-positioned to win another title in 2014 (ESPN)
Yesterday I played the devil's advocate and explored three reasons why the Red Sox won't win the World Series this year, so today I'll offer a more positive outlook and give three reasons why they will win the World Series.
1. Starting Pitching
The Red Sox have a really deep rotation that should rank among the league's best. Their starting five projects to be
Jon Lester
,
Clay Buchholz
,
John Lackey
,
Jake Peavy
, and
Felix Doubront
, with
Chris Capuano
avaliable for spot starts. All pitched effectively in 2013, and all except Doubront are former All-Stars.
Lester was dominant during the postseason and may be ready to reclaim his ace status as he enters his contract year, while Buchholz was making a case for the
Cy Young
award before he was sidelined for the summer. When Buchholz is healthy, they form a strong 1-2 punch at the top of Boston's rotation with a resurgent Lackey and capable Peavy providing depth. The Sox also have an impressive collection of pitching prospects (
Allen Webster
,
Matt Barnes
, and
Anthony Ranaudo
) that could be ready to join the staff in the near future.
2. Offense
Boston had the best record in baseball one year ago primarily because of their elite offense. Their 853 runs scored were tops in the major leagues (nobody else scored more than 800). The Red Sox lineup is tremendous top-to-bottom, blending speed, power, and patience. Even without
Jacoby Ellsbury
,
Stephen Drew
and
Jarrod Saltalamacchia
, their lineup figures to be among the strongest in baseball because of their ability to grind out at-bats and get good pitches to hit. They'll be especially formidable if
Jackie Bradley
, Jr. and
Xander Bogaerts
make good on their potential and
Will Middlebrooks
builds upon his strong second half. Their success would help stretch out Boston's lineup and take some pressure off the heart of the order, comprised of veterans
Dustin Pedroia
,
David Ortiz
and
Mike Napoli.
3. Young Talent Ready to Step Up
Bogaerts, baseball's second best prospect at the age of 21, is a superstar-in-the-making and preseason favorite to win Rookie of the Year. Middlebrooks and Bradley showed signs of improvement late last year and should be better than they were during their miserable early season slumps. Doubront lowered his ERA from 4.86 in 2012 to 4.32 last year and could get it below four if he shows better command. On the verge of his third season as a starting pitcher, he could be poised for a breakout.
Conclusion:
The Red Sox have plenty of pitching and plenty of hitting, plus defense, solid baserunning and a smart manager (
John Farrell
) at the helm. What more could you ask for?