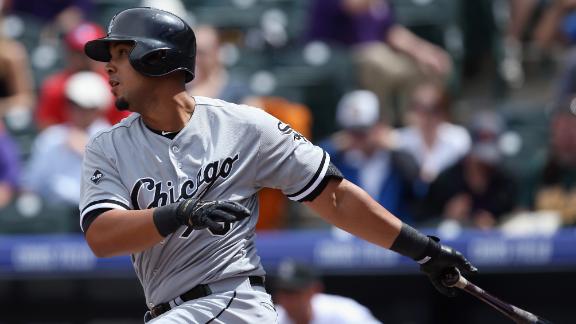 Abreu is tearing it up in his American debut (ESPN SweetSpot Blog)
When Cuban sensation
Jose Abreu
signed a
six-year, $68 million deal
with the Chicago White Sox last winter, we knew he was going to be good. I'm just don't think anyone expected him to be
this good.
After capping last night's three-hit, six-RBI performance with a
walk-off grand slam
that lifted the Chicago to a 9-6 win over the Tampa Bay Rays, Abreu became the first rookie in major league history to hit nine home runs before the end of April. The 27-year old first baseman now holds a tie of the major leagues in home runs (with a resurgent
Albert Pujols
), RBI (with
Giancarlo Stanton
and
Chris Colabello
), total bases (Pujols again), and extra base hits (with
Josh Donaldson
). He's also slugging .632, the fourth-highest mark in baseball behind
Troy Tulowitzki
,
Charlie Blackmon
, and Pujols.
I know I'm not breaking any new ground here, but it s
ure looks like he's the real deal
, folks. Baseball's next big thing has arrived.
Abreu, who already has three multi-homer games on the young season, has come out swinging for the fences. He's already struck out 25 times in 24 games, and when he does make contact 40 percent of the time he hits it in the air. Nearly a third of his fly balls have left the yard, an unsustainable pace, but with the homer-friendly Cell as his home park he might be able to keep it up for a little longer.
With five home runs and 13 RBI in his past six games, Abreu
can't get much hotter
. His sizzling start is a big reason why the White Sox are in second place in the AL Central entering play today, and why they've scored the most runs in baseball thus far. It goes without saying that if Abreu can continue to power Chicago's offense, he'll be a lock for AL Rookie of the Year and serious MVP consideration.
But for now, let's see if he can continue adding to his impressive spring numbers. His 27 RBI are tied with Pujols for the most by a rookie in April. So if you've got nothing better to do on a Saturday night, you might as well check-in on Abreu's at-bats. He might just make history.