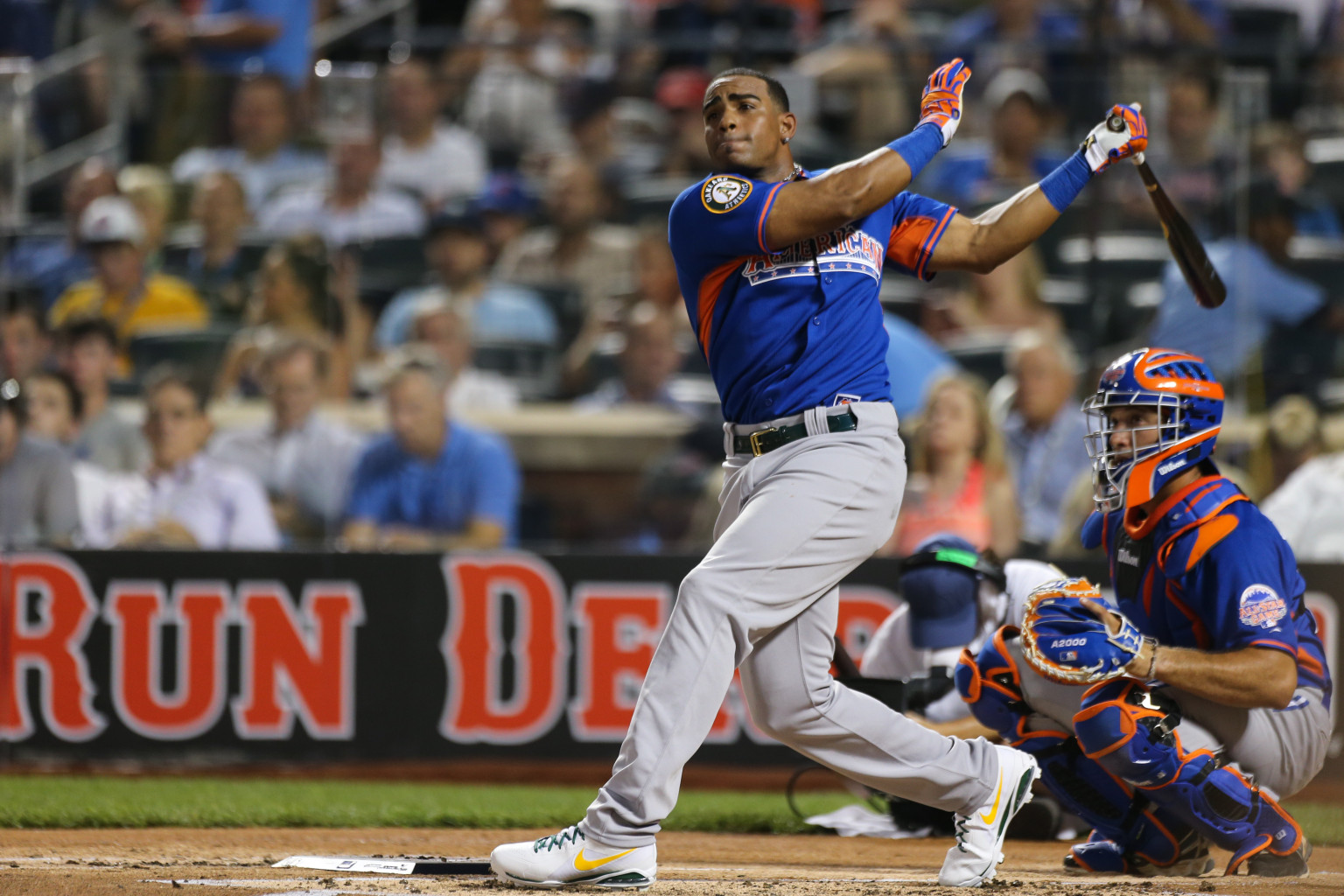 Cespedes outlasted Harper last year, but will the fans vote him back? (HuffingtonPost)
For the first time, the ever-progressive MLB is mixing it up by allowing fans to decide who will participate in this summer's home run derby, which will be held at Target Field in Minnesota--a notoriously tough park for power hitters, even in the middle of July.
I like that baseball is giving the fans the opportunity to have
some say
about who they'll see in the home run contest. Like the All-Star Game, the event has always been for the fans, and now like the All-Star Game the fans can influence who will compete. Power to the people!
I also like the change from four contestants in each league to three. The event dragged on for far too long in the past, so removing two players from the competition should shorten the running time considerably. Everyone loves home runs, but it's tough to sit through three hours of glorified batting practice. Even I don't have the attention span for it.
So here's something I don't get to say very often: kudos to major league baseball!
Now on to the fun part: the voting process (yay democracy!). Baseball has picked 20 candidates to choose from--ten in each league--and voters must select three from the American League and three from the National League, though some candidates are clearly undeserving
Joe Mauer
, for instance, has 34 home runs...since the start of the 2010 season, and
Jason Heyward
has averaged 18 home runs per season/never slugged above .480, and
Buster Posey
, like Mauer, is a great hitter but not a great
home run
hitter. But I digress. The only real problem I have is that last year's winner,
Yoenis Cespedes
, is not automatically re-entered into this year's contest. As the defending champ he deserves the right to, um, defend his title.
Without further adieu, here are the six players I want to see in this summer's home run derby:
American League
1.
Chris Davis
--Last year's major league leader in home runs (53), RBI (138), extra base hits (96), and total bases (370)
certainly qualifies
.
2.
Miguel Cabrera
--See if the current wearer of the "best hitter in baseball" crown can
put on a show
3. Cespedes--Like I said, you have to give the
reigning champ
a chance to defend his title!
Also considered:
Prince Fielder
--Won the event in 2009 and 2012, but he's just not the elite power hitter he used to be. If he wins again he'll tie
Ken Griffey
Jr. for most home run derby titles since the event's debut in 1985.
Jose Bautista
--Through yesterday he was tied with Miguel Cabrera for most home runs in baseball
since Opening Day, 2010
, which is really impressive considering how much time Joey Bats has missed.
National League
1.
Giancarlo Stanton
--Three words:
light-tower power
. If he can muscle it out of Marlins Park, he can go yard anywhere.
2.
Pedro Alvarez
--A poor man's Davis, last year's NL home run champ has about as much
raw power
as anyone.
3.
Bryce Harper
--Last year's runner-up, the kid can hit the ball a
country mile
.
Also considered:
Paul Goldschmidt
--Tied Alvarez for most big flies in the Senior Circuit last year
Jay Bruce
--He, Cabrera, and
Adrian Beltre
were the only big leaguers to reach 30 home runs in 2011, 2012, and 2013.
Yasiel Puig
--So much fun to watch, especially when he does stuff like
this
. Do you think he would still do his trademark
bat flip
after each home run?