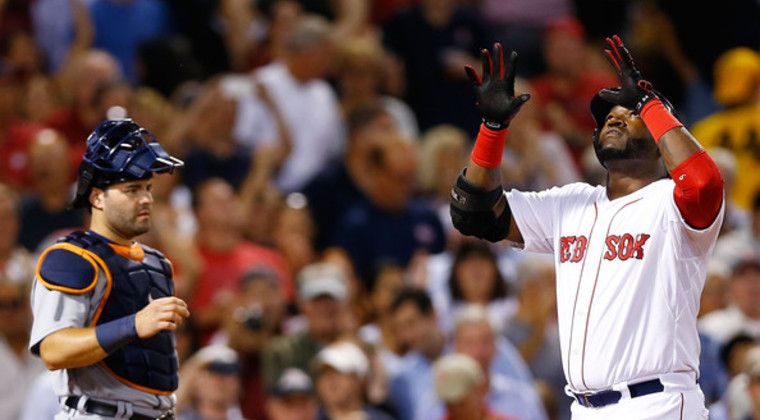 With two aboard the Tigers had to pitch to Ortiz, and he made them pay (ShadowLeague)
The slumping Red Sox had not won in a week when
David Ortiz
dug in against old nemesis
Joba Chamberlain
in the top of the ninth last night.
Since leaving Fenway Park on a seven-game winning streak after sweeping Tampa Bay last weekend, Boston had been swept in Cleveland and was now two outs away from being swept by Detroit. Despite a marvelous start from
John Lackey
, the struggling Sox found themselves down 3-2 to the Tigers, their old foes from last year's ALCS. But with
Brock Holt
at second and
Dustin Pedroia
on first, Ortiz had the opportunity to be the hero and reverse the club's five-game losing streak with one swing of the bat.
Sure enough, Papi delivered. Ortiz, 0-for-4 up to that point, only needed a single to tie the game. Instead, he belted a 1-1 slider from Joba Chamberlain deep into the right field bleachers. This bomb, Ortiz's 14th of the season and 445th of his career, was
a no-doubter
. A moon shot.
Torii Hunter
, who nearly killed himself last fall going over the right field wall in a futile attempt to rob Papi's game-tying and series-shifting grand slam, barely moved as the ball sailed over the wall. When it finally made landfall, the Red Sox had themselves a 5-3 lead.
Surprisingly, Tigers skipper
Brad Ausmus
left a steaming Chamberlain in to finish out the inning, which required a tailor-made double play off the bat of
A.J. Pierzynski
following
Mike Napoli
's single, Nap's third hit of the game in his return from the Disabled List. But the damage was done. Chamberlain had blown his second save attempt of the season and would have his third loss of the year in a matter of minutes.
Joe Nathan
, Detroit's primary closer, was unavailable after pitching consecutive games and throwing 32 pitches the day before. But given his current 7.04 ERA, it's hard to imagine him faring much better against Big Papi.
That allowed
John Farrell
to bring in his closer,
Koji Uehara
. Uehara, who hasn't blown a regular season save chance in 11 months, has been automatic since the Red Sox installed him as their closer last year. Boston's
Mariano Rivera
is the polar opposite of Nathan and whoever else Ausmus trusts to preserve a ninth inning lead these days. In typical Uehara fashion, he retired the Tigers with a 1-2-3 inning to clinch the win.
It's worth mentioning, however, that all three outs were hard hit. Torii Hunter led off with a deep fly ball to center field that
Jackie Bradley
, Jr. hauled in. Hunter's loud out was followed by a
Nick Castellanos
smash to third base, which
Xander Bogaerts
handled by diving to his left, then getting to his knees, turning around and firing a strike across the diamond to Napoli--all in one beautiful motion--to nip Castellanos by half a step.
As if the Red Sox needed any more proof that Bogaerts, a natural shortstop, was holding his own at the hot corner, the next play confirmed it.
Austin Jackson
smoked a line drive towards left field that had base hit written all over it, until Bogaerts leapt and snatched it to end the game. Bogaerts considers himself a shortstop, but with his arm and instincts looks like a natural at third. The defensive transition, necessitated by
Stephen Drew
's
return
, has been seamless (it helps that he's continued to rake, too).
With the other teams in the AL East losing yesterday, Boston gained a game in the standings and now sits nine back of first-place Toronto. Hopefully Ortiz's blast, coupled with Napoli's much-needed return, can spark the Red Sox to another winning streak. That won't be easy with the disaster-prone
Jake Peavy
on the mound in Baltimore tomorrow night, so Boston's bats will need to do some damage against
Bud Norris
if they want to keep the good times rolling.