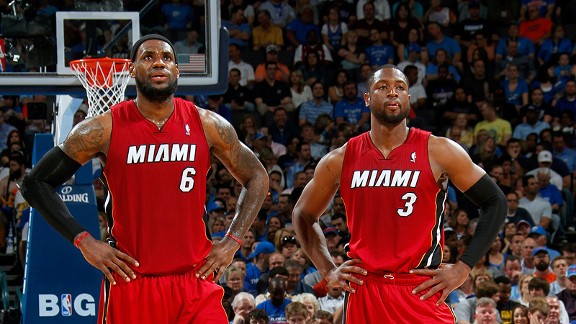 If the Heat lose, it will be Wade's fault, not LeBron's
The more I think about it, the more I believe the dynamic/relationship between
LeBron James
and
Dwyane Wade
is the basketball version of the one between
Alex Rodriguez
and
Derek Jeter
.
I already knew that LeBron shares a lot in common with A-Rod, but I hadn't thought about how much Wade shared with Jeter.
Wade, like Jeter, was a winner before their more talented teammates decided they wanted out from their mediocre Midwestern franchises and wanted a ring. Jeter and Wade were already established stars and proven winners. Both were captains of their respective teams, and were approximately the same ages when their new teammates arrived. Wade was 28, Jeter was 29, both slightly older than LeBron and Rodriguez (Jeter has more than a year on A-Rod, while Wade has nearly two on LeBron).
It had been four years since the Heat had last been champions, and four years since the Yankees were World Series champions. Wade, who was drafted the same year as LeBron and debuted the same year (2003), had seen his career overlap perfectly with LeBron's. Both were high first round picks, with A-Rod and LeBron going first and Wade taken fifth/Jeter sixth. Jeter's breakout season--1996 when he won AL Rookie of the Year--paralleled A-Rod's breakout/MVP runner-up, and both had been stars ever since.
While LeBron took his game to another level with the Heat, improving his post moves as well as his three-point shot, Wade remained essentially the same player. He never bothered to add the three-point shot to his arsenal, even though it would have made him and his team much better. Wade, apparently not driven to be the best player he can be, decided he could live with his flaws and so has remained a league average free throw shooter and a subpar three-point shooter. A shooting guard who wasn't a particularly good shooter.
While Rodriguez effortlessly learned a new, demanding position, Jeter maintained the status quo. He did not move to third so that Rodriguez could play shortstop, even though that would have been the best for the team. He did not improve his power stroke, cut down on his strikeouts, take more walks or steal more bases. His defense, always his greatest flaw, remained so. He did make a concerted effort to improve his defensive positioning late in his career, but by then his range and arm strength had diminished too much to make much of a difference. Forget his Gold Gloves; Jeter rates as the worst defensive shortstop in baseball history.
The irony is that even though Wade and Jeter were clearly less talented and contributed less to their teams' successes than James and Rodriguez, both were able to avoid or deflect most of the flak whenever things turned sour. For instance, when the Heat fell to the Mavs in 2011 and when they inevitably lose to the Spurs in the next few days, much of the blame was placed on LeBron's shoulders. He was ripped as a passive, unclutch choker while Wade, because he was a lesser player, coasted. Even though Miami's stars and scrubs structure dictates that Wade plays well in order to win, he has never caught as much heat as LeBron has (which I suspect is related to Wade being less visible and more likable). Wade defers to LeBron, and so when the game is on the line it's usually James's to win or lose. Wade can throw up a stinker like he did last night, and all anyone's going to remember about this series is how LeBron cramped up in Game 1.
Ditto Jeter, who's always walked on water in New York and has always been above criticism there. Nobody blamed him when the Yankees choked to the Red Sox, even though Jeter batted a measly .200/.333/.233 in that series with just one extra base hit (a double). People looked the other way in 2007 when he hit into as many double plays (3) as base knocks against the Indians in the ALCS. No one said a word in 2010 or 2011, when he batted .250 in both postseasons with sub-.290 OBPs in each and a combined .344 slugging percentage. Has there ever been any mention of the fact that Jeter hasn't hit a postseason home run since October 19th, 2009, a span of 146 plate appearances?
Granted, as a complementary player/table setter, Jeter has different expectations than Rodriguez, a middle-of-the-order run-producer. But Jeter plays the more valuable defensive position and bats higher in the order, so his role is just as valuable. And yet, since the start of the 2004 playoffs, both have performed virtually the same in the postseason:
Jeter --287 PA 7 HR 28 RBI 24 BB 56 K 5 SB .814 OPS
A-Rod 269 PA 10 HR 33 RBI 36 BB 59 K 7 SB .807 OPS
You wouldn't know it by reading the newspapers.
Wade and Jeter have skirted criticism, skating by while their more talented teammates took the brunt of the criticism because they were more polarizing, but also because more was expected from them. Wade and Jeter were left mostly untouched, and from the relative safety of dry land neither ever made much of an effort to do anything about it. Their attempts to defend James and Rodriguez were halfhearted at best, non-existent at worst.
Wade is the Robin to James's Batman, as
Scottie Pippen
was to
Michael Jordan
and
Pau Gasol
was to
Kobe Bryant
. That's why they've clicked. Jeter should have been Rodriguez's Robin, but always maintained that the Yankees were his team, which in turn created a great deal of tension and friction in the Yankee clubhouse. It's incredibly disappointing that Rodriguez's ten-year tenure with the Yankees yielded only one championship. It may have had something to do with the fact that Jeter was more like
Joe DiMaggio
, for better and for worse, than we realize.
It's fitting then, that he's retiring a year after what could be Rodriguez's final game. It wouldn't surprise me one bit of Wade and James do the same some day. That is, if Wade can actually stay on the court.
A-Rod and Jeter didn't achieve their full potential as teammates (BronxBaseball)