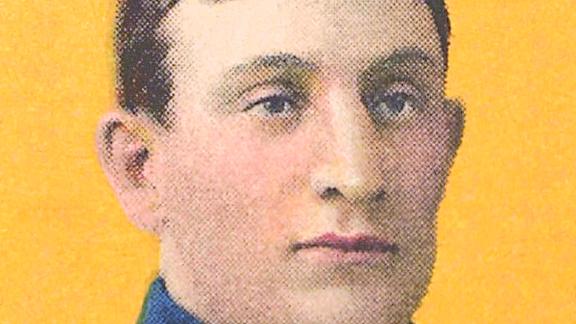 At a time when pitchers ruled the sport, Wagner towered over the game (ESPN)
With the recent passing of
Ernie Banks
and retirement of
Derek Jeter
, I was thinking about where they rank among shortstops. This is by no means definitive, as it gets really close after the top five and 6-12 could be ranked in almost any order, but I did my best:
1.
Honus Wagner
(131 bWAR, 138.1 fWAR, 92 WAA)
Almost a full century after his last game, Wagner is still the greatest shortstop who ever lived. The Flying Dutchman was the best position player in baseball history until
Ty Cobb
came along, and probably would have won five or six MVPs had the award existed back then. The amount of black ink on his Baseball-Reference page is staggering; eight batting and OPS titles, seven doubles titles, and five stolen base and RBI crowns, to name a few. Wagner dominated the game, and I think it's pretty telling that when the first Hall of Fame class was inducted in 1936, he received as many votes as
Babe Ruth
.
2.
Alex Rodriguez
(116 bWAR, 111 fWAR, 77.4 WAA)
The enduring image of Alex Rodriguez as a baseball player will be that of an aging, broken-down, scandal-ridden third baseman. That's too bad, because for the first decade of his career he was a full-time shortstop, and an otherworldy one at that. PEDs aside, what A-Rod did during his time in Seattle and Texas defied belief. He reeled off six straight 40-homer seasons, when no other shortstop had so many at all, let alone consecutively. He had back-to-back 50-homer seasons, shattering Banks's single-season record for most home runs by a shortstop, then breaking his own mark the very next year with an unthinkable 57. He went 40/40, something only three other people in baseball history have ever done. Rodriguez was a great defender, too, winning consecutive Gold Gloves in 2002 and 2003 before joining the Yankees and moving over to third in deference to Jeter (an inferior player, by the way). I often wonder how his career would have turned out had he just stayed the Rangers shortstop and captain. It couldn't have turned out any worse.
3.
Cal Ripken
Jr. (95.5 bWAR, 92.5 fWAR, 53.1 WAA)
People remember Ripken so much for the streak that they forget just how great he was during his prime. He was a two-time MVP who had at least 21 home runs and 81 RBI every year from 1982 to 1991, when he was arguably the
best player in baseball
. He was an All-Star 19 times, winning eight Silver Sluggers as well as a pair of Gold Gloves. And yes, Iron Man was a freak of nature who played 2,632 consecutive games and 3,001 in all (and yet was only a liability in his final season). Ripken played the game the right way--
the Ripken way
.
4. Ernie Banks (67.5 bWAR, 63.3 fWAR, 28.5 WAA)
Until Alex Rodriguez came along, Banks set the standard for power-hitting shortstops, which were exceedingly rare until the 1980s. Mr. Cub was at his absolute best from 1955-1960, batting .294/.359/.579 (148 OPS+) with 47.3 bWAR and five 40 homer/100 RBI seasons. Only
Mickey Mantle
and
Willie Mays
were more valuable during this span
, which saw Banks win back-to-back MVPs and lead all players in home runs and RBI. A knee injury suffered during the 1961 season forced him to first base full-time, but his prime years were truly a thing of greatness.
5. Derek Jeter (71.8 bWAR, 73.5 fWAR, 30.4 WAA)
Jeets would rank much higher if not for his terrible defense, which cost the Yankees a lot of runs and wins over the years. He also struck out a lot for a guy with medium power and was largely a singles hitter in the final third of his career. That said, Jeter played shortstop at a high level for almost two full decades (notwithstanding his horrible last couple seasons) and finished with impressive career statistics, his 3,465 hits chief among them. In his prime he was a durable 20/20 guy who hit well over .300, got on base a ton, and played passable defense. He was also a "winner" who came through time and time again for the Yankees during the postseason.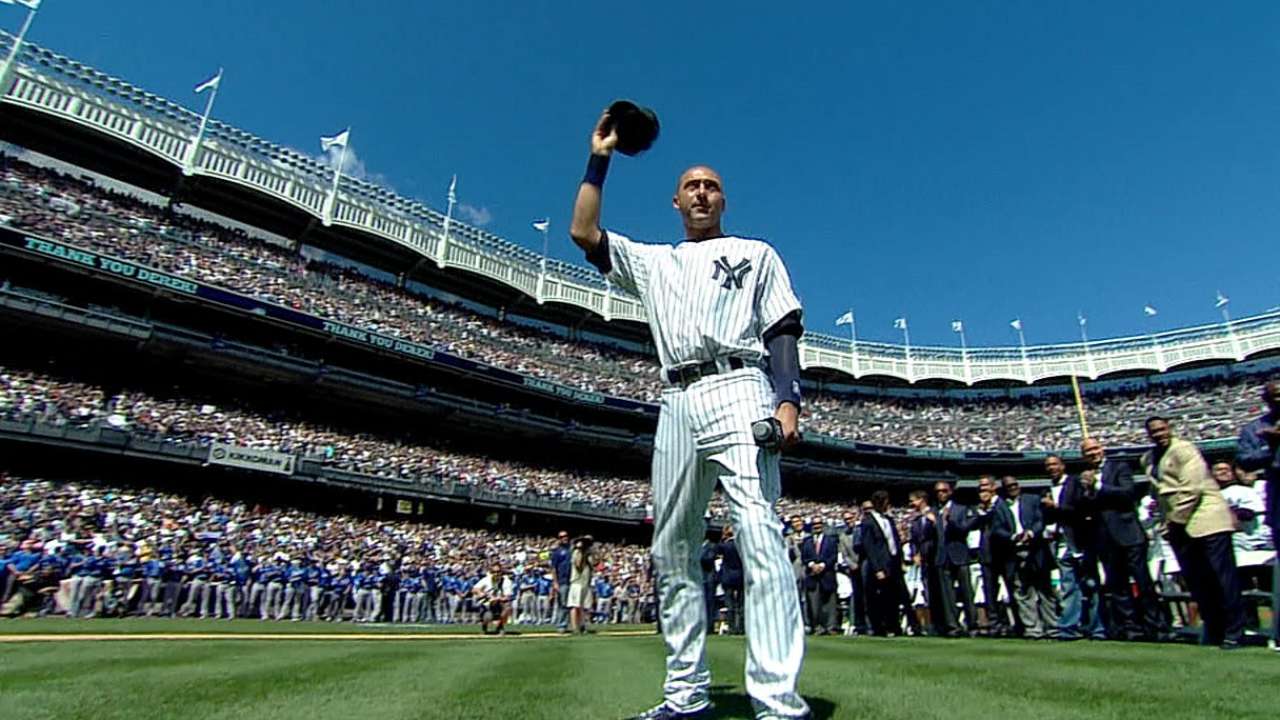 Jeter is one of the five greatest shortstops ever (MLB)
6.
Robin Yount
(77 bWAR, 66.5 fWAR, 37 WAA)
It took Yount, who debuted at 18, a good half decade to develop into an above average hitter. But once he did, he became one of the best all-around players in baseball. He owned the 1980s, winning two MVP awards and compiling 55.1 bWAR/50 fWAR during the decade. According to FanGraphs, only
Rickey Henderson
,
Wade Boggs
, and
Mike Schmidt
were more valuable than Yount, who batted .305/.365/.485 (135 OPS+) for the decade while leading all players in hits and doubles (and ranking second in runs). Yount was a center fielder during his 30s but played over half his games at shortstop, which explains why he's included here. Like Ripken, Yount combined several elite seasons with longevity, playing long enough to surpass 3,000 hits.
7.
Arky Vaughan
(72.9 bWAR, 72.6 fWAR, 47.3 WAA)
Vaughan is one of the most underrated ballplayers ever, probably because he spent his prime years on lousy Pittsburgh teams during the Depression. Sure, he played in a fantastic era for hitters, but a .318/.406/.453 (136 OPS+) stands out in any case. Also, this is not a misprint; in 1935 he batted .385/.491/.607 (190 OPS+) en route to a 9.2 bWAR campaign. Even more astounding is that he was not named NL MVP that year (he finished third, behind
Gabby Hartnett
and
Dizzy Dean
). Vaughan didn't play very long--only 14 seasons--so his counting numbers aren't that great, but for the bulk of his career he was one of the t
hree best position players
in baseball. Had he not voluntarily sat out three seasons in his early 30s, he probably would have ended up with close to 1,500 runs and 2,500 hits.
8.
Barry Larkin
(70.2 bWAR, 67.6 fWAR, 42.2 WAA)
Larkin was basically Jeter value-wise, only he wasn't able to stay as healthy. So while Larkin, just as good a hitter and a better baserunner/defender, was better than Jeter on a per-game basis, I can't overlook the fact that Jeter played almost 600 more games and had nearly 3,600 more plate appearances. From 1988-2000, Larkin wasn't just the best shortstop in the National League; he was one of the
five most valuable position players
in baseball. There were
Barry Bonds
,
Ken Griffey
Jr., and everyone else, but Larkin was at or near the top of the everyone else list.
9.
Luke Appling
(74.5 bWAR, 72.7 fWAR, 41.5 WAA)
Appling's another guy who seems to have been forgotten, which is hard to reconcile given his .310 career average, .399 OBP, and 2,749 hits. Like Vaughan, he had one monster season in the heart of the Depression, putting up a .388/.474/.508 (139 OPS+) line and 128 RBI in 1936, only to come up short in the MVP voting (Appling finished second to
Lou Gehrig
, who was absolutely the right call with his 49 home runs and 1.174 OPS). Appling was a lot like Vaughan, actually, albeit with less power. Appling was also phenomenal old player, batting .301 with 121 walks in 1949 at age 42. If not for World War II costing him almost two full seasons, he would have been a good bet to reach 3,000 hits, 1,500 runs, and 500 doubles.
10.
Alan Trammell
(70.4 bWAR, 63.7 fWAR, 40.2 WAA)
Trammell was a skilled defensive shortstop (four Gold Gloves) who also had a number of strong offensive seasons, none better than his 1987 campaign when he batted .343/.402/.551 (155 OPS+) with 28 home runs and 105 RBI. The six-time All-Star did everything well; defense, hitting for power, speed, getting on base, et. al. He teamed with
Lou Whitaker
for two decades to form the best double-play tandem baseball has ever seen.
11.
Ozzie Smith
(76.5 bWAR, 67.6 fWAR, 41.6 WAA)
Smith was nothing special offensively (career 83 OPS+), but was so dazzling on the field and bases that he was able to cruise into Cooperstown on his first try with over 91 percent of the vote. Rewarded with a (shortstop) record 13 consecutive Gold Gloves from 1980-1992, Smith is widely considered to be the best defensive shortstop all-time. The Wizard was also a phenomenal basestealer, swiping 580 at a 79.6 percent clip. So while he wasn't much with the stick and had virtually no power to speak of (only 28 career big flies), the 15-time All-Star compensated by getting on base enough (.337 OBP) and winning games with his legs.
12.
Joe Cronin
(66.4 bWAR, 66.6 fWAR, 35.9 WAA)
With a .301/.390/.468 (119 OPS+) career line, Cronin was one of the best-hitting shortstops of all-time. He was an excellent RBI man, topping 90 every year but one from 1930-1941 and piling up 1,424 in all. Cronin also had really good power for a shortstop, with 803 of his 2,285 hits going for extra bases. A seven-time All-Star, he finished in the top-seven of MVP voting five times. His defense has been called into question, however, and his numbers are less impressive after accounting for context (he played mostly in the 1930s and spent a lot of years at Fenway Park).
HM:
Jimmy Rollins
,
Vern Stephens
,
Omar Vizquel
,
Miguel Tejada
,
Lou Boudreau