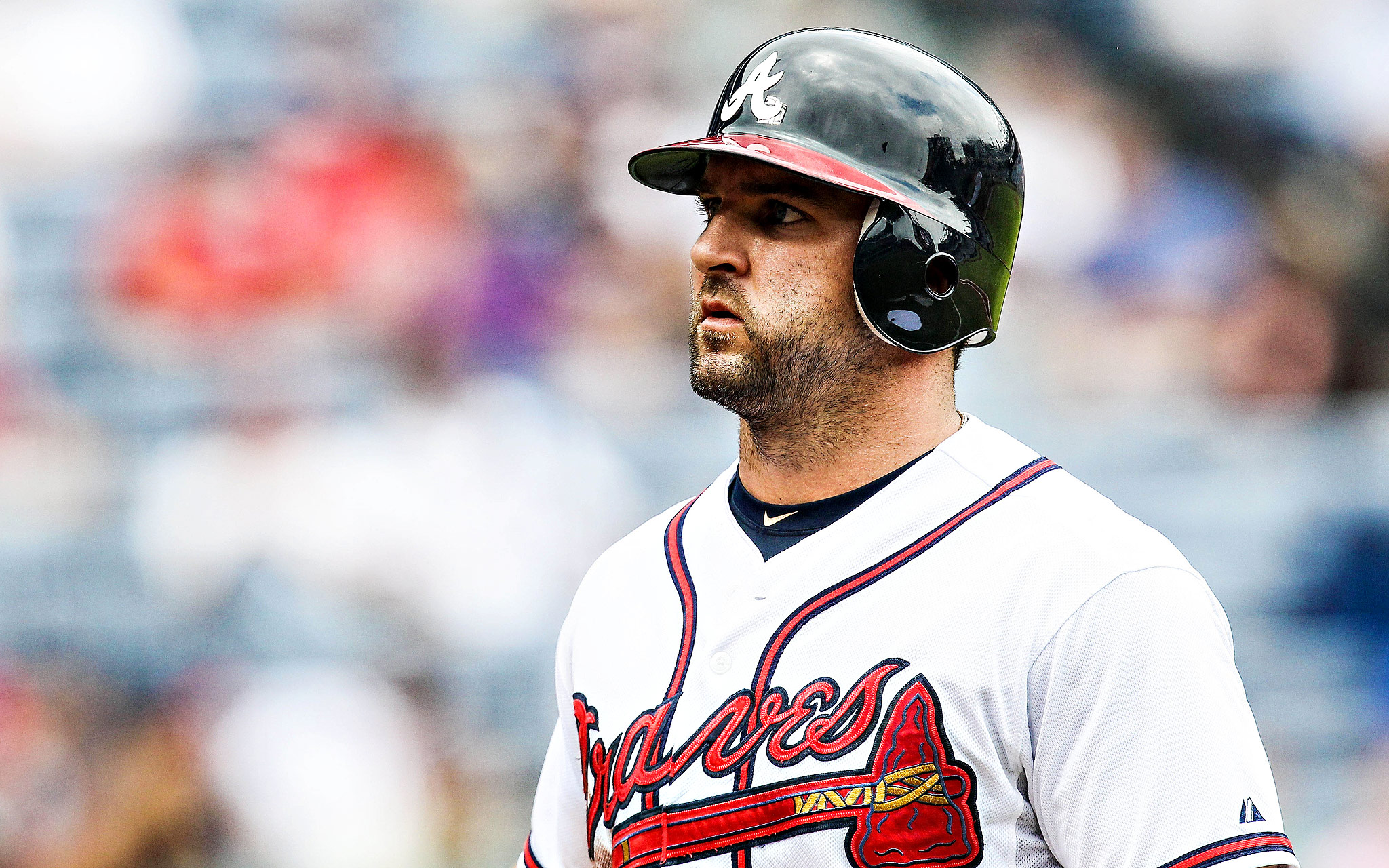 Uggla is hoping to win a job with the Nationals this year (Chat Sports)
The following National Leaguers should do better in 2015 than they did a year ago.
C
Wilin Rosario
After cranking 49 home runs and posting an .820 OPS (107 OPS+) between 2012 and 2013 combined, a couple of DL stints limited the Rockies backstop to just 13 home runs and a .739 OPS (93 OPS+) last year. Health permitting, he'll hit much better in his age-26 season.
1B
Mark Trumbo
Trumbo's first season in Arizona was a disappointment, as he missed nearly half the season with a stress fracture in his left foot and was worth 1.1 wins
below
replacement. Seeing as how he averaged 2.6 bWAR from 2011-2013, when he was mostly healthy, and blasted 95 home runs. The 29 year-old slugger deserves a mulligan, unless the Diamondbacks decide to trade him.
2B
Dan Uggla
Uggla's career went south in a hurry, from 2012 All-Star to spring training invite with the Washington Nationals. Many pointed to his age as the reason for his dramatic decline, but few were aware that Uggla was playing through an undiagnosed concussion last year, when he had a .442 OPS in 52 games. The condition prevented him from picking up the ball and undoubtedly contributed to his horrendous batting figures. The soon-to-be 35 year-old is still a longshot to make the big club with
Anthony Rendon
entrenched at the keystone, but the three-time All-Star is suddenly much more intriguing now that he can actually see what he's trying to hit.
3B
David Wright
Wright was a mess last year, playing through a shoulder contusion that hampered his power and resulted in what was the worst season of his career by far. The seven-time All-Star should do better than the .698 OPS he managed last year, especially given his proven ability to bounce back from previous down years (2009 and 2011).
SS
Jean Segura
The 2013 All-Star stunk last year, hitting just five home runs to go along with his lowly .246/.289/.326 batting line. Hit well down the stretch (.784 OPS after September 2nd), which gives me hope that he'll have more success in his age-25 season. I don't think he's as good as his 2013 numbers suggest, but I'm willing to bet he's better than last year's numbers say he was.
Gonzalez was both hurt and ineffective in 2014 (Rox Walk Off)
OF
Bryce Harper
Injuries prevented Harper from being the dynamic player he was in his first two big league campaigns, limiting him to just 100 games, four stolen base attempts, and 13 home runs. Still just 22, Harper has plenty of room to grow, and this could be the year he finally makes the leap to superstardom.
OF
Carlos Gonzalez
Gonzalez missed a ton of time last year, needing two separate surgeries on his index finger and left knee. No wonder he batted a meager .238/.292/.431 (89) OPS+ when he did play. Missing time is nothing new to CarGo, who's never played more than 145 games in any season, but even last year's paltry total of 70 was a new career low for him. Expect the 29 year-old former batting champ to be on the field more regularly and play better this year.
OF
Jay Bruce
Bruce was brutal last year, bottoming out at ..217/.281/.373 (84 OPS+). He struggled mightily after returning from knee surgery in late May, but says he feels great and should be good to go for 2015. When healthy, Bruce is one of the best right fielders and power hitters in the game, and a big rebound from him will go a long way towards helping Cincinnati contend in the loaded NL Central.
U
Ryan Braun
The last two seasons have been well below Braun's standards, but the 31 year-old is still young enough to have another big season or two left in him. The last two years combined he's had 28 homers, 119 RBI, and 15 steals, numbers I see as a good baseline for his 2015 production.
San Francisco could use Cain to get back on track (StanGraphs)
SP
Cliff Lee
Lee made just 13 starts last year due to strains in his throwing arm that required two separate trips to the 60 day DL, but was still effective when healthy. The few times Lee was able to pitch, he was the same old guy, putting up a 2.96 FIP and striking out six batters for every one he walked. He's getting up there in years (turns 37 in August), but still appears to have plenty left in the tank.
SP
Matt Harvey
Harvey never threw a pitch in 2014 because he was recovering from
Tommy John
surgery. He was filthy prior to the injury, and the Mets hope he's still filthy when he comes back at age 26.
SP
Jose Fernandez
The 2013 NL Rookie of the Year was off to a sizzling start before Tommy John surgery cut his sophomore season short. Miami's hoping their 22 year-old budding ace doesn't skip a beat in his first post-surgery season.
SP
Brandon McCarthy
McCarthy pitched 200 innings for the first time last year but wasn't very good, going 10-15 with a 4.05 ERA splitting time between Arizona and New York (Yankees). Lucky for him, he's in the perfect place to rejuvenate his career: Dodger Stadium.'
SP
Matt Cain
Cain failed to complete 180 innings for the first time since 2005, making just 15 mediocre starts and missing the entire second half after undergoing elbow surgery to remove bone chips. A clean elbow in his throwing arm should do wonders for Cain, one of the National League's better starting pitchers before last year (an NL version of
James Shields
, really). The Giants need him to return to form if they want to repeat as World Champions in 2015.
RP
Jason Grilli
The 2013 All-Star closer will try to regain his mojo with Atlanta after a down 2014 in which he spent time on the DL, lost his closer's job in Pittsburgh to
Mark Melancon
, and was traded to the Angels (where he was a setup man in a shaky closer situation). The Braves are going to be bad after trading away their two best positon players--
Jason Heyward
and
Justin Upton
--but hopefully Grilli won't be.