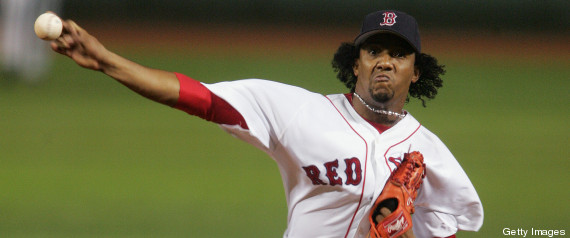 Martinez shown here in 2004--his final Red Sox season (Huffington Post)
When I was a kid growing up I had two baseball jerseys.
Nomar Garciaparra
's
number 5
,
of course
, and
Pedro Martinez
's 45.
Because for a few years around the turn of the century, Pedro and Nomar
were
the Red Sox. Or at least that's how it felt; them and a bunch of guys. Then they started getting reinforcements;
Manny Ramirez
,
Johnny Damon
,
David Ortiz
, and
Curt Schilling
, and that's when they became a true juggernaut and won the World Series, reversing the curse and all that.
Those guys were great--the team of a lifetime--but I'll always have a soft spot in my heart for Pedro. He was the first ace I ever knew. By the time I came of age as a Sox fan in the late 1990s,
Roger Clemens
was a member of the hated Yankees. Martinez was at his absolute zenith. When he was on the mound, the Red Sox felt unbeatable. Victory was assured provided they score a handful of runs, and with that lineup they usually did.
And man, I loved the way Pedro went after the Yankees. He
fanned the flames
of that burning rivalry like no other. He didn't just want to beat the Yankees; he wanted to
dominate them.
Pedro could always be counted on to dish out a little pain. He loved to intimidate, and was like
Bob Gibson
in that way. His starts were electrifying, mostly because he was always a threat to whiff 18 and pitch a perfect game, but also because there's was a good chance he'd kill someone with a fastball to the head.
But Pedro was more than just a
Nolan Ryan
-type gunslinger. He was an artist. His starts were masterful, his command impeccable. Martinez didn't just blow away hitters, he carved them up like he was
Greg Maddux
. Embarrassed them. Fooled them so bad they might as well have stayed on the bench. It was like a grown man pitching to Little Leaguers. You almost felt bad for hitters, because you knew they had no chance.
Pedro's run with the Red Sox was nothing if not extraordinary. He was the undisputed best pitcher in the American League during his seven years in Boston and
second only
to
Randy Johnson
in pitcher value. His 1999 and 2000 seasons are in the discussion for best of all-time, and he probably should have won another
Cy Young
in 2002. He was already a great pitcher when he joined the Red Sox (their then-GM Dan Duquette somehow traded for him a second time, which is akin to winning the lottery twice), but it was his time in Boston that made him a Hall of Famer.
All I can say is that I'm thankful Theo Epstein let him leave after '04, as he had only one good season left in the tank and turned out to be a poor investment for the Mets (then again, who isn't?). His 2004 season was subpar for him, and he hated playing second fiddle to Schilling. He lost his alpha dog status, and his bruised ego was evident in his diminished performance. His demeanor just wasn't the same. He lost his mojo (I blame the hair).
Though Martinez caught a lot of flak for his struggles against the Yankees, he was vital in helping Boston to four postseason appearances. Martinez
never shied away
from the spotlight and pitched a lot of big games. Who can forget his impeccable relief outing to clinch Game 5 of the 1999 ALDS in Cleveland? Or how
he outdueled Rocket
in Boston's only ALCS victory that same year? Remember how well he pitched in Game 7 of the '03 ALCS before
Grady Little
left him in to implode?
Then, of course, there was his dominant World Series start against the Cardinals in 2004, the last game of his Red Sox career. It put St. Louis down 3-0, essentially cinching the Series. In all, Martinez was 6-2 with a respectable 3.40 ERA and 1.12 WHIP in 13 postseason appearances with Boston (11 starts). Against some stacked Indians, Yankees, A's, and Cardinals lineups, that is truly impressive. Until Schilling came along (followed by
Josh Beckett
and
Jon Lester
), he was
the guy.
Martinez is a
Hall of Famer
, and a well-deserving one at that. Congrats Pedro, you earned it.