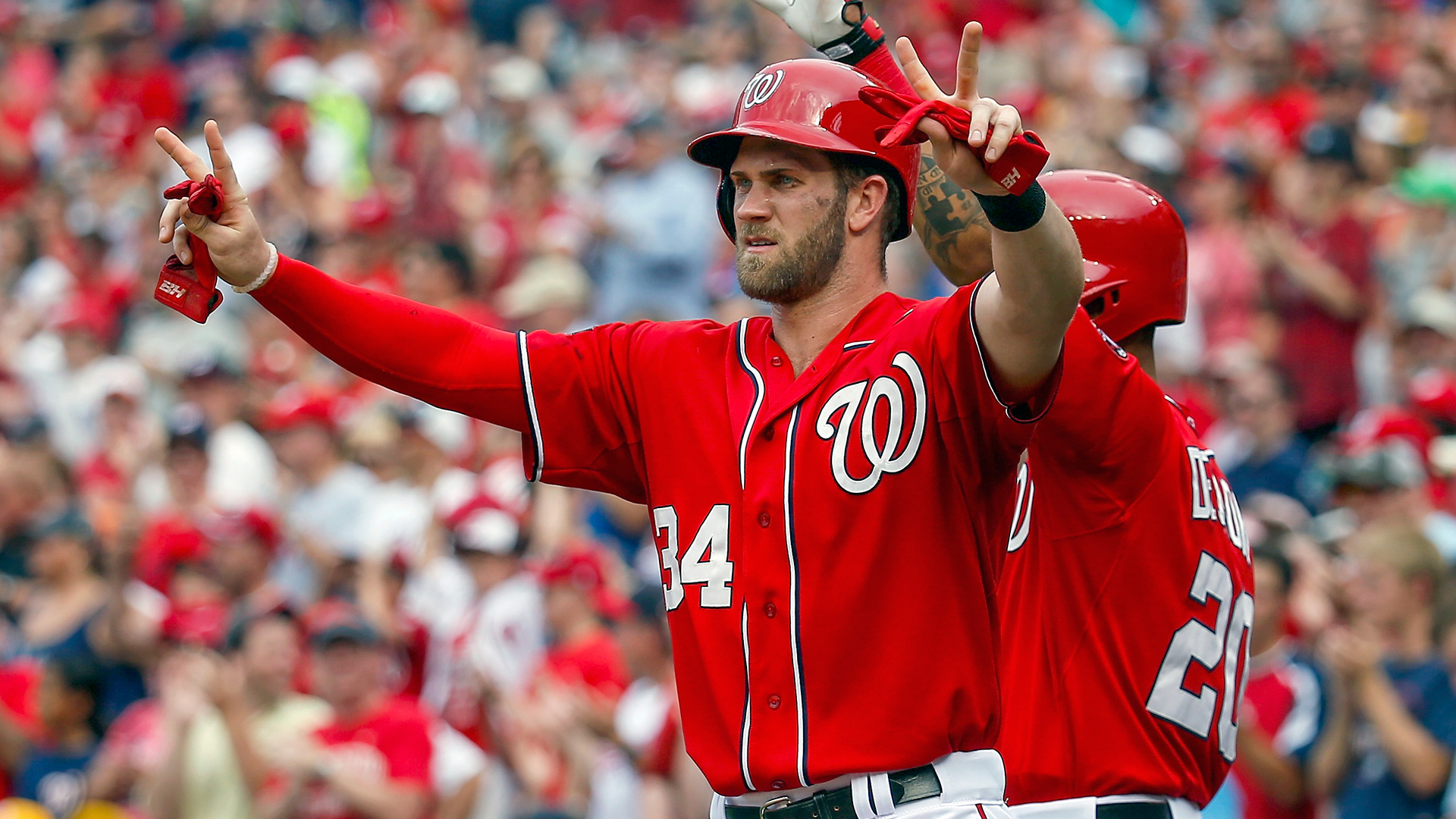 Harper has the potential to dominate the ASG (Sporting News)
Voting ends in under 10 hours! Here are my National League picks (more tough ones than in the American League, I think), with all stats current through yesterday:
C
Buster Posey
It's Posey and everyone else in the Senior Circuit this year, as he's been one of the few bright spots on a putrid Giants team with his .344/.422/.529 line (155 wRC+). His 10 homers are tied with Yasmany Grandal for most at the position in the NL, and his 3.0 fWAR lead the field comfortably (nobody else has two).
1B
Paul Goldschmidt
The best offensive player in baseball
deserves the nod here.
Eric Thames
and
Ryan Zimmerman
have cooled down considerably from their hot starts, while
Freddie Freeman
still hasn't returned from the wrist injury he sustained in May.
Joey Votto
is having a great first half for once, but he's essentially been a lesser version of Goldschmidt.
2B
Daniel Murphy
Josh Harrison
's neck-and-neck in WAR but Murphy blows him away on offense, as he's essentially replicating the MVP-caliber year he had at the plate last season with a .339/.391/.578 line and 14 homers.
3B
Justin Turner
Arenado's locked into a ridiculously close race with
Kris Bryant
, but the real battle should be between
Anthony Rendon
and Justin Turner, who are presently tied atop the NL WAR leaderboard with 3.3 apiece. Rendon's had a sneaky-good year for Washington despite being overshadowed by
Bryce Harper
,
Max Scherzer
, and others, while Turner is batting an insane .379/.466/.535 thanks to his .414 BABIP. Turner's clearly been the best hitter at the position this year in either league, putting up numbers that shouldn't be possible in Coors Field, let alone the pitcher's paradise of Dodger Stadium. It's telling that Turner leads NL third basemen in FanGraphs offensive value despite playing just 55 games thus far, which is why I'm giving him my vote (it also helps that he's been a plus on defense).
SS
Corey Seager
This is a two-horse race between
Zack Cozart
and Corey Seager, who are almost indistinguishable in terms of value. Cozart has been the best-hitting shortstop in the NL this year, but Seager gets on base at the exact same rate and has played 15 more games. Defensively they're both excellent, and offensively it's very close when you account for their home parks, as Seager's is brutal on hitters whereas Cozart's is quite generous. When it's too close to call for All-Star candidates I defer to the one with more star power (it is an All-STAR game, after all), which in this case is Seager.
OF Bryce Harper
When your life's mission is making baseball fun again and you have
hair like this
, you kind of have to be in the All-Star Game.
OF
Marcell Ozuna
Having a very underrated season, batting .315/.378/.565 with 20 homers already. If you asked fans to pick a Marlins outfielder
Giancarlo Stanton
would win in a landslide, but Ozuna has the same number of homers and leads his teammate in most offensive categories, hence why his fWAR total is nearly twice as great (2.7 - 1.5). Ozuna got off to a huge start last year before fading in the second half, so it remains to be seen if he can sustain this level of play for an entire season.
OF
Cody Bellinger
It's close between him and
Charlie Blackmon
, but Bellinger has the same number of fWAR (2.4) in 19 fewer games and has been
obliterating baseballs
lately. He's much more fun to watch than Blackmon and is a far better hitter after taking their home parks into account. He's also on pace for a bajillion home runs (roughly) and needs to be on the field so someone can
replicate this picture
with him and
Aaron Judge
.
If fans got to pick a starter I'd vote Max Scherzer,
who's surpassed
Clayton Kershaw
as the best pitcher in baseball this year (for now).