For a decade defined by dominance on the mound, there were a plethora of amazing hitting seasons to choose from. Maris cranked out 61 home runs in '61,
Frank Robinson
and
Carl Yastrzemski
won Triple Crowns,
Willie McCovey
and
Harmon Killebrew
enjoyed monster years in 1969, and
Willie Mays
,
Mickey Mantle
, and
Hank Aaron
all put up big numbers. You can't go wrong with any of them, and I almost went with Yastrzemski's magical '67, but for all-around efficiency and excellence I like my pick.
1961
Norm Cash
(10 bWAR)
Few baseball fans knew who Norm Cash
was before his 1961 breakout
Cash came out of nowhere to post some superlative statistics in 1961. The White Sox had traded him to Motown after their 1959 World Series championship season, and in his Tiger debut he enjoyed an under the radar season with a .286/.402/.501 triple slash line, more walks than strikeouts and a 141 OPS+. The 26 year-old was just coming into his prime, and nowadays he would have been regarded as a fantasy sleeper, especially since expansion diluted the pitching that year. Still, not even the most optimistic projections could have predicted the
Jose Bautista
-esque breakout that followed. He teamed up with slugger
Rocky Colavito
and former batting champ
Al Kaline
to lead the potent Tigers to 101 victories, paced by an offense that topped the Junior Circuit in runs, triples, batting average, and OBP. Stormin' Norman led the major leagues with his .361 batting average, .487 OBP and 1.148 OPS. In addition, his 193 hits and 19 intentional walks ranked first in the American League. He made his first All-Star team, set career highs across the board, and established himself as a star in the Motor City. In modern terms, his season would compare favorably to a
Jason Giambi
or
Todd Helton
.
Even so, his greatness was overshadowed by the tremendous seasons of Mantle and Maris who captivated the nation with their thrilling pursuit of
Babe Ruth
's single season home run record of 60 (his Tigers played second fiddle to the Bombers that year, too, finishing eight games off the pace in the pennant hunt). He would have been a slam dunk MVP choice in most years, but because of the stiff competition from the M & M Boys he received just a single first place vote and finished fourth in the balloting, behind Maris (7.2 bWAR), Mantle (11.9 bWAR), and Baltimore's
Jim Gentile
(7.2 bWAR).
It was a career year that the native Texan never came close to replicating; in no other season did he score 100 runs, drive in 100, bat .300, or finish higher than twelfth in an MVP race. He knew it, too, later saying that his '61 season "was a freak. Even at the time, I realized that. Everything I hit seemed to drop in, even when I didn't make good contact. I never thought I'd do it again." The stats back that up. too, since his BABiP was an astronomical .385 that season, 112 points above his career .273 mark. So it was no surprise the following season when his batting average plummeted 118 points to .243, the largest drop-off for a batting champion in baseball history. It was merely regression to the mean. He settled down as a consistent, good but not great hitter who could be counted on for 25-30 homers, 80 RBI and good on-base numbers (.374 for his career). His statistics were suppressed by the era, especially since his prime seasons fell into the "second deadball era" between 1963 and 1968. By the time the DH was implemented in 1973, he was already 38 years old and playing in his penultimate season. If he had been born five or six years later, maybe he would have been able to hang on to reach 400 home runs and 2,000 hits (especially since he aged gracefully and remained productive into his late 30s), but as it is he fell short with 377 and 1,820. He spent just on year on the Hall of Fame ballot and received a mere 1.6 percent of the vote, even though his numbers suggest that he was a borderline case worthy of much more consideration.
Here are some more stats from Cash's extraordinary campaign:
-He also piled up 119 runs, 41 dingers, 132 RBI, 124 walks, and 354 total bases
-Earned .54 of his .70 career MVP shares that year
-Posted an identical 1.149 OPS before the All-Star break and afterwards
-His OBP was above .500 as late as August 28th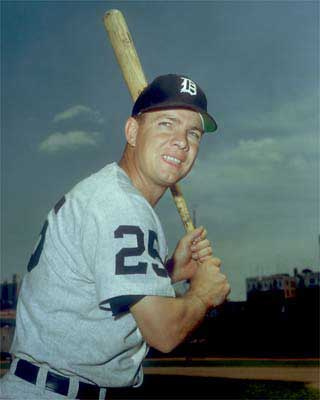 1961 began a streak of nine straight seasons
with at least 20 home runs for Cash
-His OPS during day games was nearly 300 points higher than it was during night games
-Swiped eleven bases that year, and his second highest total was six
-Posted an enormous 201 OPS+
-His eight triples that year account for nearly 20 percent of his career total
-Hit 22 doubles that year, and the only other time he had more than 20 was when he roped 23 in 1965
-For those of you who enjoy advanced stats, Cash led the American League in runs created (178), adjusted batting runs (85), times on base (326), and offensive win percentage (.867).
-On June 11th, he became the first Tiger to hit a ball out of Tiger Stadium. He was in the midst of a power binge and finished the month with fourteen longballs, more than a third of his season total.
-He was also a fairly smooth first baseman; despite making eleven errors, he led all AL first sackers in putouts and total zone runs, giving him a solid 1.1 dWAR for the year, which rates better than
Mark Teixeira
's totals in any of his four Gold Glove seasons
-On May 9th he grounded into the first double play of his big league career. He had gone 214 games without bouncing into one, but would rack up 15 more before the year was over. He never grounded into more double plays than he did that season,
-Even though he hit a pedestrian .271 for his career, it wasn't because he whiffed a lot. His 100 strikeouts in 1967 were a career high, and he fanned more than 90 times only one other year-1966