American League
MVP-
Adrian Gonzalez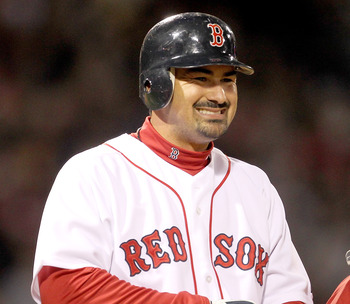 Gonzalez led the major leagues with 213 hits last year.
He also batted a career best .338, belted 27 home runs
and drove in 117. He could be even better this year...
Fresh off winter shoulder surgery, Gonzo claims that he can now "drive through the ball" with his swing, which he says he hasn't been able to do since 2009, when he set career highs in home runs (40), slugging percentage (.551), OPS (.958) and OPS+ (162). A truly healthy Gonzalez has to be a scary thought for AL pitchers considering Gonzalez banged out 75 extra base hits last season and finished seventh in the MVP balloting (I'm shocked he didn't finish in the top five) during his Red Sox debut. Don't forget that he was the frontrunner for most of last summer when the Sox were the best team in baseball, so if he can go 40-130-.315 and lead Boston back into the playoffs I think he'll be the favorite despite sharing a lineup card with fellow MVP candidates
Dustin Pedroia
and
Jacoby Ellsbury
.
Honorable Mention:
Miguel Cabrera
Cy Young-
David Price
The 2010 runner-up was a popular preseason choice last year, and his disappointing triple crown stats--12-13 record, 3.49 ERA--detracted from the substantial improvements he made during his third full season; he cut his walk rate by nearly one batter per nine innings, upped his K/9 from 8.1 to 8.7 and trimmed his WHIP to 1.14. He also posted career bests in starts, innings, strikeouts, and K/BB rate. The southpaw, just 26 years old, is poised to become the unquestioned ace of a deep Tampa Bay rotation with a big year. Think
James Shields
from 2011, but even better.
Honorable Mention:
Jered Weaver
Rookie of the Year-
Matt Moore
This is his award to lose. He should be twice the pitcher
Jeremy Hellickson
, the 2011 recipient, was last year.
Honorable Mention:
Yu Darvish
Comeback Player of the Year-
Adam Dunn
After his catastrophic 2011 campaign, Dunn can only get better, right? He's been hitting well during spring training and even if he doesn't return to his 2004-'10 form, when he averaged 40 bombs and 101 RBI per year, I could see him finishing with 30 dingers and 90 RBI. He's 32 years old and should have a couple more solid seasons left in the tank, but he needs to have a big year if he wants any chance of joining the 500 home run club some day (he currently has 365).
Honorable Mention:
Joe Mauer
National League
MVP-
Joey Votto
Like Price, Votto's triple crown numbers dipped a bit from his 2010 MVP levels (lost eight homers, ten ribbies and fifteen points off his batting average), but he still made great strides in several key areas. He paced the Senior Circuit with his 40 doubles, 110 walks and .416 OBP while also compiling a career best 185 hits and winning his first Gold Glove. He'll put up huge numbers again for a potent Cincinnati offense in 2012, and if the Reds get back in the playoff hunt then he'll get his fair share of support. It also helps that he's now the best first sacker in the whole league after
Albert Pujols
and
Prince Fielder
jumped ship last winter.
Honorable Mention-
Ryan Braun
Cy Young-
Zack Greinke
He missed all of April last season with a strained rib cage, and that missed time cost him a shot at 20 wins. Even so, he still posted the best K/9 ratio (10.5) of all major league starters, ahead of
Justin Verlander
,
Clayton Kershaw
,
Tim Lincecum
, and all the rest. His 3.83 ERA was inflated by bad luck, as fluky 13.6 HR/FB% and ML-best 2.56 xFIP indicate (Milwaukee's shoddy defense did him no favors, either). I don't think he'll ever recapture the dominance from his 2009 Cy Young season, but he could still lead the league in strikeouts and push his ERA back down into the mid-two range. He will continue to thrive in a division that just lost two of its best hitters. I would bet that he produces more like he did in last year's second half (9-3, 2.59 ERA and 1.16 WHIP) than he did in the first (7-3, 5.45 ERA and 1.25 WHIP)
Don't be surprised if Greinke wins 20 games and/or strikes out 250 batters
Honorable Mention-Kershaw
Rookie of the Year-
Bryce Harper
Even though he's slated to start the year in the minors, he's baseball's
LeBron James
(according to Tom Verducci). If the Nats call him up in May or June, he could have a
Buster Posey
type impact right out of the gate.
Honorable Mention-
Drew Pomeranz
Comeback Player of the Year-
Hanley Ramirez
Forget last year, because he's going to put up some big time numbers in this new-look Marlins lineup that features
Jose Reyes
and Giancarlo Stanton. He's 28, still in the heart of his prime, and will reclaim his status as one of the game's top talents who averaged .313/.385/.521 with 25 home runs and 39 steals per year from 2006 through 2010.
Honorable Mention-
Adam Wainwright