1901 Nap Lajoie (9.4 bWAR)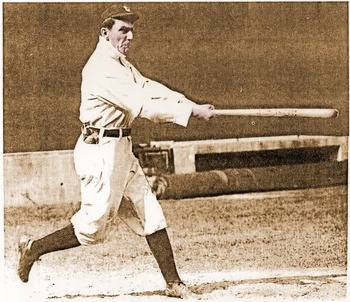 Napoleon Lajoie had just switched leagues by jumping from the Philadelphia Phillies to the Philadelphia A's (talk about a long distance move) and thrived in his new digs. The 26 year-old second baseman had been a productive player up to that point with his .345/.374/.520 line through five seasons, but while averaging fewer than 100 games per year. He wasted no time establishing himself as a top player in the Junior Circuit by setting career highs in almost every category and winning the AL Triple Crown with 14 home runs, 125 RBI and a .426 batting average.
He paced both leagues with 145 runs, 232 hits, 48 doubles, 350 total bases, and a sterling .426/.463/.643 line, good for the major league sabermetric Triple Crown and a 1.106 OPS/200 OPS+. All of those totals represent career highs except for doubles, RBI and OPS+. He also rounded out his stat line with 14 triples and 27 steals, and whiffed just nine times. In the heart of the deadball era, those are some darn good numbers that mimic a prime season from Rogers Hornsby. Unfortunately for that A's, they lost their best player to free agency the following spring (during his age 27 season) and were forced to watch him put together a Hall of Fame career in Cleveland, where he won four more batting titles and reached 3,000 hits. They did manage to purchase him for his final two seasons, but by then he was in his 40s.